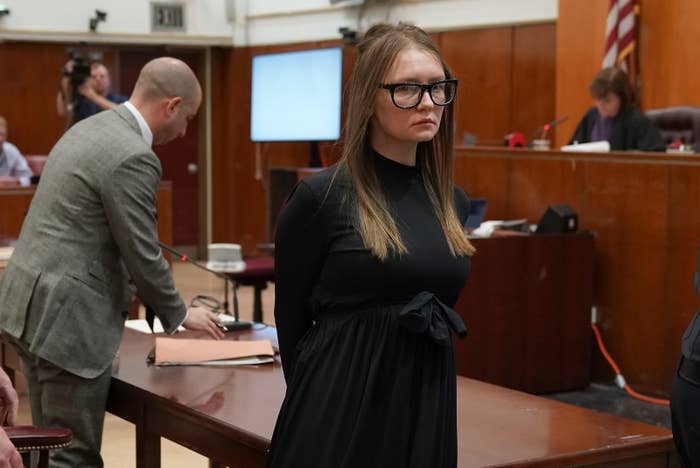 The "Summer of Scam" is finally over for Anna Sorokin, the 28-year-old who faked being a Manhattan socialite for nearly a year and tricked numerous people, businesses, and banks out of $275,000 in the process.

Sorokin, better known by her alias, "Anna Delvey," was sentenced Thursday in a New York court to serve at least four years in prison with a maximum sentence of 12 years.
Wearing a long-sleeved black dress and flats, she was also ordered by Judge Diane Kiesel to pay almost $199,000 in restitution, as well as a fine of $24,000.
Sorokin's lawyers had described her as a hustler trying to make it in New York City, akin to the lyrics of Frank Sinatra's "New York, New York." But Kiesel said in her sentencing remarks that she was reminded of a different song.
"I heard Bruce Springsteen's 'Blinded by the Light,'" the judge said. "She was blinded by the glitter and glamour of New York City."

Prior to the reading of the sentence, Assistant District Attorney Catherine McCaw spoke in support of a 4- to 12-year sentence, saying it "required a repeated commitment again and again" for Sorokin to claim she "had a phony fortune she did not in fact possess."

McCaw said Sorokin has shown "almost no remorse" during the trial and took "more seriously her clothing than anything else."
"The defendant didn't want to live an ordinary life, and she was willing to steal in order to get that," McCaw said.

Sorokin's lawyer Todd Spodek had argued that she should be sentenced to time served because she has been incarcerated since fall 2017.
"This is not a career criminal," he said. "This is a young adult who made numerous mistakes. She was 25 years old and got way in over her head."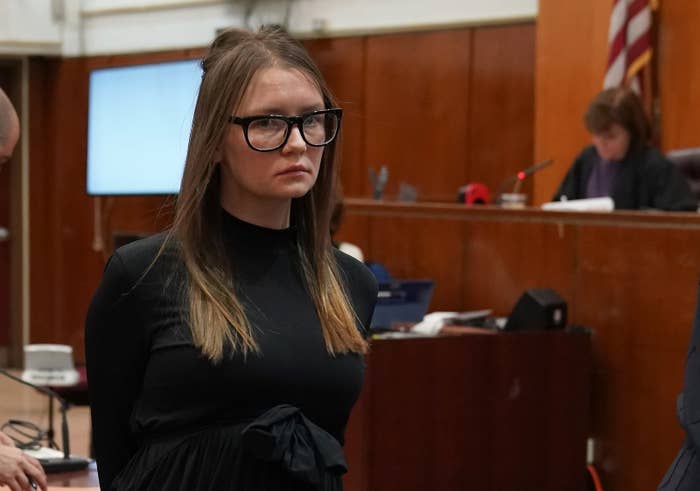 The notorious scam artist rose to fame after details of her scheme were written about in Vanity Fair and New York magazines.
Posing as a German heiress with a $60 million trust fund and a closet full of Céline and Supreme, Sorokin talked herself into some of the most exclusive hotels, clubs, and parties in the city.
Eventually the lies and unpaid bills caught up with her, and she was arrested in 2017.
After two days of jury deliberation in April, Sorokin was found guilty on multiple fraud charges, including second-degree grand larceny and theft of services. She was found not guilty on two other charges: one of two counts of attempted grand larceny, and one for allegedly stealing more than $60,000 from a friend who footed the bill for a vacation in Morocco.
Back before she became Anna Delvey, Sorokin was born in Russia and moved to Germany at 16. She dropped out of college and interned for a fashion magazine in Paris.
After moving to New York, she made her home in some of the city's most luxurious hotels. She'd rack up massive bills on rooms and restaurants, which she promised to pay for with wire transfers that would never actually show up.
Under the guise of wanting to open an arts-and-social club, Sorokin tried to get $22 million loans from City National Bank and Fortress Investment Group using fraudulent documents. She managed to snag a $100,000 loan by convincing a City National Bank rep to let her overdraft her account, then went on a shopping spree at Apple and Net-a-Porter.
In the viral Vanity Fair tell-all, a former photo editor of the magazine, Rachel DeLoache Williams, detailed her brief but expensive friendship with Sorokin, which started in a Manhattan nightclub. The two drank in hotel bars, visited a personal trainer, and ate in fancy restaurants, always on Sorokin's dime.
Everything changed when the two took a trip to Morocco, where they stayed in a five-star resort for $7,000 and racked up a $62,000 bill. Sorokin's card got declined, and she convinced Williams to put it on hers instead. When the promise to pay her back went unfulfilled, Williams went to the police.
A crying Williams testified at the trial in April, saying she wished she "had never met Anna," Rolling Stone reported.
"This is the most traumatic thing I have ever been through," Williams said. "I wish I had never met Anna. If I could have gone back in time to not be where I am today, I would. I wouldn't wish this on anybody."

The image-conscious faux heiress hired a celebrity stylist for the trial, and her courtroom looks — which featured thick black glasses, neutral-colored dresses, and occasionally a black choker — were widely discussed. More than 7,000 people followed an "Anna Delvey Court Looks" Instagram page.
In June, Shonda Rimes announced that she is working on a Netflix series about Sorokin. Separately, Lena Dunham is also making a series about her for HBO.
Williams stands to make more than $300,000 from HBO for the rights. She also has a $300,000 deal with Simon & Schuster for a book based on her Vanity Fair story.
In court Thursday, Judge Kiesel acknowledged that Sorokin has become a bit of a star and that she even expressed interest in who would play her in the upcoming Netflix and HBO shows about her.
"This sentence should be a message to the defendant and any of her fans out there," Kiesel said.