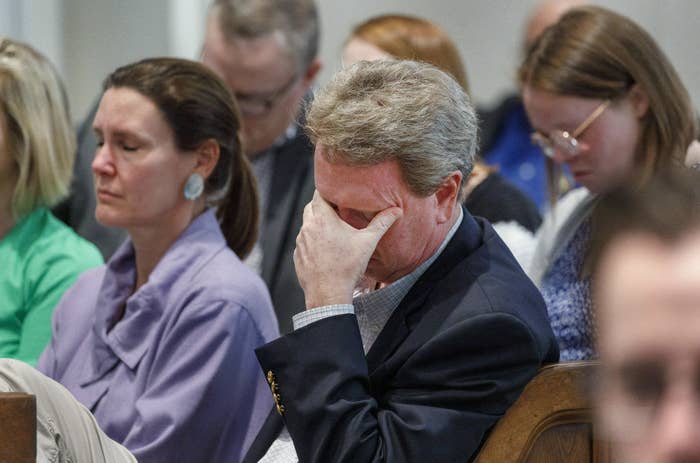 On June 7, 2021, John Marvin Murdaugh talked on the phone to his brother, Alex Murdaugh, and he'd sounded completely normal. Later that night, Alex called again, sounding "absolutely hysterical," John Marvin testified at his murder trial.
"As soon as I heard his voice, I knew something bad was going on," he said.
John Marvin described the phone call in which he learned that Paul and Maggie Murdaugh, his nephew and sister-in-law, had been killed as he testified on Monday as a witness for Alex's defense. They rested their case Monday evening, with John Marvin serving as the final defense witness to testify in the weekslong South Carolina trial, where his older brother stands accused of the June 2021 murder of his wife, Maggie, and son Paul.
In his testimony, John Marvin painted a picture of a happy, all-American, "normal" family who hosted tailgates, went to country music concerts, and vacationed together. Alex was "very close" with his sons and had a "great relationship" with his wife, John Marvin said.
"I mean, all marriages have hiccups here and there, but I'm telling you it was a good marriage," John Marvin said. Though he did not expand upon what those "hiccups" were, the family's housekeeper, Blanca Turrubiate-Simpson, previously suggested in her testimony that Alex and Maggie might have been having marital problems shortly before the murders.
Immediately after Alex called him in hysterics on the night of the murders, John Marvin got in the car and drove to the family's hunting lodge, where Maggie and Paul were found fatally shot, he said.
"He was just broken, I mean destroyed," John Marvin said of the state he found his brother in. "All we did was hug and cry — I don't even know that we talked."
The next morning, John Marvin returned to the property after he said a friend in law enforcement had given him the OK. Though the crime scene had been released, he found it had not yet been cleaned up. Testifying through tears, he described how he cleaned what remained of the gruesome scene himself, calling it the "hardest thing I've ever been through in my life."
"I saw blood, I saw brains, I saw pieces of skull," he said. "It was just terrible."
Because John Marvin had been especially close with his nephew, he said he felt this was "something [he] needed to do for Paul."
"I felt like it was the right thing to do, I felt like I owed him, and I started cleaning," he said. "And I promise you, no father or mother or aunt or uncle should ever have to see and do what I did that day."
Prior to John Marvin's testimony, the defense called two witnesses on Monday — a forensic pathologist and a crime scene analyst — who cast doubt on the prosecution's narrative of the murders, with one suggesting there had been two shooters.
Earlier Monday, the judge ruled that the jury would be allowed to visit the scene of the crime, which the defense had requested in order to give jurors an "understanding of spatial relationships" as to where the two bodies were found. It is unclear when that visit will occur, or how it might affect the schedule of the trial.