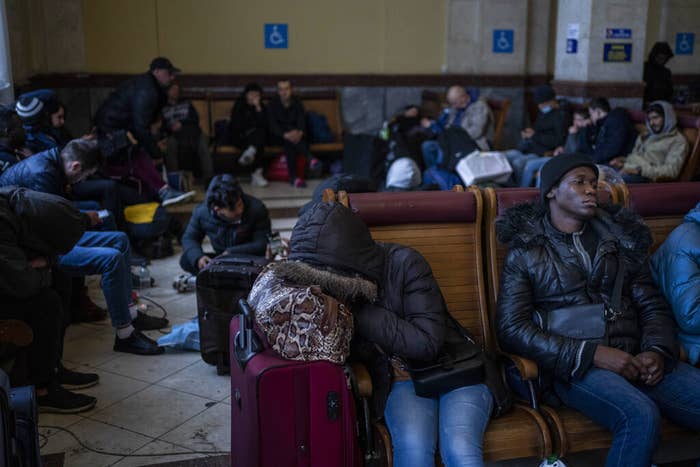 Many African students who studied in Ukraine said they're facing racial discrimination during their terrifying journeys fleeing Russia's attacks, often struggling to find a way out of the country.
BuzzFeed News heard from two Nigerian students who said they were subjected to racial slurs on a train and were violently thrown off it by Ukrainian police officers who pulled a gun on them. A student from Sierra Leone said that she and her companions were not allowed to board a train headed to the border despite having tickets. And a student from Liberia said she was forced to spend two days in the cold without food and shelter at the Ukrainian border after guards refused to let her and other people of color board buses taking refugees across to Poland.
The Ukrainian government has dismissed allegations of racial discrimination against foreign students as "Russian disinformation." But there have been several reports on social media and in news outlets about international students being subjected to indifferent and inhumane treatment by local law enforcement as they try to escape Russian President Vladimir Putin's lethal attacks.
There is a wide-scale humanitarian disaster underway in Ukraine. People are dying and suffering terrible injuries in the attacks, and about 660,000 Ukrainians currently are being displaced. It has left hundreds of thousands of Ukrainian citizens stranded at train stations without food and water. And many foreign students are experiencing similar hardships and are also enduring racist treatment during the journey.
Geneva Igwama, a 25-year-old medical student from Nigeria, told BuzzFeed News through WhatsApp voice notes on Monday that police violently removed him and dozens more Black students from a train headed to Poland.
"Right now I feel so disappointed in Ukraine," Igwama said, "because in such a situation they were still able to show their racist behavior."
Igwama had planned to take a train from the capital city of Kyiv, transfer in Lviv, and make his way to Poland. At the station in Kyiv, which was packed with crowds of people desperate to get out, attendants said only women and children would be allowed on — but that didn't seem to include all women, according to Igwama, who said they "refused Blacks, even the ladies, to enter."
Seeing that a number of men were sneaking onto the train anyway, Igwama said he and many of the other medical students boarded. During the trip, Igwama said, a small group of Ukrainian women began yelling at them unprovoked, calling them "monkeys" and telling them to "go back to Africa."
When Igwama and his group arrived in Lviv and boarded the next train on Feb. 25, he said that Ukrainian police officers got on and began trying to shove him off the train.
A video Igwama shared with BuzzFeed News appears to show the encounter between him and a police officer on the train. Igwama said the officers began beating him and slamming his head into the metal door of the train car. In the video, Igwama can be heard asking the officer, "What did I do to you?"
Courtesy Geneva Igwama
A cell phone video purporting to show an encounter between Ukrainian police officers and African students on a train.
Igwama said the officers shoved him till he was off the train, with one of them pointing a gun at his face. Back on the platform, he said he saw dozens of other passengers — all Black — who had also been forcibly removed from the train.

Soldiers, as well as a few of the police officers, intervened to stop the police beatings and help the students, for which Igwama said he was grateful.
Igwama and his friends are now safe in a refugee shelter in Slovakia, after being driven about nine hours by a woman transporting people out of the country and walking another six hours to the border. He hopes he can stay in Slovakia and continue his studies, but the trauma of the ordeal — as well as his physical injuries — are difficult to cope with, he said.
"It's very, very saddening, because I cannot go back to Ukraine again — I'm not safe there, my life is at risk there," he said. "The police who are supposed to guide us and protect us are now the ones trying to kill us. What if we fell down from the train while it was moving? What if I go to the hospital and they tell me I have a brain injury?"
David Ogbonda, another Nigerian student who was with Igwama, corroborated the incident, saying that police officers on the train "pounced" on them.
"They're assaulting us, hitting us, pushing us off the train," Ogbonda, 20, told BuzzFeed News in WhatsApp messages. "There was a Ukrainian lady on the train as well who was saying 'Monkeys, you monkeys go back to Africa,' and the Ukrainian police said, 'We are trying to force you because you are confused.'"
He said the incident left him "mortified" and disheartened."
"Prior to this time I've never experienced such; I never believed in racism but they literally shoved it in my face," Ogbonda said.
The Lviv region's police agency did not immediately respond to BuzzFeed News' request for comment.
Igwama's experience was also echoed by a Haitian man who told the Telegraph that a police officer in Lviv pulled a gun on him and a group of other Black refugees while they were attempting to board the train to Poland.
"The cops in Lviv were shouting and pushing us, forcing us to stand back," Vanel Cazeau recalled to the newspaper after arriving safely in Poland. "I think they wanted to get the Ukrainian women and children on board first, which I understand, but some of the police officers were clearly racist."
He continued, "One policeman pulled a gun on us and was shouting, but two other policemen felt sorry for us and let us on the train, saying 'go, go, go.'"
Another video shared on Instagram appears to show police officers in Lviv refusing to allow an African woman to board a train.
Rabiatu Bah, a 23-year-old medical student from Sierra Leone, told BuzzFeed News via WhatsApp messages that even though she had purchased train tickets, an attendant refused to let her or her classmates, who were also African, board the train leaving for Lviv.
Bah said that while she didn't want to jump to conclusions about why they weren't allowed, acknowledging it may have been a miscommunication, the same attendant let a Ukrainian woman on board even though she didn't have a ticket. Eventually, Bah's group managed to get on the train in a different car.
"Thank god for the other Ukrainians who were there too that saw us — everyone with their families just squeezed to one side and made space for us," Bah said. "So it was just more the officials that had the problem, not the people."
When they arrived in Lviv, Bah said the group tried to get seats on a bus that would take them to Poland. Even though they were toward the front of the line, Bah said the passengers behind them — who were from not just Ukraine, but a variety of European countries — were let on first. Two buses filled up and left before they were able to get seats on the third one with the group of 10 filling up the back two rows.
"The undertones of being Black are always there," Bah said. "You just always end up to the back of everything."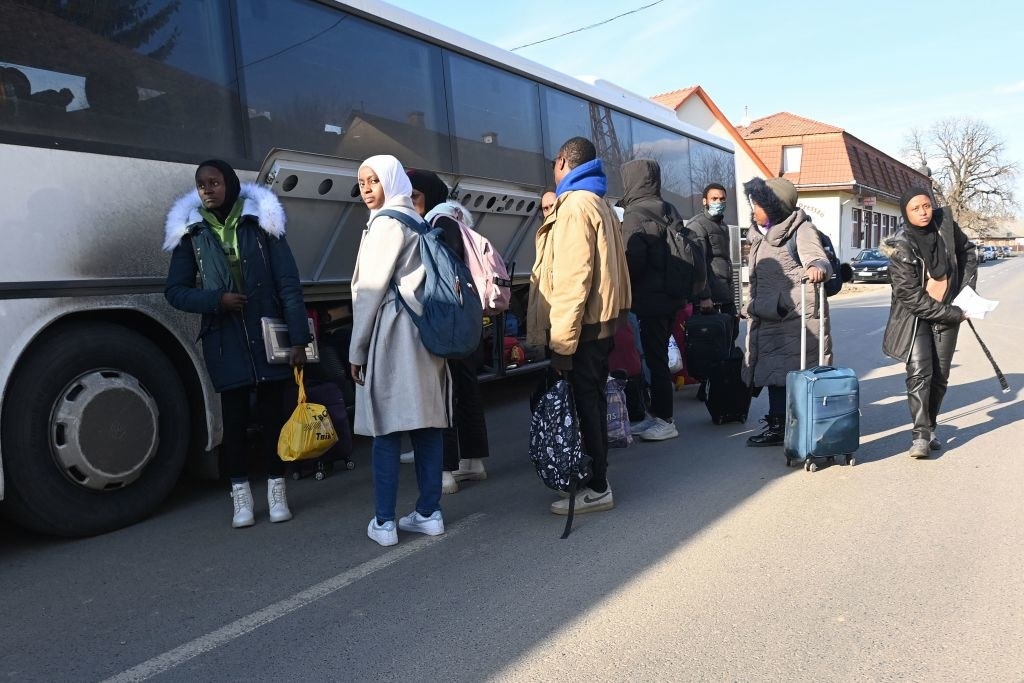 Even after getting seats on the bus, their troubles weren't over, she said. At one point during the ride, the bus came upon a police checkpoint.
"A policeman walked onto the bus and made a beeline straight for the back, and he asked us for our passports and our residency," Bah said, noting that the African students were the only passengers questioned by police. The ordeal took about half an hour, during which Bah worried that the driver or other passengers would get frustrated by the wait and kick them off the bus.
"It wasted so much time, and it was so embarrassing," she said. "All of us had documents, so he let us go eventually."
A medical student from Liberia who has been studying in Ukraine for five months recalled how she was forced to sleep in the cold at the border for two days with no shelter or food after border guards refused to let her and her companions get on buses or cars taking refugees across to Poland.
The 27-year-old student, who did not wish to be identified for fear of her safety, told BuzzFeed News that the group of African students she was with had to walk around 13 hours to get to the border of Ukraine.
Once they arrived, she said, they were told to get in line for another bus to cross to the Polish border, but they kept being pushed to the back of the line.
She said the border officials were "not letting people of color" on the buses.
"They would say only women and children are allowed to get on the bus. But instead of taking people who are Black, they [would] only take people who are white," she said.
"We were trying, because we felt that it was our right to actually board the bus," she said. "[The border officials] would be like, 'Go back, if anyone tries to cross we are going to shoot you,' and they shot in the air with live bullets."
The student said they were forced to walk the final leg of the route after begging in vain for Ukrainian officials to let them on any form of transport.
"We are tired, everyone had their own breakdown," she said. "All we could do was light a fire, and then they were like, 'You cannot light a fire,' but it was all we could do to keep ourselves warm."
She said she won't return to Ukraine to complete her studies.
"I would rather go to another country because they don't value us because we are Black. If it comes to economy-wise, we are bringing money here. We don't deserve to be treated like this."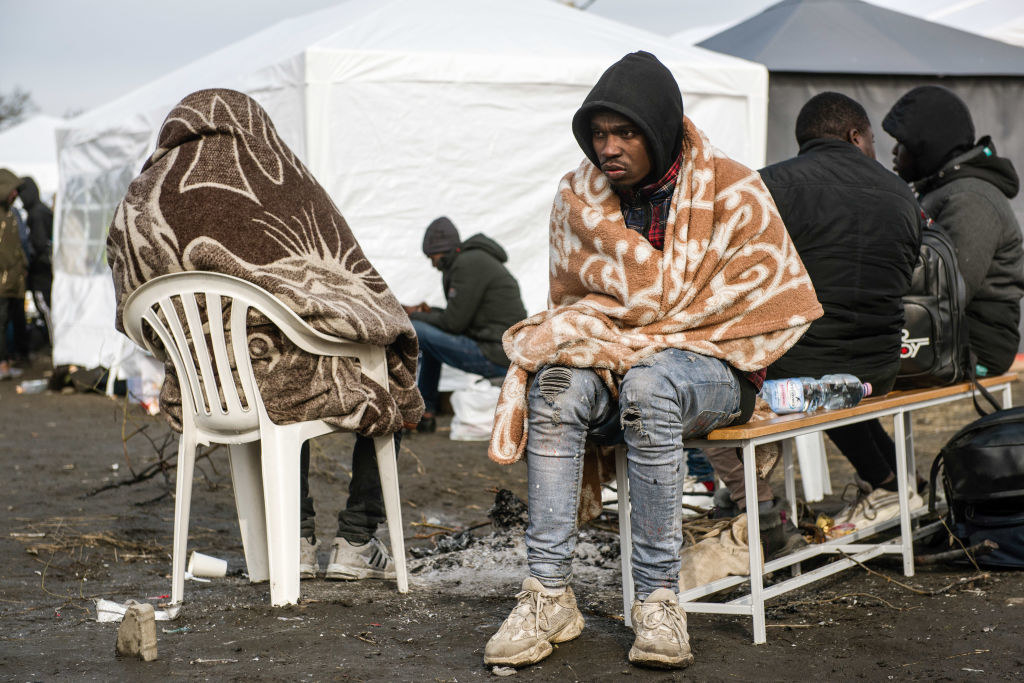 Rachel Onyegbule, a Nigerian first-year medical student in Lviv who got stuck in the border town of Shehyni, about 400 miles from Kyiv, told CNN that she watched 10 buses come and go.
"We thought after they took all the Ukrainians they would take us, but they told us we had to walk, that there were no more buses and told us to walk," Onyegbule said.
She said her body was numb from the cold and she hadn't slept in four days.
"Ukrainians have been prioritized over Africans — men and women — at every point. There's no need for us to ask why. We know why. I just want to get home," Onyegbule told CNN while she waited at the border to cross into Poland.
In a now-viral Twitter thread, CNN producer Bijan Hosseini documented the arduous journey his adopted sister from Sierra Leone undertook to escape Ukraine, saying that she experienced "racism, injuries, freezing temps and sleep deprivation."
After walking in the freezing cold for hours, Hosseini said his sister and her friends arrived at the border but were not let in.
"Two lines were formed. One for white people, the other for everyone else," Hosseini said in a tweet. "Only Ukrainians were being let over the border. Thousands of people were forced to sleep outside in the cold. Fires were started to keep people warm."
He said that when she finally got on a bus that was about to cross the border, it was announced that "all blacks" needed to get off, but that his sister and her friends refused to do so.
"They were met with the same racist treatment that thousands of others have reported at borders, bus and train stations across the country," Hosseini said.
In a statement responding to the numerous reports of racism faced by foreign students, Ukraine's Ministry of Foreign Affairs said Monday, "There is no discrimination based on the race or nationality, including when it comes to the crossing of the state border by foreign citizens."
"Do not be misled by Russian disinformation," the agency said.
The statement said the government was "doing its best to facilitate" the passage of foreign students at the border, which was "overwhelmed with the massive influx of people fleeing Russia's armed aggression."
The agency said that Ukrainian officials were applying "the first come first served approach… to all nationalities" and that there were certain humanitarian exceptions allowed for women and children.
"As active fighting continues, we also believe it is more secure at this time for foreign students to stay at their places of residence in Ukraine," the statement said.
On Thursday, Ukraine's minister of foreign affairs, Dmytro Kuleba, said the government had established an emergency hotline for "African, Asian, and other students" fleeing Ukraine.
"We are working intensively to ensure their safety & speed up their passage," Kuleba said.

In Instagram messages to her friend, 19-year-old Najma, who is a Kenyan national, described how Ukrainian officials were treating people of color trying to cross the border to Poland.
"The Ukrainians are pushing and beating black people," Najma, who arrived at the border on Feb. 24, said in a message to her friend.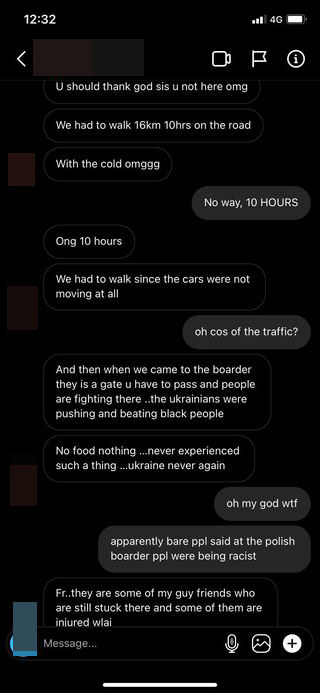 Najma told BuzzFeed News that she, along with dozens of other university students, took a taxi from Ternopil, a city in western Ukraine, to the Ukrainian border. When they were just 16 kilometers from the border, the driver refused to take them any farther, citing traffic, and declined to refund them for the remainder of the trip.
Njama and her group had to walk for about six hours until they reached the Polish border, where she said she experienced racism from some locals who were pushing them back and "calling us Black as if we are not proud to be one."
"Never experienced such a thing," Najma said in a message to her friend. "Ukraine never again."