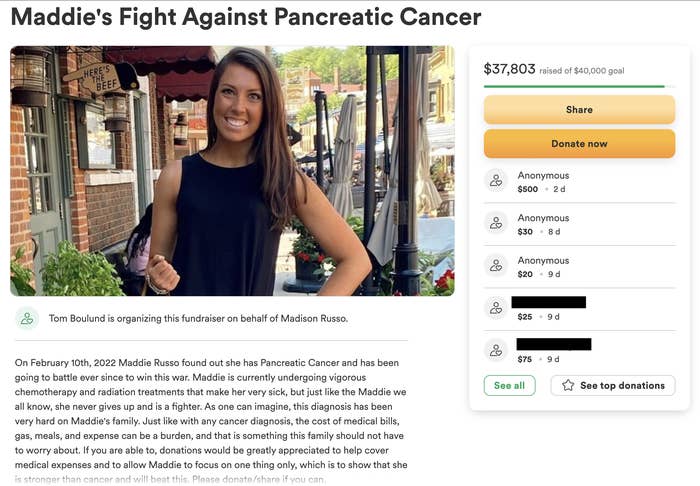 An Iowa woman who claimed to have been diagnosed with cancer — documenting her medical journey on TikTok and raising thousands on GoFundMe — was actually faking the whole thing, according to police.
Madison "Maddie" Russo, 19, has been charged with theft over the alleged scam, for which she raked in more than $37,000 from hundreds of GoFundMe donors.
The young woman claimed she "suffered acute lymphoblastic leukemia, stage 2 pancreatic cancer, and a tumor the size of a football, that wrapped around her spine," the Eldridge Police Department said in a news release.
Russo's ruse was revealed in January when anonymous witnesses, who police said have medical experience, spoke to authorities and "pointed out the many medical discrepancies found on her pictures posted on her social media site."
Her medical records, which were obtained by subpoena during the investigation, showed that she "had never been diagnosed with any kind of cancer or tumor" at any medical facility in the area, police said.
The St. Ambrose University student was taken into custody outside of her classroom on Jan. 23, police told BuzzFeed News. Russo, as well as her attorney, did not immediately respond to a request for comment.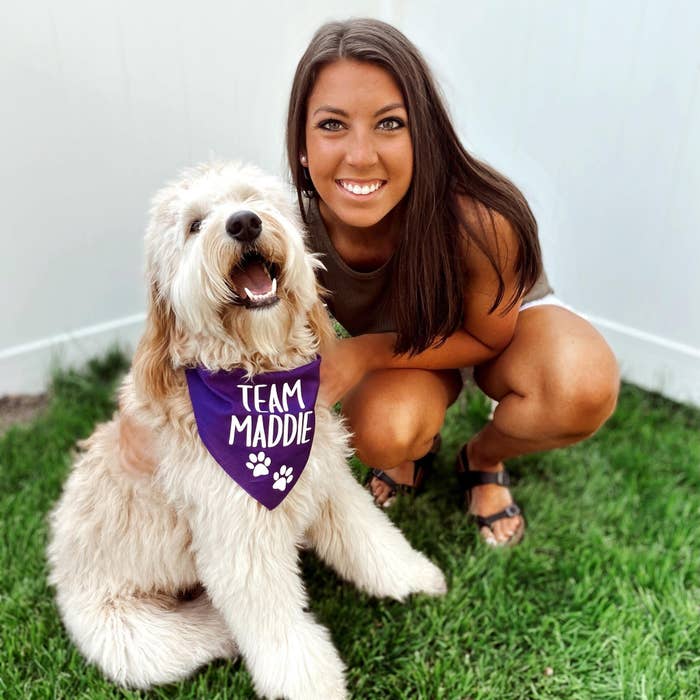 Russo's commitment to her alleged scam was nothing short of elaborate. On TikTok, she shared intimate details of struggles she said she had with chemotherapy and radiation. "My body is fighting so, so hard every minute just to stay alive," she says in one video. (Russo's TikTok account is no longer active, but many of her videos have been reposted on the app.)
In an interview with the North Scott Press in October, Russo said she was diagnosed with cancer in February 2022, getting the call while she was in class, on what she called "the worst day of my life."
"At 19 years old, I don't know if I will live to see the day I graduate from college, get married, or become a mom," she told her local newspaper. "In the meantime, I will fight."
She also served as a guest speaker for the National Pancreas Foundation in Chicago, as well as at her university, and appeared on a podcast for cancer nonprofit Project Purple, police said.
According to court records obtained by KWQC, police searched Russo's apartment, seizing an IV pole, a wig, nausea pills prescribed to a relative, and other medical supplies. Photos of Russo being treated with medical equipment, which she posted online, were reportedly taken inside her apartment; other such photos were reportedly cribbed from social media accounts of actual cancer patients.
Russo is expected to appear in court on Feb. 23. She has been released from jail on $10,000 bail, which, court records show, was posted by Thomas Boulund, who is also listed as the GoFundMe's organizer. (Boulund's relation to Russo is not yet clear, and he could not be immediately reached for comment by BuzzFeed News.)
GoFundMe has taken down Russo's campaign, banned her from using the platform in the future, and refunded the money to all donors. "GoFundMe has a zero tolerance policy for misuse of our platform and cooperates with law enforcement investigations of those accused of wrongdoing," a spokesperson told BuzzFeed News.
One of the donors, Louis Frillman, told WQAD he was shocked when he saw his $500 donation had been refunded to him.
"I thought she had passed away," Frillman said.