Lamar Austin, a father of four in Concord, New Hampshire, said he was fired on Jan. 1, for missing work to witness the birth of his son.
"I didn't want to make it seem like I'm trying to miss work or something," Austin said.
On New Year's Day, at 1a.m., Austin got a text message that his employment had been "terminated."
"I just responded 'ok,'" he said. "I was in the hospital, it was a long night, and I wasn't trying to argue with nobody about a job while my wife was in labor."
His son, Cainan, was born just a few hours later. He was the first baby of 2017 born in Concord
There's been an outpouring of support for the family, with people raising thousands for them on GoFundMe.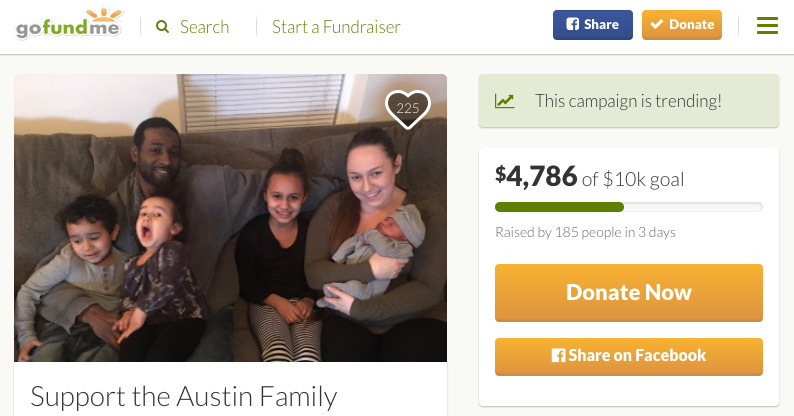 Austin has also received at least three job offers from people who read about his story.
Denis Beaudoin, the business manager from Concord's International Brotherhood of Electrical Workers, encouraged Austin to apply for an electrical work apprenticeship.
"I know how valuable family time is, and if you're a union member we incorporate that, we understand that, and we don't penalize you for that," Beaudoin told the Concord Monitor.
Austin was also offered an apprenticeship by a union president, and the branch manager of the Adecco staffing agency offered help finding work.
In a statement to BuzzFeed News, a rep for Salerno Protective Services denied that Austin's termination had "anything to due with his child's birth."
The rep said he congratulated Austin and offered "reinstatement if he would agree to more training and put forth an effort to correct some things," but that Austin declined.
"The timing of the termination was poor on my part but it was necessary for operation purposes," he said. "Salerno will be looking into revamping it's termination policies to avoid such misunderstandings in the future."
According to the New Hampshire Bar Association, employment New Hampshire is deemed "at-will," which means that unless there is an employment contract, you can legally "quit or be fired at any time for almost any reason, or even for no reason."
Though losing his job hasn't been easy, Austin said it was worth it.
"It was hard, but if I have to choose between work and family, I'm always going to pick my family," he said.
"Sometimes you lose something and you get something even better."
BuzzFeed News has reached out to Austin.