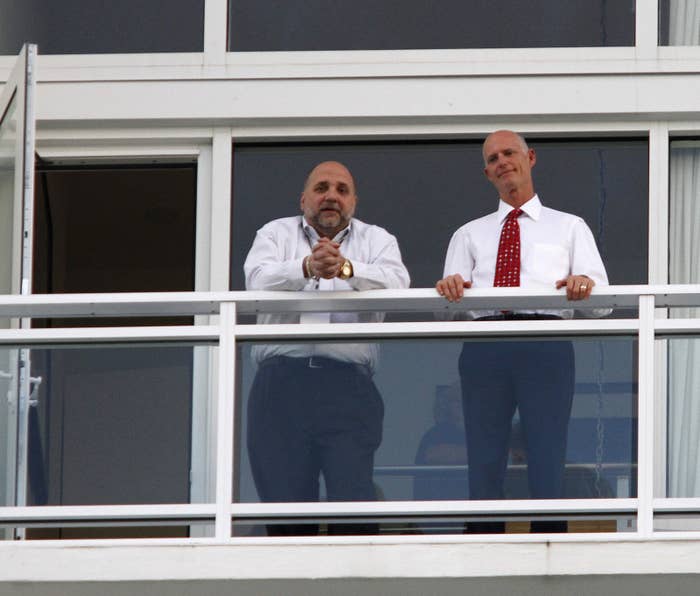 French presidential candidate Marine Le Pen hired Tony Fabrizio, a renowned pollster who worked on famously poll-obsessed Donald Trump's presidential run, during the closing days of France's election last year.

Le Pen's candidacy was international news in 2017, as the National Front party —founded by her father and known for its history of overt racism — appealed to voters' fears about immigration and Muslims, and came closer than it ever has to winning the French presidency. Le Pen managed to make it through to the second round of voting, eventually losing out to current French President Emmanuel Macron.
In emails obtained by BuzzFeed News, Fabrizio exchanged ideas with Damien Philippot and Philippe Vardon, two members of Le Pen's official campaign staff, as well as Frédéric Chatillon and Paul-Alexandre Martin, two other campaign aides. Vincent Harris, a US campaign strategist that Le Pen had also brought on board, also took part in the emails.
One thread Fabrizio participated in took place in April 2017, just after a terrorist attack on the Champs-Elysées killed a police officer, days before the first round of voting opened.
"Was he an immigrant?" Fabrizio asked in the email. "If he was an immigrant and committed crimes, had he been deported he couldn't have attacked last night."

The day before, Fabrizio and Harris discussed conservative François Fillon's end-of-campaign strategy and the appropriate Le Pen response. Though at one point tipped as the favorite in the election, Fillon had by this point seen his chances of winning plummet thanks to several scandals that engulfed his campaign.
"Good messaging by him closing everywhere," Harris lamented in his email to Fabrizio. "He's already sent two emails out this am already, being very aggressive in closing. Hope in our meeting to discuss proper response and close [of our own]."
Fabrizio calls the Le Pen campaign's response "a no-brainer."
"We should have Philippe [Florian Philippot, sic] tweet back the latest polls that show him losing to Macron with a tweet that says something along the lines of ... for someone who is under indictment for stealing millions from taxpayers, you would think he'd be better at math and see a vote for him is a vote for Macron in the end."
A search of Phillipot's Twitter account from that day shows a slightly more muted response to Fillon.
"We have a microsite hit on him that would generate attention, and could recycle the hits from levralfillon," Harris responded. Harris was likely referring to Whatsupfillon, a site whose domain name was registered that day by the Le Pen campaign. The site never launched, but its anti-Macron equivalent was activated between the first and second rounds of voting.


Fabrizio did not respond to BuzzFeed News' requests for comment. Multiple requests for comment to Philippe Vardon, vice-president of the National Front's PACA region, David Rachline, the National Front's communications director, and Damien Philippot, Le Pen's top adviser during the campaign, went unanswered as well.