Chelsea Manning is an active Twitter user and tweets under the handle @xychelsea.
Manning, who as an Army intelligence officer leaked more than 700,000 military intelligence reports and documents to WikiLeaks, was released from military prison last month after serving seven years of a 35-year sentence. While in prison, Manning came out as transgender and changed her name to Chelsea. Her sentence was commuted by then-president Barack Obama in January 2017.
On Tuesday, someone disagreeing with Manning on Twitter sent her an article.
Manning responded by saying that the photo used in the thumb was actually what inspired her Twitter handle.
The handle refers to Manning's identity as a trans woman, born with XY chromosomes. She revealed the inspiration for her handle: a photo taken at a rally in Paris.
"I wanted to be that bold, this photo was taken before I came out," said Manning. "She inspired me, perhaps without knowing it, but she did."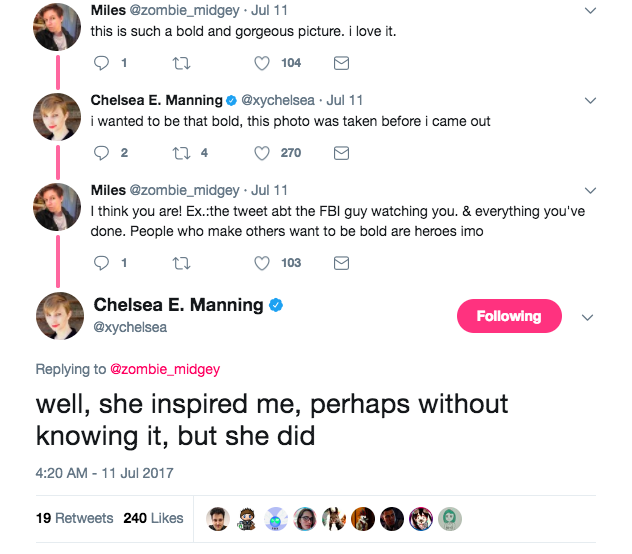 It was quickly revealed that the person in the photo does know. July Schultz, from Paris, responded to Manning on Twitter: "Now I know #honored."
"It was my first Existrans, in 2005," Schultz told BuzzFeed News. She said she had been unaware the photo was taken of her during the demonstration for transgender and intersex rights.
"This was happening in a particular context, just after I had gone to Thailand for sex reassignment surgery." With the letters XY marked on her hand, Schultz said, she had hoped to "make clear [her] situation as a transsexual woman."
The photo went on to be used by various publications and websites, including Wikipedia.
While Manning was inspired by the photo, she was herself a great source of inspiration for Schultz.
"Actually, it's funny, because I consider Chelsea Manning a heroine," Schultz told BuzzFeed News.
"My friends from Reset [a queer and feminist hacking page] were the ones who went, 'Hey, Chelsea Manning posted something on Twitter!' When I saw the tweet, it made me emotional. For six or seven years, I've been going to the CCC [an association devoted to hacking], and I've seen people there who have been leading campaigns to free her."
Manning loved the discovery.
And many were moved by the Twitter meeting.
"My son even has a 'Free Chelsea Manning' sticker on his stroller," Schultz said. "I was really touched to have inspired someone whom I myself find very inspiring."