Univision Apologizes After Hitler "Meme" Tweet Sparks Outrage
"We are very sorry about the images published today." Twitter users complained the image was inappropriate and shameful.
An image of a popular Mexican TV personality posing with Adolf Hitler was deleted from Univision's Twitter account this weekend after many complained it was insensitive, particularly in the context of the current climate of conflict in the Middle East.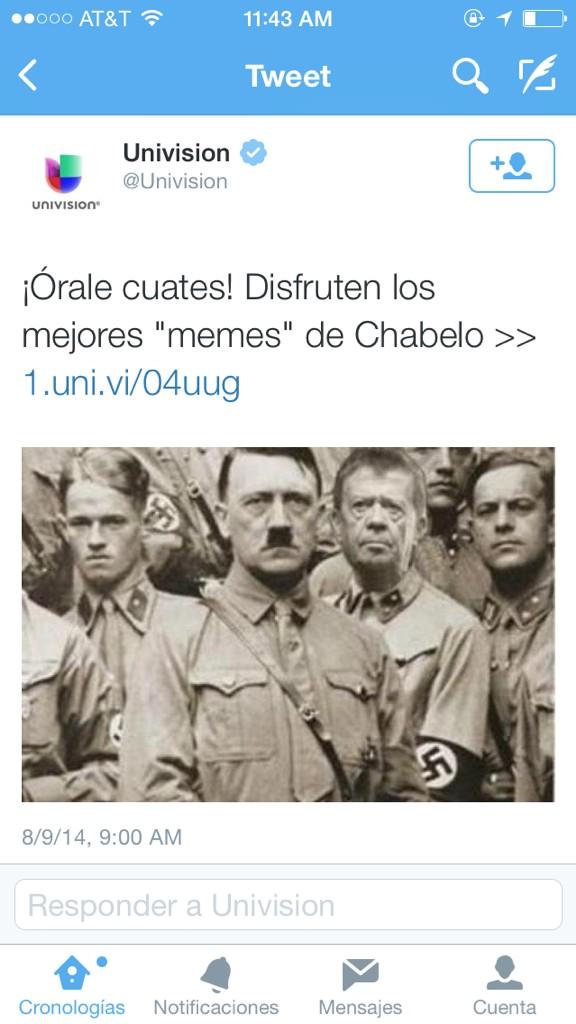 The image was of actor and producer Javier Lopez, widely known in Mexico for playing the classic children's character Chabelo in a long-running weekend television show, along with dozens of films and musical albums. The image was one in a collection of internet memes inspired by the character published on Univision's website.
Twitter users and the Huffington Post's Spanish-language vertical, HuffPost Voces, noticed the image and questioned whether it was appropriate for Univision to use it to promote content on its site.
Manuel Aguilera took a screenshot of the tweet, which translates roughly as, "This is great, friends. Enjoy the best Chabelo memes."
Aguilera added the message, "Lamentable tweet from Univision's account. Is this funny?"
Other users also chimed in and tagged some of Univision's most well known on-air talent.
"It seems Univision thinks Hitler is funny, I don't see the humor. I think they should give the world an explanation."
"Spread the word: Univision still has a tweet with a photo of Hitler promoting Chabelo 'memes.'"
"How embarrassing Univision! Inexcusable. What is Univision's message with this photo?"
The tweet was eventually deleted from Univision's account. In an email to BuzzFeed, a spokesperson for the network said Univision had been apologizing to users individually.
"We are very sorry about the images published today," Iveliesse Malave, vice president of consumer and entertainment public relations, said. "At Univision we respect diversity and don't tolerate oppression. The images were removed immediately after they were brought up to our attention."