Thousands Of Mexicans Could Be Allowed To Return To California To Fight Their Deportations
The ACLU reached an agreement with the federal government to allow nine immigrants who were misinformed or pressured into leaving the country to come back as part of a class-action lawsuit.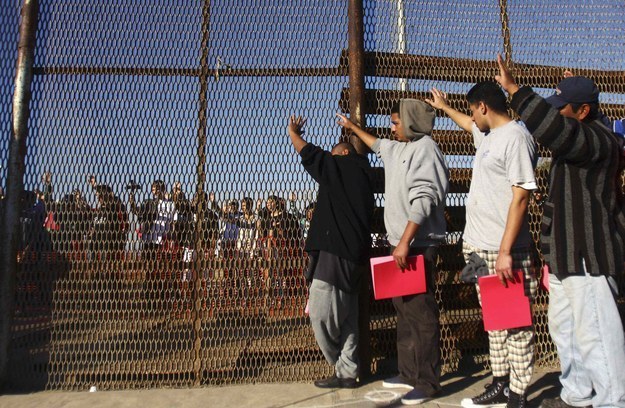 A settlement between the American Civil Liberties Union and the federal government could mean hundreds or even thousands of Mexican immigrants deported over the past five years could be allowed to return to the United States to fight their deportations.
The ACLU filed the class-action lawsuit last year on behalf of nine undocumented Mexican immigrants, who agreed to leave the country after immigration officials allegedly misinformed or coerced them.
"We're hoping that this is really a warning and a message for immigration enforcement agencies, that even for folks that they try to deport or remove from the country as soon as possible, they still have rights," Lucero Chavez, an attorney with the ACLU of Southern California who worked on the case, told BuzzFeed.
By agreeing to settle, the federal government did not admit to any wrongdoing. However, the government did agree to make immediate nationwide changes to the way border and enforcement agencies handle voluntary returns.
Immigration authorities must now provide detained undocumented immigrants detailed information, both written and oral, about the consequences of accepting a voluntary return. They are also required to provide a list of legal service providers and access to a 1-800 hotline, as well as allow undocumented immigrants two hours to reach someone by phone before they make a decision to accept a voluntary return or go before an immigration judge.
ACLU attorneys will be allowed to monitor compliance with the agreement for three years. Authorities have allowed the nine undocumented immigrants in the suit to return to California, after the agreement was reached Aug. 18, Chavez said.
And, critically, other undocumented immigrants who accepted voluntary returns between 2009 and 2014 may become part of the "class" identified in the settlement — or in other words, the people who could benefit from the litigation are due to be informed.
The court is not expected to give final approval to the group of people affected by the lawsuit until next year.
In a statement Thursday, the Department of Homeland Security said immigration authorities use voluntary return as an option for individuals who may request to be sent home in lieu of deportation proceedings. "In no case is coercion or deception tolerated," the agency said.
Chavez said the lawsuit was filed in Southern California because the proximity to the border made it clear many people were agreeing to leave the country without being properly informed or after being pressured by authorities. Each of the nine had strong family ties in Southern California, no criminal history, and might have otherwise been allowed some form of legal status, the ACLU argued.
"We heard about people being pick up, maybe at 8 o'clock in the morning at a bus stop, and within hours they were already in Mexico having signed their voluntary departure," she said. "Because voluntary departure is used through the entire nation, it's very likely that these abuses were happening in Texas, in Colorado, throughout the midwest and the east coast," she said.