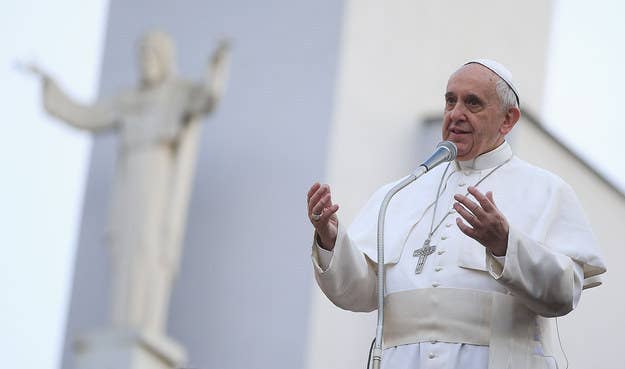 Pope Francis on Monday called on the international community to take urgent action to protect the thousands of unaccompanied children migrating from Central America to the United States.
In a letter read by Vatican envoy Christophe Pierre at a migration and development conference in Mexico City, the pope said "such a humanitarian emergency demands as a first urgent measure that these minors be protected and duly taken in," AFP reported.
Pope Francis also noted the particular dangers children from Central America and Mexico face when traveling alone.
"This is a category of migrants from Central America and Mexico itself who cross the border with the United States under extreme conditions and in pursuit of a hope that in most cases turns out to be vain," the pope wrote in the letter dated July 11.
The message from Pope Francis comes as U.S. officials struggle to deal with a spike in the number of unaccompanied minors from Central America apprehended by agents at the U.S.-Mexico border. More than 52,000 have been processed by border agents since October, according to U.S. Customs and Border Protection.
The U.S. government in early June declared the surge an "urgent humanitarian situation" and started taking measures to process and house the minors in shelters throughout the country.
Officials in the Obama administration have said they are working with the governments of Honduras, El Salvador, Guatemala and Mexico, to discourage migrants from making the trip. The federal government is also funding Spanish-language campaigns in the U.S., Mexico and some countries in Central America for the same purpose.
Last week, President Obama asked Congress for $3.7 billion in supplemental funding for resources intended to fast-track the minors through the U.S. immigration system. The administration has said many of the minors will be returned to their home countries.