More Than A Third Of Undocumented Adults Have U.S. Citizen Children, Pew Says
The Pew Research Center spells out the numbers for how many could benefit from potential administrative action by the Obama administration.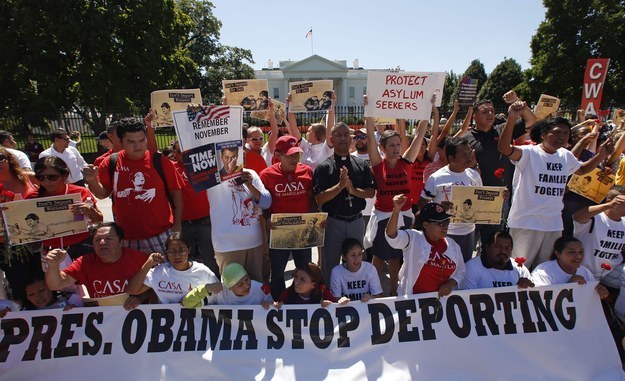 Half of the 10.4 million undocumented immigrant adults living in the United States have resided in the country for at least 13 years and more than a third, 38%, live with their U.S. citizen children, according to new estimates by the Pew Research Center.
In a report published Wednesday, Pew also noted the total number of undocumented immigrants living in the country, including minors, has remained stable at around 11.3 million since 2009. The number had been rising steadily for decades and plunged during a brief period coinciding with the 2008 economic recession. Compared to a decade ago, a much larger portion of undocumented immigrants are long-term residents or have strong family ties in the United States.
The data provides insight into the potential consequences of Obama administrative action on immigration. President Obama announced in June he would take executive action following Congressional inaction on immigration legislation and intense pressure from activists over the past year. Obama is expected to announce the administrative actions at some point this year, though it is unclear whether he will do so before the November midterm elections.
Pew reports fewer than half a million undocumented immigrant adults live with their children protected from deportation under a previous administrative program, commonly know as Deferred Action for Childhood Arrivals (DACA) or under another program that provides legal status to certain groups based on conditions in their country of origin. DACA, announced as an executive action in 2012, provided legal status to some undocumented immigrants brought to the country as children.
About 3.7 of 4 million undocumented immigrant adults with U.S. citizen children are not protected from deportation under either program. Of those, 650,000 have U.S.-born children who are adults, while 3 million have only U.S.-born children who are under 18.
Estimates are based primarily on data from the U.S. Census Bureau's American Community Survey and Current Population Survey.