Mexican Railroad Company To Triple Speed Of "The Beast" Train To Keep Migrants Off
The company says it will invest more than $150 million to improve security and speed up the freight train that travels north to the U.S. border.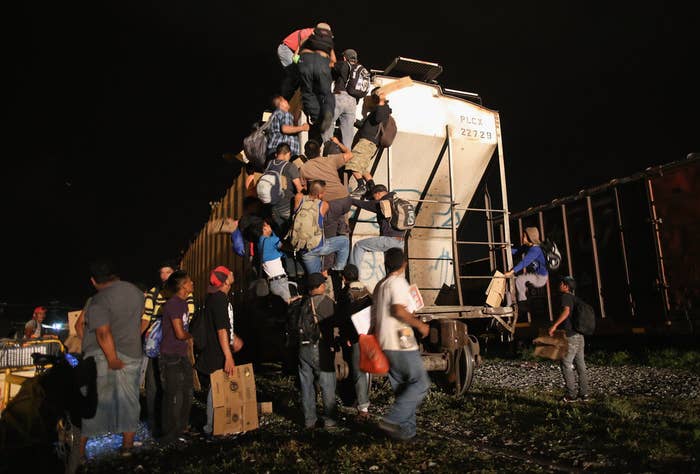 An executive at the company slated to take partial control of a network of freight trains in Mexico commonly referred to as "The Beast" says it plans to triple the speed of the trains to keep migrants from using them to traverse the country on their way to the U.S. border.
Maria Isabel Pons, the deputy director general of Ferrocarriles Chiapas-Mayab (FCCM), told the Mexican newspaper Reforma the company will invest $2 billion Mexican pesos — more than $150 million — over the next five years to make improvements to parts of the railroad that serve the country's southeast region. She said the investment would increase the speed of the train from 10 to 30 kilometers per hour (18.6 mph).
"The moment that you raise the speed, that you make the tracks more safe, well people will not have a chance to get on it," Pons said in Spanish. "People get on because the quality of the railroad has diminished, the quality of the operation has diminished, so the speed has diminished."
Pons said the company would make changes to the metal plates that currently connect pieces of the railroad tracks, which will make it more difficult to steal pieces of track. She said people currently remove screws and pieces of track so the train is forced to stop and people can hop on, sometimes causing derailments.
The company will also install a surveillance system to monitor the train and its cargo using video cameras, Pons said. The system will also be used to determine when and where people are getting on the train in order to alert authorities, she said.
FCCM gained control of more than 370 miles of railway in southeast Mexico in 2013. However, the company is still waiting for the Mexican government to approve a turnover of that section of the railroad from its previous operator, according to Reforma.
A spokesperson for the company has not responded to BuzzFeed's request for comment.