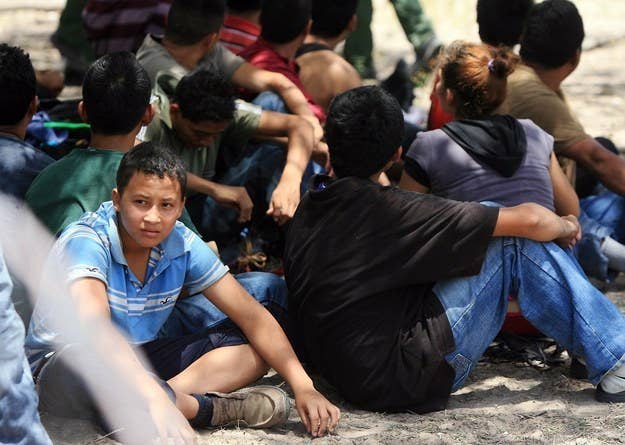 After declaring an "urgent humanitarian situation" last week, the federal government is scrambling to find housing for thousands of unaccompanied migrant children apprehended at the U.S.–Mexico border by sending them to temporary shelters in various states across the country.
The U.S. Department of Homeland Security said it plans to use a facility in Oklahoma to house up to 1,200 minors, Gov. Mary Fallin said Friday. About 1,000 more were sent to a Border Patrol station in Nogales, Ariz., over the weekend.
Fallin, a Republican, said Homeland Security officials told her office they would use Fort Sill, in Lawton, to house the minors, who are mostly from Central America and said to be fleeing violence and poverty in their countries of origin.
A marked increase in the number of unaccompanied minors crossing the border illegally in the Rio Grande Valley in South Texas prompted the Obama administration last week to step up its efforts to provide the youths with housing, food, and medical help, led by the Federal Emergency Management Agency. The administration and advocates predict over 60,000 will cross this year, up from less that 10,000 annually a few years ago.
Obama's Director of Domestic Policy Cecilia Muñoz said last week that more and younger children were arriving without an adult companion from Guatemala, Honduras and El Salvador. The number of girls traveling alone was also on the rise, she said.
Overwhelmed by the number of children coming, officials started housing them last month in a repurposed building on a San Antonio air force base. Another temporary shelter at a naval base in Ventura County, Calif., opened last Friday.
On Thursday, the conservative website Breitbart published what it said were leaked photographs showing hundreds of people, many of them children, packed into processing facilities in Texas.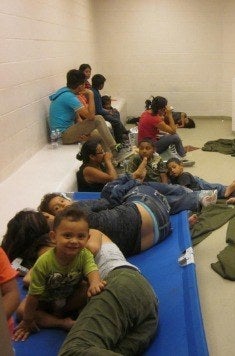 Over the weekend, a radio station in Tucson also published photos on Facebook it said show children sleeping in plastic cots and covered in foil blankets at the warehouse on Border Patrol station in Arizona. Officials have not confirmed the authenticity of the photos but said since then mattresses, portable toilets, and showers were shipped to the facility.
After reports that some undocumented immigrants, mostly women and children, were being released at bus stations in her state, Arizona Gov. Jan Brewer, a Republican, wrote a letter to President Obama on June 2, criticizing the administration for not informing her office about the policy.
"This is a crisis of the federal government's creation, and the fact that the border remains unsecure — now apparently intentionally — while this operation continues full-steam ahead is deplorable," Brewer later said in a statement.
Gov. Fallin also criticized the decision to provide housing for unaccompanied minors in Oklahoma.
"While they have assured my office this arrangement is temporary, the Obama administration continues to fail in its duty to protect our borders and continues to promote policies that encourage, rather than discourage, illegal immigration," Fallin said. "I am dismayed by what appears to be an endless cycle of illegal immigration, temporary housing and eventual amnesty for those who have broken our laws."