Elizabeth Warren Says Immigration Law Changes Not Only Up To Latinos, Silent On Children At The Border
Warren said "we've got to be in this together" on an overhaul of U.S. immigration law at the NCLR conference in Los Angeles Sunday. But she did not weigh in on the current crisis with Central American children at the border.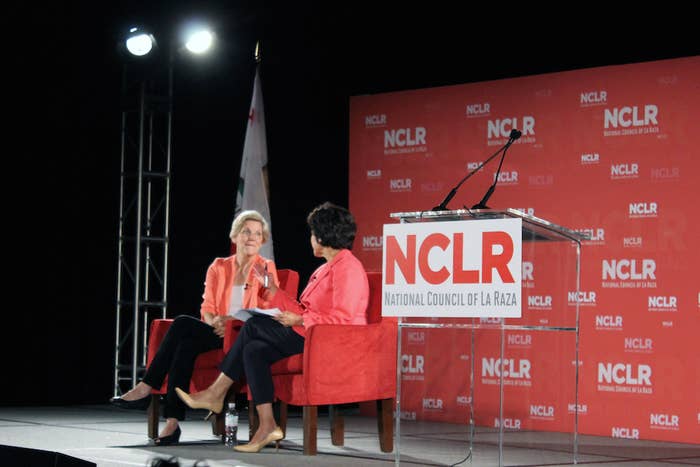 LOS ANGELES — Sen. Elizabeth Warren talked about the need to revive immigration legislative action but did not address the surge of unaccompanied children at the border, speaking at the National Council of La Raza (NCLR) convention in Los Angeles Sunday.
The Massachusetts senator said it's not only up to the Latino community to push for changes to U.S. immigration policy.
"I truly believe America is with us on this, we just have to push Washington," Warren, a Democrat from Massachusetts, said during a presentation on Latinos and the economy.
Warren told the crowd an immigration overhaul is "powerfully important for everyone" because it could be a key to alleviating some of the nation's most pressing economic concerns, such as stabilizing social security.
"We want to have social security?" Warren asked. "Bring more workers and bring more people out of the shadow economy and into the fully paid economy where everything is above the table," she said.
Warren also spoke about the subprime mortgage crisis and student loan debt, two issues that hit especially close to home for many Latinos.
While the populist Democrat came ready to deliver a message on immigration and a fiery speech that criticized Republicans, corporations, banks, and denounced income inequality, she did not take the opportunity to weigh in on the ongoing national debate about how to deal with the influx of children from dangerous countries in Central America.
Others took the opportunity to talk about the issue in front of the NCLR audience.
Speaking Saturday, Democratic Rep. Luis Gutierrez said the Latino community needs to make its presence and opinions on the children at the border known at the ballot box.
"We need to raise our voices, make ourselves citizens, sign up to vote and punish those who speak ill and criminalize children who come to our border," he said.
He also invoked the fact that the law treats children from noncontiguous countries like Honduras, El Salvador, and Guatemala differently than kids from Mexico.
"The way they treat Mexican children is deplorable," he said. "Let's not extend that abuse to other children from Central America. We can do better as a nation."
Gutierrez was referencing a 2008 anti-trafficking law that places unaccompanied minors from countries outside of Canada and Mexico under U.S. custody before hearings.
Warren, whose name has been thrown around as a potential candidate in the 2016 presidential election, has repeatedly said she will not run.
She is seen as especially appealing to far left-leaning Democrats, who view her as an alternative to former Secretary of State Hillary Clinton. During a similar speech at the Netroots National summit in Detroit Friday, Warren was interrupted by chants of "Run, Liz, Run."
The crowd at Sunday's event was not as vocal in its support of a potential Warren bid, but she was met with enthusiastic cheers and a standing ovation.
Other Democrats whose names are being thrown around as potential 2016 candidates have taken the recent opportunities to stake out clear positions on the unaccompanied minors at the border.
Clinton, for example, has taken an enforcement-centered approach, saying at a CNN town hall event last month that all the children who can be "should be sent back as soon as it can be determined who the responsible adult in their families are."
"We have to send a clear message," Clinton added. "Just because your child gets across the border, that doesn't mean the child can stay."
Maryland Gov. Martin O'Malley, another potential candidate, last week back and forth with the White House after he publicly called on President Obama not to send the children back to "certain death" in their countries. It was later leaked that he asked the administration not to send them to a specific facility in Maryland.
Last week, Warren came out in support of an offer by Massachusetts Gov. Deval Patrick to house unaccompanied children on two military bases in the state.
"These kids are at real risk and we need to do everything we can to make sure they are not harmed or in danger," Warren said in a statement, according to The Republic.
"I agree with Pope Francis that this is a humanitarian crisis, and I believe every state that can help, should help."