Sheriff Joe Arpaio At The Center Of Another Lawsuit By Immigrant Rights Groups
The groups claim Maricopa County officials have used flawed state laws to conduct more than 80 worksite raids and arrest more than 790 undocumented workers.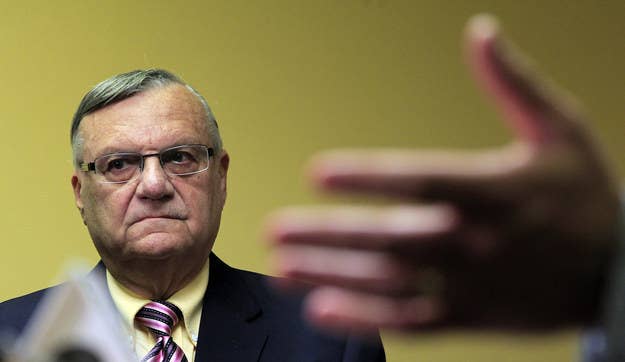 Several Arizona residents and a coalition of immigrant and civil rights groups are accusing the infamous Sheriff Joe Arpaio and other Maricopa County officials of misusing state laws to conduct worksite raids and unfairly punish undocumented workers who violated identity theft laws.
The group, which includes two women who were arrested during raids by Arpaio's office last year, is challenging the county's enforcement of two Arizona laws from 2007 and 2008 that made it a felony to use another person's identity to seek employment. They filed a class-action lawsuit in a U.S. District Court in Phoenix Wednesday.
The complaint claims the two state laws "interfere and conflict" with federal laws regulating immigration and employment. It also claims the laws violate the 14th Amendment because they discriminate against non-citizens.
Leah Gasser-Ordaz, a student of the University of California, Irvine School of Law's Immigrant Rights Clinic, which is representing the plaintiffs, said Arizona overstepped its authority when it recast its identity theft laws to target undocumented workers.
"In their quest to make life so miserable for immigrants that they would 'self-deport,' lawmakers violated constitutional federalism principles and the fundamental value of equal protection of the laws," Gasser-Ordaz said in a statement announcing the lawsuit.
The complaint also says the laws have been used by unscrupulous employers to foster fear and take advantage of workers they know to be in the country illegally. One of the plaintiffs in the case, Sara Cervantes Arreola, worked in the produce section of a supermarket for six years before it was raided by Arpaio's officers in January 2013. She said her boss would tell her and other workers that he would call the sheriff if they complained about working extra hours without pay.
"Fear of a raid kept us silent," Cervantes Arreola said, "but then it happened anyway."
The groups that filed Wednesday's complaint also include Puente Arizona, the National Day Labor Organizing Network, and the American Civil Liberties Union.
Dan Pochoda, the legal director of the ACLU of Arizona, said Maricopa County is the only jurisdiction systematically enforcing the identity theft laws, which he called "tools given to it by the state legislature." Since the laws were adopted in 2008, the MCSO has conducted more than 80 raids and arrested more than 790 workers, according to the complaint.
Last year, the same court that will hear arguments in the case found Arpaio's office guilty of regularly racially profiling Latinos during immigration enforcement operations in which undocumented immigrants were targeted for minor traffic violations. The U.S. Department of Justice has also sued the MCSO over racial profiling and other civil rights violations.
"We know from past experience that when the MCSO gets into the business of immigration enforcement, it's a recipe for discrimination and abuse," Pochoda said.
Arpaio's office did not respond to a request for comment.