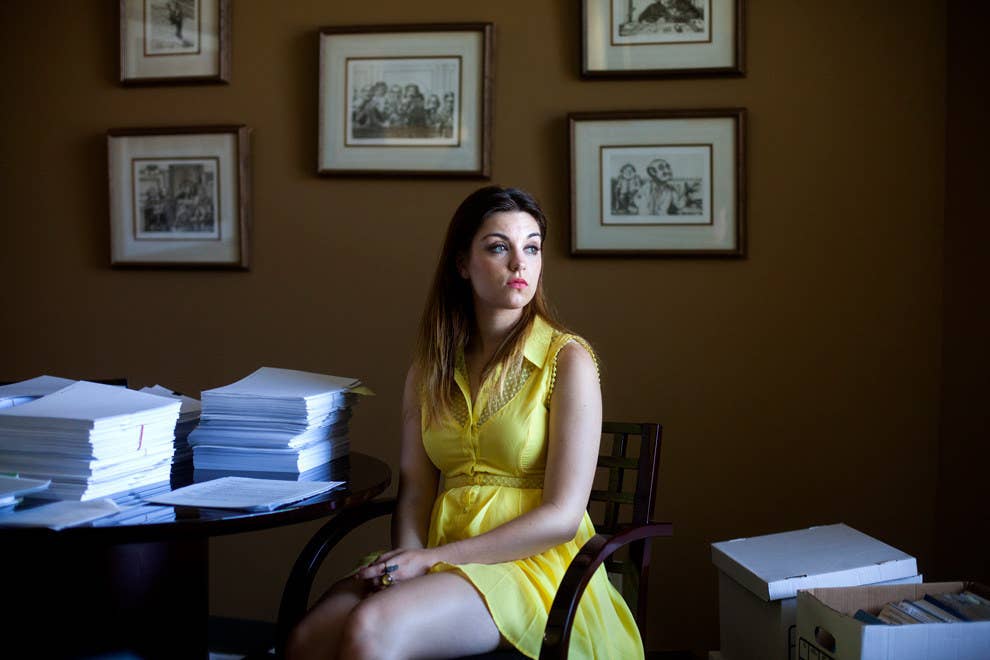 SAN DIEGO — It began, allegedly, in a golf cart, after he gave her a ride home one night.
Taylor Peyton — 20, an Ohio native recovering from addiction to crack, heroin, and "a lot of alcohol" — says that David Powers — then 54, owner of several recovery and sober living homes throughout San Diego — asked her if she could feel "the sexual tension" between them.
"I literally just ran out of the golf cart. I didn't know what he was talking about," recalled Peyton, who said she will be eight months sober next week.
Over the next four months, according to a civil complaint filed Thursday, Powers pursued Peyton, escalating their interactions from one-on-one dinners to unannounced visits to her room at Soledad House, his 90-day women's recovery program, where she claims he'd lie on top of her sleeping body.
It ended, allegedly, in the backyard of one of Powers' properties in late January. There, according to Peyton, Powers penetrated her with his fingers, then put her hand on his penis and asked her to stimulate him.
Powers has denied Peyton's allegations, both in an interview with BuzzFeed and in an official statement, which doesn't name Peyton but refers to her as "a female resident with mental health issues," believed to be trying to sabotage his company, ABC Sober Living.
"Our company is a high profile target in our community and has its share of people who dislike us," the statement said. "Of those people, one person in particular took this girl to a law firm in hopes of taking us down."
While Powers' statement addresses only allegations from "this girl," Peyton was joined by five other women in a sexual harassment and battery lawsuit filed Thursday by the Zalkin Law Firm, a San Diego-based group of attorneys specializing in sexual abuse cases. In advance of the filing, Peyton and one other plaintiff told BuzzFeed they believed Powers tried to normalize his sexually charged behavior, making vulnerable women feel indebted to him for his financial and spiritual guidance toward sobriety, then taking advantage of that debt.
But the lawsuit doesn't just name Powers and ABC Sober Living, which operates Soledad House along with a men's recovery program and handful of sober living facilities. It also names The Rock Church, an evangelical megachurch with close ties to Powers' programs — where Powers himself is considered a leader, and where one tight-knit community is preparing to fight for him.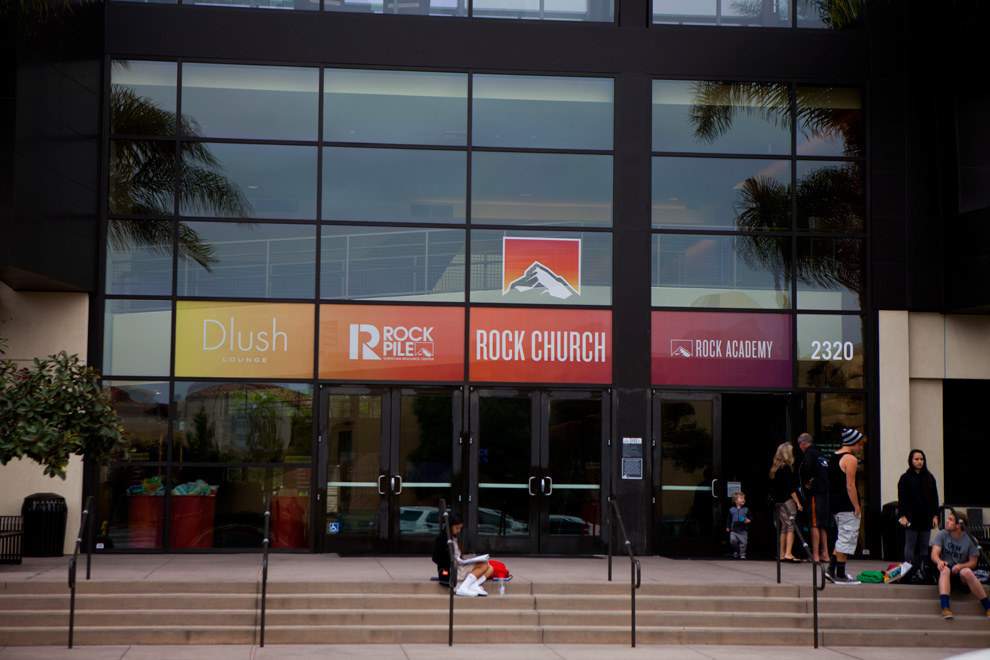 The Rock Church was founded in 2000 by Miles McPherson, a former San Diego Chargers defensive back turned motivational speaker, who said he found God after struggling with drug addiction in the '80s. McPherson rose to some political prominence in 2008 as a vocal supporter of California's Prop 8, the now-overturned anti-marriage equality amendment. His clergy has only grown since, with three locations and Sunday services streamed live online.
The Rock operates 178 ministries, or groups formed to meet the needs, hobbies and volunteer interests of its clergy. There are ministries for divorce, dog lovers, food trucks, blood drives, and traffic safety — the latter tasked with guiding an estimated 12,000 Sunday churchgoers through jammed parking lots reminiscent of malls on Black Friday.
At the Rock's flagship Point Loma campus, in order to enter the "Sanctuary" — the auditorium where McPherson preaches weekly from a stage equipped with concert-hall lights, cameras, and audio gear — you must first pass vendors selling "Jesus" baseball caps, protesters warning of sinful teachings, and various ministries (DJs, Zumba, paintball) soliciting sign-ups. The Rock Recovery Ministry, a 12-step co-ed support group, is not one of these ministries. It encourages newcomers to instead attend a weekly bonfire on Mission Beach.
Up until this week, that bonfire was organized by David Powers. The relationship between Powers' ABC Sober Living and Rock Church is a close one; in 2009, the church named Powers and his wife, Tina, "Rock Heroes." In addition to the bonfires, Powers' program residents are required to attend the Rock's hour-and-a-half-long services every Sunday.
When BuzzFeed approached the church on Monday to clarify its relationship with Powers, spokeswoman Mei Ling Starkey said the "Rock Church will sometimes refer those with substance abuse issues to any one of a variety of facilities," including ABC Sober Living. "It should be noted that none of the women who have made these allegations against Mr. Powers were referred to ABC Sober Living by the Rock Church."
But according to Thursday's complaint, the church's involvement went beyond referrals, providing scholarships to some whose insurance didn't cover the full cost of the program, and bringing in McPherson for recovery home Bible studies and baptisms. (The church said McPherson "has attended only the grand openings of these facilities. He has had no ongoing involvement.")
The day of BuzzFeed's inquiry was the first the church learned of the allegations against Powers, Starkey said, and "we immediately decided that we would no longer refer anyone to his facility until these claims are investigated by the proper authorities and the matter is resolved."
Starkey also told BuzzFeed that Powers is "not the leader" of the ministry, contradicting the church's previous statements. Powers' email address, listed in several places on the website on Sunday, was removed on Monday. Yet while the Rock attempts to distance itself from Powers, another group is coming swiftly and intensely to his defense: other women he's treated.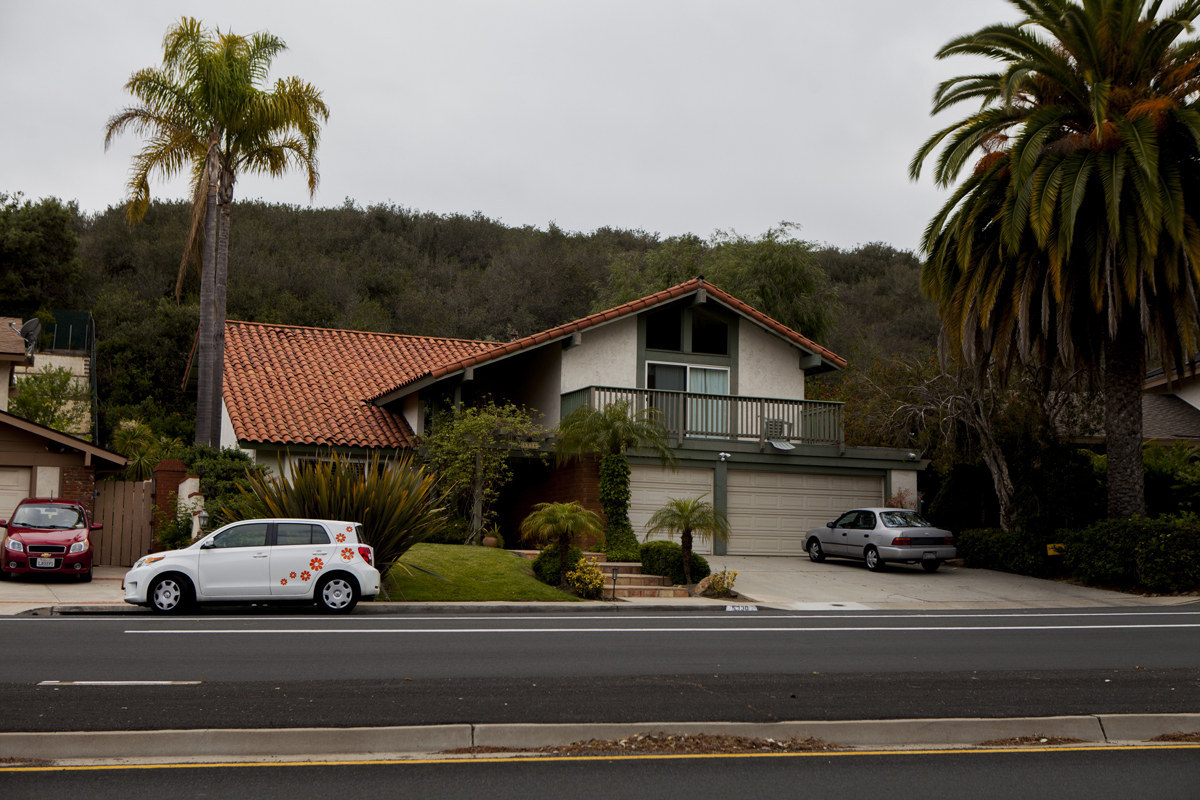 When Peyton brought forward her allegations, "the community just kind of exploded," Zalkin Law Firm attorney Lisa Gary said. Powers is charismatic and well-liked, and his wife, Tina, is someone who women in their programs say they look to for approval.
Though Gary said her office has received more than 30 calls from witnesses, including 19 who could be considered victims of Powers' harassment and battery, only six signed on for the lawsuit. Gary said she believes many are afraid of being "ostracized" by Powers' sober living community, which is "insular and protective of its own."
On Tuesday, BuzzFeed met with nine women, all in their late teens or twenties, selected by Powers from Soledad House's current and former resident pool and stuffed into a conference room at his office. The Rock Church-going women showed up to vouch for Powers. The impact of Peyton's allegations was evident; the women were livid, and convinced she was lying — not only about her relationship with Powers, but also her sobriety.
Over 45 minutes, Peyton was called an "emotionally unstable" "adolescent" who constantly engaged in "weird flirting" with Powers, who didn't flirt back, according to the women. She was called "unwell," "completely delusional," "extremely jealous and territorial," and "really deceiving."
"She was in love with David, and now she wants revenge," one woman said.
"David and Tina and Soledad program and their sober livings have saved many girls' lives, including mine, and it pisses me off that people are trying to sabotage that, because I want other girls who are struggling to experience the same things that I experienced," said Amber Montgomery, a Soledad House manager. "I'm a year and half year sober, and I wouldn't be here today if it wasn't for the program that they've created."
Andria Donovan, a plaintiff in the lawsuit who worked for ABC Sober Living as a manager and assistant program director from 2009 to 2013, said she also believes Powers' programs have helped people.
"I've witnessed it, I've seen it," she told BuzzFeed. "But the good they have done doesn't outshine the inappropriate behaviors that David does."
Donovan, 36, said Powers would allegedly tell her about his wife being "a freak in bed," then compare her body to Tina's. "You are curvy like my wife — I like that," he allegedly said. "I can tell that you know how to please a man."
According to the often graphic complaint, Powers offered to pay her for massages, held her in too-long hugs, and once squeezed her chest, pushing her breasts together. Donovan told BuzzFeed she once watched Powers spoon-feed ice cream to a girl. She said she's watched girls "wrap their legs around him, and he'd pick them up"; she's seen him lick his finger and stick it in a girl's ear. Still, it took Donovan some time to realize Powers' behavior went beyond "David being David" — and even more time for her to speak out.
"I felt valued in the community, I felt worthy, it felt like family to me. So when he was doing that stuff to me, it wasn't like I was going to tell," she said. "Part of why I'm stepping forward is that no woman — no one seeking treatment — should ever have to tell David to stop."
Kelli Williamson, one of the women sticking up for Powers, said she was "[sickened] and heartbroken when I heard about Andria jumping on this bandwagon. She, like myself, has lived in their houses for years. And they've helped her. And we've been a family, and all the sudden she's, like, turning her back on them. I can't imagine what the motives are, but I see obviously people smell money."
"The trouble with sexual misconduct is that when the victims come forward, they're made out to be betraying someone," Donovan said in response. "As a woman in recovery today, I can't overlook sexual misconduct despite generosity. It's not OK."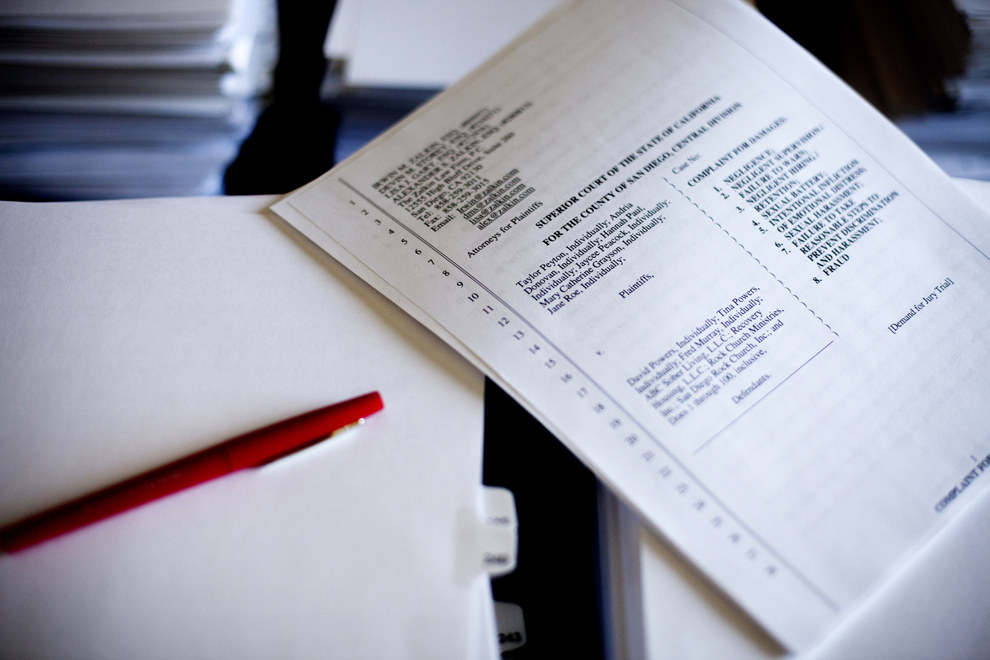 Along with Peyton and Donovan, Thursday's complaint includes allegations from four other women.
Hannah Paul, who believes her program costs in April 2012 were partially covered by a Rock Church scholarship, was allegedly subjected to butt-slapping and inappropriate comments, as well as "numerous occasions" where Powers would walk in on her as she was getting out of the shower. The complaint cites one occasion when he walked in on her "completely nude. She attempted to cover herself with her towel while yelling for him to leave. Instead he walked over to her and hugged her, pressing his groin into her body." It continues:
During a confidential support group meeting, Paul confessed that she had, at one time, engaged in sex with an adult male for the purpose of obtaining heroin. David Powers was present at this meeting. Thereafter, David would continually ask Paul questions such as: "what is the oldest guy you would fuck for money?"; "have you ever fucked a black guy?"; "how much do you charge for a blow job?"; and "how much do you charge for anal?" On one occasion David learned that another resident was dating Paul's ex-boyfriend, upon seeing this resident with Paul, David yelled out the car window "how does Hannah's pussy taste?"
Earlier this year, Tina Powers approached Paul at a 12-step meeting and "begged" her not to speak out about Powers' behavior, according to the complaint.
Jaycee Peacock, who sought treatment at Soledad House for alcohol, cocaine, and Ecstasy addiction in July 2012, alleged similar treatment from Powers: butt-slapping, graphic comments about his sex life, unannounced visits while she was in the shower, and uncomfortable hugs. The complaint said Powers would ask her to "put on sexier clothes" and give her a daily "back cracking … wherein he would grab her around her chest from behind and lift her off the ground."
According to the complaint, Powers would also talk to Mary Catherine Grayson, who entered the program in May 2013, about the size of his penis and being "good in bed." He allegedly advised her to gain weight "so that she would have a bigger butt," and insisted on being present for weekly injections that required her to pull her pants down. Powers once allegedly confiscated her phone and later made comments about nude pictures he saw on it. He bought her clothes, cigarettes, and manicures, the complaint said; he paid for a new transmission in her car, which he had shipped in from Atlanta. But after an argument with Powers' wife, Tina, Grayson "voluntarily withdrew" from the program, leading to one of the complaint's more disturbing allegations:
In February of 2014, after learning that Grayson intended to speak out about the defendants' conduct, David and Tina Powers arrived at Grayson's home and called her outside to their car. When Grayson came out to the car she approached the passenger side where Tina was sitting. Tina had the window rolled down and as Grayson approached Tina threw a bag of heroin and a few needles at Grayson yelling "go do what you do best you junky whore," and then suggested that Grayson should kill herself for speaking out against Defendants.
The women defending Powers repeatedly accused Grayson of being a prostitute and a "sociopath with no remorse." One woman brought pages she printed out from the San Diego County Sheriff's Department's website: arrest reports for Paul and Grayson, both booked on possession charges on Dec. 9, 2013.
The final plaintiff — an anonymous woman — said Powers took 50% off her cost of the recovery program, but according to the complaint, "threateningly told [her] that because of the discounted rate she was beholden to him." Her allegations against Powers follow the pattern: He's accused of telling her he had "a big dick" and giving her "long hard hugs."
After moving to one of Powers' sober living house, the complaint said, the anonymous woman disclosed to program director Fred Murray that she was sexually abused as a child and raped twice as an adult. In September 2011, as she was taking a nap on the house couch, she woke to find Murray "next to her rubbing his hands on the inside and outside of her thighs and calves."
Murray, who said he's known Powers since Powers got sober 17 years ago, denied the incident, telling BuzzFeed, "I've never touched nobody, in none of the houses. Never touched nobody. I've been doing this for a while. And I know my population … I know who they are, what they've been through, and it never happened."
But the woman alleged Murray reacted differently when confronted in a meeting with her, Donovan, and Tina Powers. In that meeting, Tina Powers allegedly told the woman to keep quiet about the incident, reminding her of that discounted rate. Donovan said Murray admitted to rubbing the woman's legs, saying he was "sorry and that he was playing around."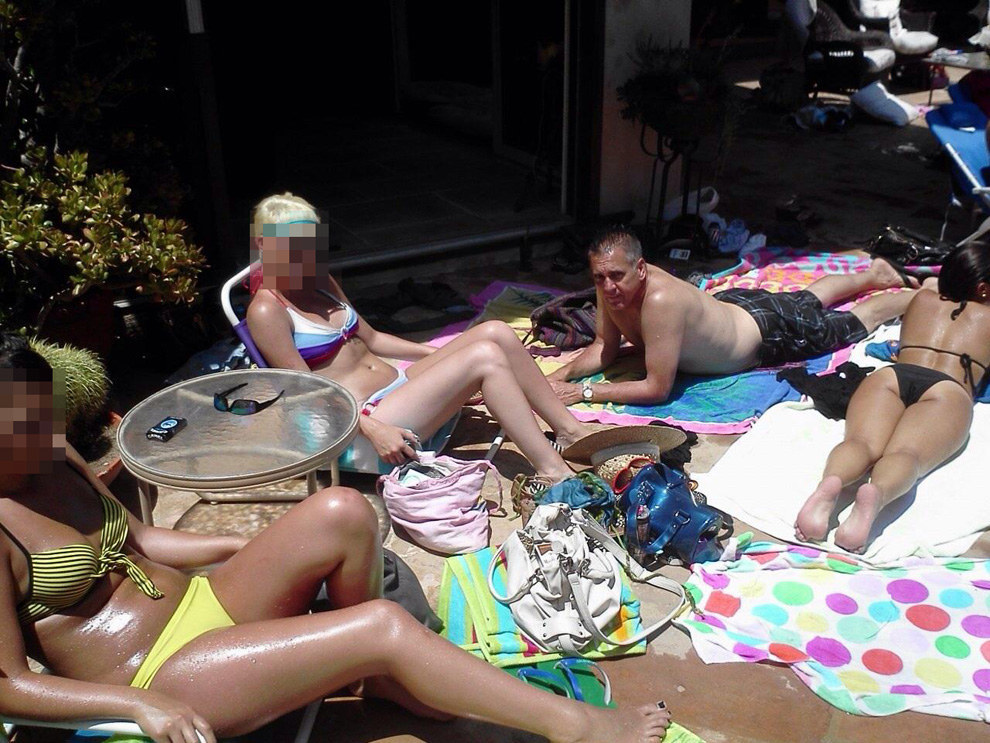 Powers's office is bare and impersonal, bright with Pacific Beach–adjacent light and noisy with the occasional city bus sigh and seagull caw from the street outside. Tuesday, he was joined there by his wife, Fred Murray, and Shana Shaterian, their director of operations. (All except Shaterian were named in Thursday's lawsuit.) He began an interview by reading a statement "categorically [denying]" Peyton's allegation that he "imposed himself on her in a sexual manner."
"We deal with a fragile population and people look to move out for any reason possible," the statement said. But since Peyton brought forward her allegations, "no one left from any of our homes except one girl who immediately relapsed. Additionally no staff has left as well … We are in communication with a law firm specializing in libel and defamation issues and we are considering our options."
Powers said he was prohibited from discussing individuals but could answer questions generally. So BuzzFeed ran through the list of allegations the complainants described. What follows has been edited and condensed only for clarity.
There are some allegations of verbal harassment — of complimenting bodies, and saying, "You're hot," "You have a nice ass," things like that.
David Powers: I've never told somebody that. It is awkward, and you need to train yourself when you're in a community that is as big as we are with women, and someone says, "Do I look fat?" "Does this look pretty on me?" You do have to train yourself on an appropriate answer, but the things that you are suggesting, I mean … They've never once heard me say anything like that, ever … Ask my wife. I don't know what to say. I've been in this office 20 years. We've been together a long time.
Another allegation was that you talked openly about your sex life with your wife.
DP: I've never. No. It doesn't happen. It doesn't happen … I don't even have much contact. There are cameras everywhere — outside, not inside. I don't even spend much time there. I have an office here.
Do you often pay out of pocket for the program participants' personal expenses? Do you ever take them out for dinners or buy them presents, or anything like that?
DP: I have — we've taken people to dinner … People who don't have a home at Christmas, we would buy them gifts … We do quite a bit of outings, you know, whether it's ice-skating or theater, circus, dinner. Part of the thing is, at this level of care, it's not about primary care, where you're in a bubble and you don't get out. Part of our deal is that we need to get you out.
One of the allegations is that there was an expression that you would allow "no oldies, no fatties" into the program.
DP: Never even heard that term.
That you and your wife had sex with the door open while there were girls living in your home.
DP: Of course not.
The individual who first brought allegations against you said that you told her you were in love with her, and she said "love you" back. When is that sort of language used within the home? Do you use the word "love" with anyone in the program, and if you do, what does it mean?
DP: That word is thrown around very casually amongst new people … That's not a term I use. I love my wife. That's all I could say.
Would you ever go into a girl's room when she was half-dressed, when she was coming out of the shower and getting changed, or sleeping?
DP: Not in my house. There is a girl who would not get up to go to a meeting, and it was a three-person room. No one was alone. And the parents knew — the parents actually said, "Can you get my kid up?" … But everyone was decent — knock before I go in, holler, other people went in before me … It's no different than if you had a medical condition, and someone's like, "Hey, we gotta go attend to somebody."
So you never walked in on a girl in any state of undress?
DP: Never.
What about allegations of touching butts, touching breasts?
DP: Not once.
In the most serious allegation brought forward, which you reference in your statement, she described an act where she was penetrated —
DP: No, she never said sex before.
Right, it wasn't sex. It was penetration, with fingers. What is your reaction to that?
DP: Never touched her. Ever. I've never touched anyone — I can't talk about her.
What about more "harmless" physical touching — touching them on the arm, or giving them hugs?
DP: I'm a big high-five guy. I'm a big elbow guy. (Demonstrates touching elbow to elbow with Shaterian) … We deal with trauma, so you can't sit there and just assume everybody's comfortable, you have to err on the other side.
So hugging is not common?
DP: I think that's a common thing in recovery. It's not the common thing for me.
Another serious allegation is that you and your wife were upset that one of the girls was wanting to come forward, so you drove to her house and threw heroin at her, told her "to do what she does best," and called her a "junkie whore."
DP: We helped somebody move, and we had a bed that we were picking up. Someone was being moved or evicted. We were collecting a bed back. Her belongings we left with her; our belongings we took with us. That's the end of it. I don't carry. You know, that's ridiculous too. A lot of this is, consider the source — look at our reputation, look at the people who spoke freely … Some people have suggested I'm the victim.
How do you feel about that?
Tina Powers: David, I think it's time to go.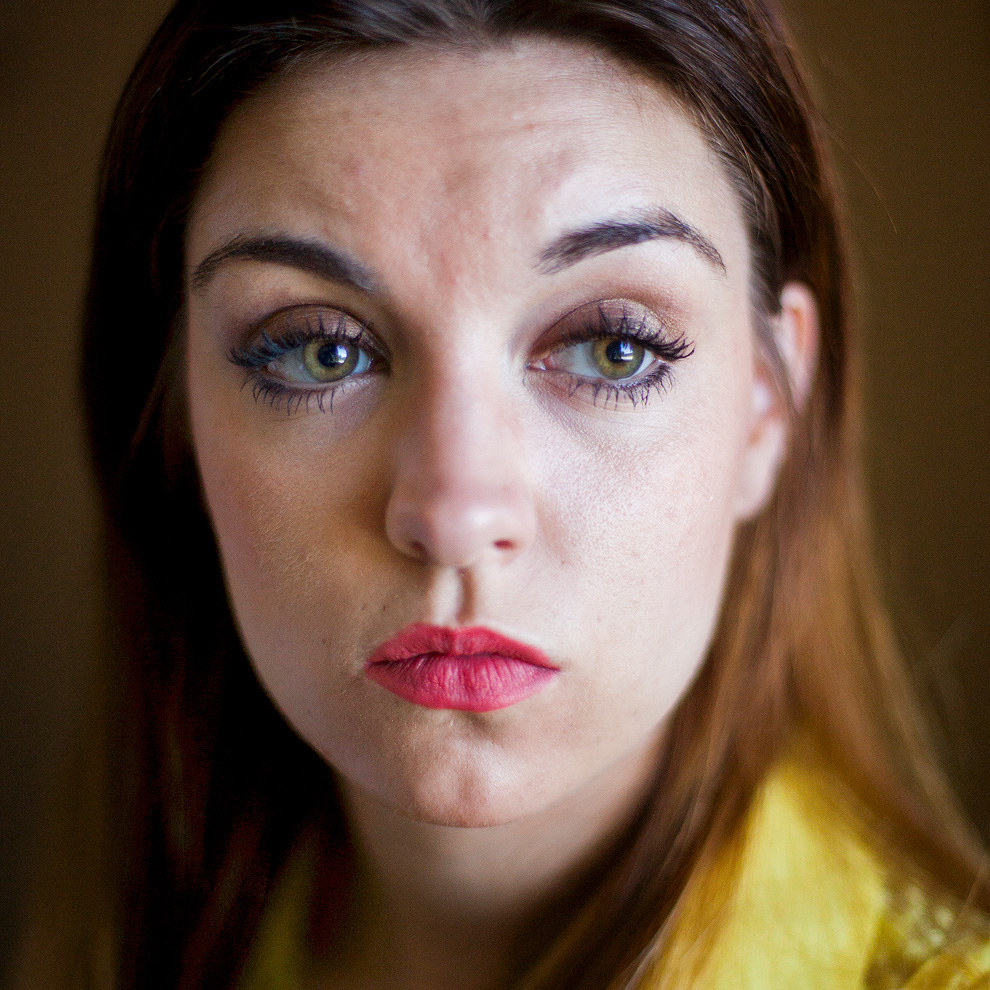 When she met Powers in September 2013, Peyton had just been discharged from the hospital after treatment for alcohol poisoning. She was on probation from a possession charge, ordered to stay in California for three years — not that any of her family in Ohio wanted her back, she said. Peyton's last rehab facility referred her to Soledad House.
ABC Sober Living accepted Peyton's insurance, but there wasn't space at Soledad yet. So, like dozens of others who've cleaned up in Powers' programs, Peyton moved in with him and Tina until a bed opened up at Soledad.
For a month, Peyton said, she went to work with Powers every day. After the golf cart incident, she said, came the courting. Powers would allegedly take her out to dinner, rub her legs, and tell her that he'd make her rich, that they'd run away together, that he loved her — and push for her to say it back.
Peyton began abusing drugs at 14. She said she's "really good at just pretending like I'm happy all the time." She is not really good at expressing her true emotions.
"I don't even like telling my mom or sister and brother that I love them. It's weird for me," Peyton said. Still, Peyton eventually told Powers she loved him too.
"He would let me know that he's the reason I'm not on the streets," she said. "That he's the reason I'm getting fed. If it wasn't for him, I'd just be homeless. I'd just be another junkie, I might be dead … The more grateful I was to him, because he had me believe that I was nothing without him, the more physical he would get with me."
"I didn't know what I felt for him … He made me feel like I was in love with him sometimes," she said. "And he would really make me feel like he was in love with me, and I never had someone act like that towards me."
By the time Peyton moved into Soledad House in November 2013, Powers was coming "into her room while she was sleeping and [lying] on top of her, kissing her neck and grabbing her buttocks," and also grabbing her during prayer groups, according to the complaint. He "would push her head down to his genitals and make her simulate giving him oral sex while fully clothed." Once, Powers allegedly walked in on Peyton while she was changing, placed "his hands on her breasts and told her to turn around so that he could see her breasts."
So what happened in the backyard in late January didn't shock Peyton, she said.
"I was disgusted with myself and really ashamed," she said. "But I felt just so indebted to him, and it had been so normalized by him — what we were doing, he made it seem like such an innocent thing that I just kind of stopped feeling completely."
That night, Peyton told a friend at Soledad House about the alleged assault. The friend told a counselor, who confronted Peyton about the incident. But Peyton wouldn't talk.
"I had finally found a family within this community," she said. "I felt welcome. I didn't want to ruin anything that I thought I had. I denied it, and I continued to deny it."
Eventually she told Fred Murray, who forced her to sign a "behavior contract stating that if she continued to speak of the allegations she would be kicked out of the program," according to the complaint. Peyton then approached Tina Powers — she thought David's wife "deserved to know." Tina allegedly responded by telling Peyton she couldn't move on to the second phase of the treatment program. So Peyton withdrew. And in February, she approached the law firm and filed a police report.
Peyton's case was forwarded to the San Diego Police Department's sex crimes unit — a "kind of awful" experience that she said involved officers asking her what drugs she was on, even though she told them she had been sober. The officers told her that if she didn't say "stop" or physically push Powers away, there's nothing they could do, Peyton said. (SDPD has said there were no criminal findings.)
The lawsuit, Peyton said, isn't meant to "shut down this evil corporation." She said she doesn't think Powers is a "bad person."
"If David would just admit what he did, be honest about what he did, and get help for what happened, that's all I want," she said. "We're addicts. We have addict behavior. We do bad things. We have impulses that it's hard for us to deny. I think he's just another victim of his addiction, and I think he needs help for it."
There's one more thing Peyton wants, though she had a harder time directly admitting it.
"When I tried to come forward, I had one of my best friends tell me, 'You are so sick, I don't want to associated with you anymore,'" she said "I still don't have really have any friends. I feel like I lost the best friends I thought I'd ever have."