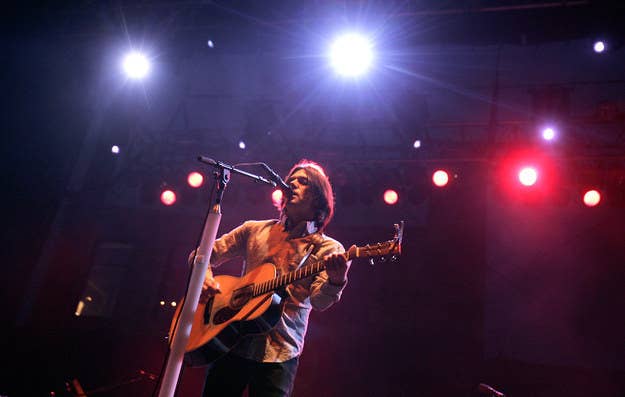 On Monday, Joanie Faircloth issued a notarized statement retracting accusations she made against singer Conor Oberst in December 2013.
"The statements I made and repeated online and elsewhere over the past six months accusing Conor Oberst of raping me are 100% false. I made up those lies about him to get attention while I was going through a difficult period in my life and trying to cope with my son's illness. I publicly retract my statements about Conor Oberst, and sincerely apologize to him, his family, and his fans for writing such awful things about him. I realize that my actions were wrong and could undermine the claims of actual sexual assault victims and for that I also apologize. I'm truly sorry for all the pain that I caused."
Faircloth had accused Oberst of assaulting her a decade ago in the comments of an xoJane story published last year. In a statement accompanying Faircloth's retraction Monday, Oberst's publicist said "Ms. Faircloth had no physical contact with Mr. Oberst at the Durham, NC show she claimed was the location of the alleged sexual assault."
When the xoJane comments began spreading on Tumblr and to news outlets in January, a spokeswoman for Oberst called them "absolutely, unequivocally false." In February, Oberst sued Faircloth for libel.
Until Monday's apology, Faircloth had made no attempt to legally defend herself and didn't respond to Oberst's lawyers' attempts to contact her.
It's unclear how the libel suit will move forward.
Oberst's father and business manager wrote in a recent declaration that Oberst's May album, Upside Down Mountain, has "sold substantially fewer copies than his prior albums, despite receiving some of the most positive reviews of Oberst's career." Not including legal fees and travel expenses, he estimated the cost of Faircloth's allegation to be at least $700,000.
On Wednesday, Oberst released a statement via his publicist, accepting Faircloth's apology.
"I have accepted Joanie Faircloth's apology and retraction to clear my name. This has been extremely difficult and stressful for me personally and for those I love. I'm appreciative of the family, friends, fans, and business partners who supported me throughout this and look forward to happier times as we all move forward with our lives."