With Daisies In Hand, Hundreds Rally In Maryville For Alleged Rape Victim
"No one deserves to be victimized." A short but strong rally for Daisy Coleman, the teenager who says she was driven from her Missouri town after being assaulted.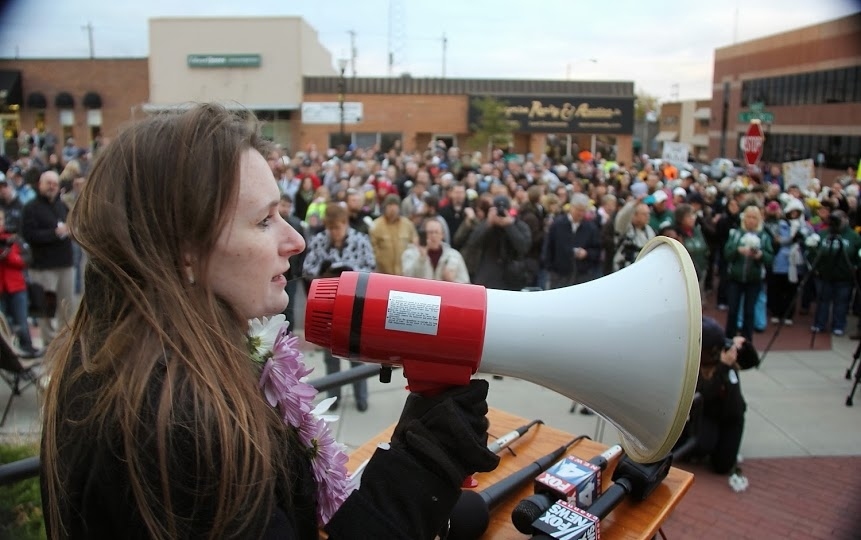 MARYVILLE, Mo. — Nearly 500 people holding daisies gathered outside the stately Nodaway County Courthouse Tuesday in the first major demonstration of support for Daisy Coleman, the Missouri girl who says she was raped at age 14 by her 17-year-old friend.
Coleman's assault happened in January 2012, but didn't garner national attention until the Kansas City Star published a months-long investigation into the case last weekend. Coleman told the Star she snuck out of her house to hang out with a football player named Matthew Barnett, who allegedly gave her alcohol, raped her, and left her unconscious on her front yard.
When the "Justice For Daisy" event was first announced last Monday, organizers wanted a large group to show up at the courthouse during working hours, when prosecutor Robert Rice — who dropped the charges against Coleman's accused rapist in March 2012 — was sure to be there. But after Rice announced he would ask a special prosecutor to reexamine the case, the event shifted to an evening rally of support for Coleman.
It was cold and windy when the demonstration began at Maryville's courthouse — about 100 miles north of Kansas City — where local authorities had blocked off streets and closed county offices in preparation for the rally hours ago.
Courtney Cole, whom BuzzFeed interviewed last week, said her goal was to change the national conversation about rape "from victim-blaming to victim advocacy."
"No one deserves to be victimized," she said over a megaphone. "No one asks for it, and no victim should be told that she or he is to blame for the criminal actions of another."
Miranda Fletcher, a Kansas City activist invited to speak at the rally, reminded the crowd of the Steubenville rape case and the need to support people whose assaults have been brushed aside or covered up.
"As a survivor of sexual assault myself, I am reminded when I read these cases that Steubenville and Maryville are in my neighborhood," she said. "Maryville and Steubenville are everywhere. They're in your hometowns. They're in the exit signs when you drive on the highway for your daily commute to work. They are the social fabric of young lives in high schools everywhere."
The shivering crowd broke apart as the speeches ended and sun went down. The last two remaining supporters, Maryville residents Jason Yarnell and Reese Hammond, both staffers at Northwest Missouri State University's Baptist Student Union, said they didn't recognize the media's version of Maryville, a supposedly cliquish small-town, and criticized some internet crusaders' "eye-for-an-eye approach."
"This idea that Maryville, as a town, has swept this under the rug — that's not how it is," Yarnell told BuzzFeed. "I'm pro-justice, but please don't think that means I'm pro-rapist. I just want to know the whole truth."
On Monday, Daisy's mother Melinda Coleman issued a statement explaining that she didn't think Maryville was "a terrible town."
"We love so many people there and really were happy there until 1-9-12," she wrote. "I do NOT condone violence in our defense. I don't want others terrorized as we have been."
Cole, who created the event on Facebook last Monday, brought bucket-loads of daisies.
Some members claiming to be with Anonymous, a driving force of the Justice For Daisy movement, showed up IRL.
So did, inexplicably, this guy.