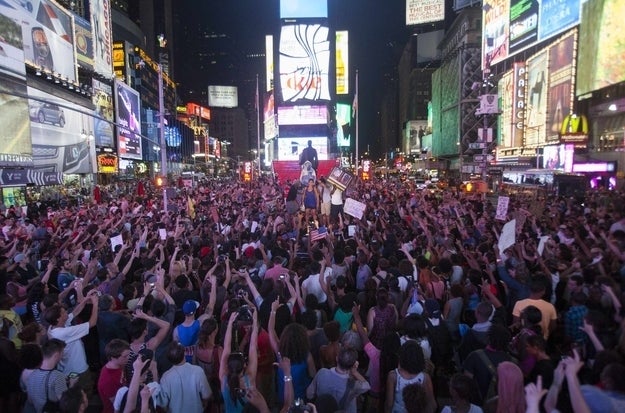 SANFORD, Fla. — In New York and Los Angeles on Sunday, thousands shut down major streets and squares with banners and megaphones, raising hell for Trayvon Martin, the 17-year-old boy who was shot and killed last February.
At the same moment in Sanford, Fla., the town where Martin died, about 100 people — a generous estimate — gathered at a lakeside park, after organizers spent nearly two hours trying to bring together small and scattered demonstrations.
About a dozen arrests were made in the large, urban, politically minded cities. No arrests were made in the central Floridian city of 50,000 where, 16 months ago, tens of thousands gathered to protest the Sanford Police Department's lack of action against Martin's shooter, George Zimmerman.
Zimmerman was eventually put on trial, and on Saturday night, a jury of six found him not guilty of murder and manslaughter. Many expected destructive demonstrations in the verdict's aftermath. There was one, and it wasn't in Florida. The city of Sanford, thought to be the center of unrest, was as calm as ever.
Some credit the Sanford police for its door-to-door preparation to keep crowds under control.
On Friday, when jurors were handed the case, Sanford Police Chief Cecil Smith said officers had a plan in place to keep order in the city, though didn't give any further details. In a press conference, he and Seminole County Sheriff Don Eslinger made a joint appeal for peace.
"We will not tolerate anyone who uses this verdict as an excuse to violate the law," Eslinger said. At a prayer service on Monday, Smith said he was proud of Sanford residents for "being the example for everyone" — accepting the verdict responsibly, even if they didn't agree with it.
But some Trayvon Martin supporters have blamed the police for sabotaging protests as part of their peace-keeping plan.
The big anti-Zimmerman rally was supposed to be Sunday afternoon, at the courthouse where he was acquitted. But sheriff's deputies parked patrol cars outside every entrance, blocking anyone from parking there. Passersby were told the grounds were closed on Sunday, and that nothing official was going on.
About 15 people gathered on the street corner in front of the courthouse instead. Coalition for Justice For Trayvon organizers called it "blatant police suppression" and eventually left, hearing there was another small group at a park six miles north.
"People here are so suppressed," organizer Lashanett Lorraine said. "You can't tell me that people living out here don't care when they're driving by right now and honking at us."
But then there's the sentiment, blanketing the town like its unrelenting humidity, that Sanford is just tired of it all.
Convenience stores and fast-food restaurants have had CNN on their televisions non-stop since the trial began on June 10. People all over Sanford — at the mall, the boat dock, the riverwalk — speak of the trial with exhaustion. The white-tarped media staging area at the courthouse has the look (and smell) of a permanent campground. As one diner patron said Monday before heading to Orlando with his grandchildren for the day, "They're the ones who've been promoting all this bullshit, not us."
Even Zimmerman's victorious supporters said they are ready to move on.
"I am so glad the 24/7 coverage is over," one told BuzzFeed on Sunday. "I can begin to get my own life back."