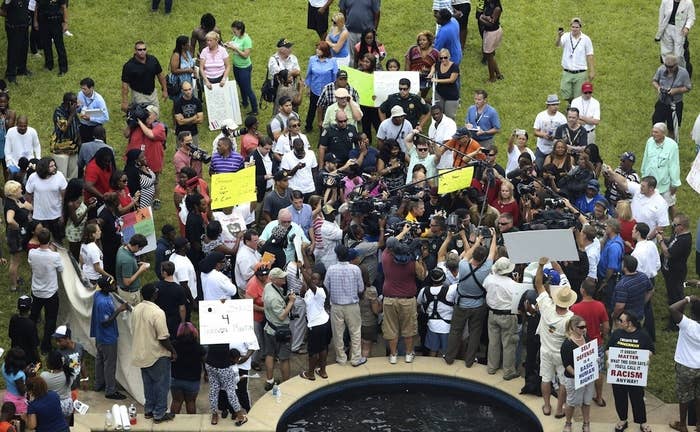 SANFORD, Fla. — On Sunday, Amy Waz went to a Tampa Bay Rays game. Melissa Waz worked an ungodly early morning shift. The sisters ended their weekend like nothing was unusual. But everything had changed.
George Zimmerman was a free man, and the frustration, anxiety, and low-heat rage the Waz sisters been carrying around for the past month (courtesy HLN, MSNBC, and CNN's live coverage of his trial) was gone (well, almost gone) and replaced with relief, gratefulness, and maybe a little smugness.
"I do feel vindicated," said Amy, a private investigator with a criminal justice degree and fondness for chow chows. "I don't know George, and I was never on any side or any team. I am on the side of the law, period, and there was no other way to go other than not guilty."
A jury determined Saturday that Zimmerman acted out of self-defense in February 2012 when he pursued, confronted, and fatally shot 17-year-old Trayvon Martin, an unarmed high school student. The verdict outraged many who took to the streets in cities like Oakland and New York and who felt that the decision was evidence of persistent racism in the United States.
The Waz sisters were two of central Florida's most passionate supporters for Zimmerman's acquittal. They watched every courtroom scene on their Tampa television sets, and made their first appearance at the Seminole County Criminal Justice Center in Sanford on Wednesday, two days before Judge Debra Nelson handed Zimmerman's murder case over to a six-woman jury. There were a few Martin supporters gathered outside the courthouse that day, but Melissa and Amy, who declined to give their ages, were the only people standing for Zimmerman.
They held signs that said "It doesn't matter what this sign says you'll call it racism anyway!" and "Self defense is a basic human right!"
"I would never, ever hide my beliefs," Melissa said. She said she's always been open about believing in Zimmerman's innocence, and has never felt discriminated against for it. Until Wednesday, she said, when Martin supporters "approached us, telling us our sign was invalid and other typical anti-Zimmerman rants."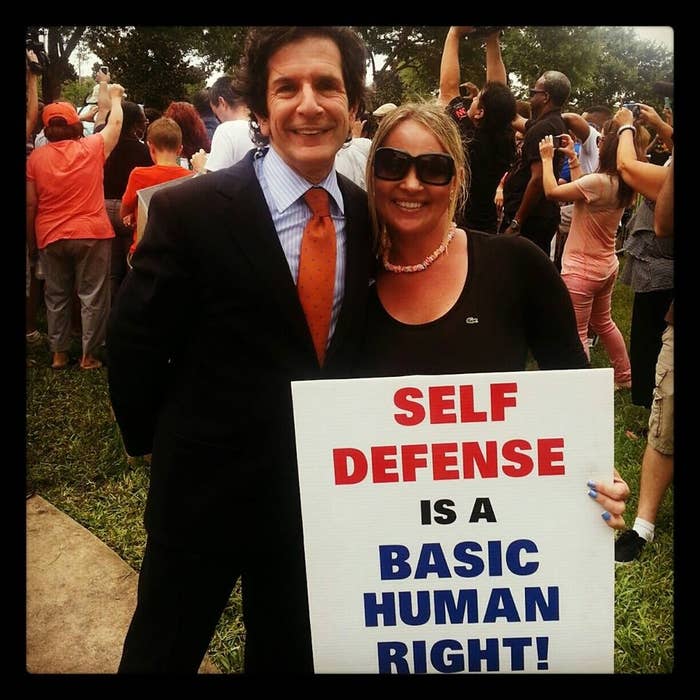 On Saturday, the jury was in full deliberation mode, reconvening at 9 a.m. as many predicted it would be their last day at the Sanford courthouse. By 10 a.m., the Waz sisters were again making the two-hour drive from Tampa to Sanford.
"We saw morning media coverage at the courthouse, and the Zimmerman supporters were greatly outnumbered," said Melissa, an animal rights advocate who works from home for an international airline. "We could not sit silent."
The feeling of being outnumbered — at the courthouse, but also for months on Twitter and TV — would later inspire Defense Attorney Mark O'Mara to characterize the Zimmerman trial as "a little David and Goliath."
Melissa embraced the role. With her dark hair, green nails, and large black-and-white circle earrings, she wore an "I believe you Zimmerman" T-shirt. Amy was there too, in her black Lacoste top and blonde ponytail, holding up her sign with powder blue nails.
The increase in Zimmerman supporters at the courthouse Saturday also meant more tension between the lopsided groups. A shouting match was quickly broken up by sheriff's deputies, before it had the chance to turn ugly. Racial slurs were exchanged. David Turner, another Zimmerman supporter, said the day was "like riding a motorcycle with no helmet ... a tad more cautious than usual and laced with offensive talking to prevent altercations."
When it was over, Amy said that she had "never in my life encountered such disrespectful wild animals" — with the contrast, of course, of Zimmerman's "calm, polite and peaceful" supporters. In an email, Melissa added, bitterly: "The most embarrassing and frequent rant that was yelled at us yesterday at the courthouse (and mostly by children!) was that we were 'creepy-ass crackas.' Nice, eh?"
Today, the sisters feel that their unpopular beliefs are, at long last, legitimized. They both plan to get concealed weapons permits as soon as possible, but otherwise, the Zimmerman verdict hasn't drastically changed either of their lives — except for the new reservoir of free time.
"I am so glad the 24/7 coverage is over," Melissa said. "I can begin to get my own life back."
"I guess I need a break from Zimmerman," Amy said. "Amen!"