What do you want to say to her? Do you believe she's still alive?
Veronica Pate can answer in her sleep. "I miss her and I love her and I'm waiting on her to return home," the 51-year-old mother has said every few years for the past 19, whenever the local TV reporters in central Georgia have come knocking. "In my heart I feel she's alive." They dutifully air her words, and another few years go by before they ask the same questions again.
Pate's daughter, ShyShy, has been missing since Sept. 4, 1998. The 8-year-old was supposed to ride with her older sister to a high school football game that night, but when it was time to go, her sister couldn't find her. The Dooly County Sheriff's Department, the Georgia Bureau of Investigations, and the FBI couldn't find ShyShy in the following days, weeks, months, and years, either.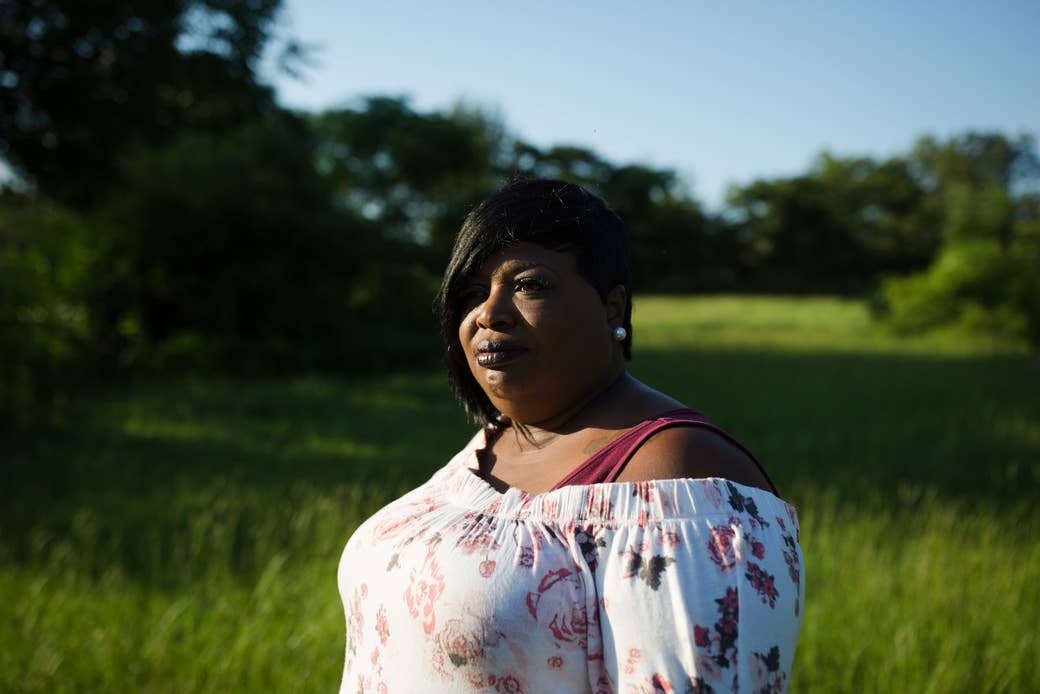 Stories involving missing children have captivated the public since at least the '80s, when widespread panic over stranger-snatching first struck American families. Children had gone missing before that decade, but it was in 1985 that their faces began appearing en masse on milk cartons, forcing parents to consider their worst fears every day at the breakfast table. And it was in 1988 that America's Most Wanted first aired, hosted by John Walsh, the father of a 6-year-old named Adam who had been kidnapped and murdered in 1981.
In the '90s, soapy made-for-TV movies about missing children replaced the true-life stories on the milk cartons. In the '00s, Elizabeth Smart and Jaycee Dugard became household names for surviving their kidnappings. Today, there are Academy Award–winning movies (Room) and Netflix series (Stranger Things, Unbreakable Kimmy Schmidt) and true-crime podcasts (too many to name) about abducted minors. And as the years have passed, the news media has developed a familiar script around these cases. Reporters interview the mothers on the anniversaries of their children's disappearances. They ask them what they want to say. They ask them if they think they're still alive.
"If there's a missing white woman, we're gonna cover that, every day."
But nearly all of the cases that graduate from local to national news have something in common. It's what the late journalist Gwen Ifill in 2004 casually coined "missing white woman syndrome." "If there's a missing white woman, we're gonna cover that, every day," Ifill said. She was referring to the media's fixation on the disappearances of white women and girls, often upper- and middle-class white women and girls — think Elizabeth Smart — compared with the lack of coverage given to missing people of color and those with low incomes. The phrase finally put a name to the outrage that had been weaving in and out of public consciousness, driven by scholars, activists, and other journalists critical of the mainstream media's tunnel vision.
Earlier this year, criticism of missing white woman syndrome didn't so much weave back into the news cycle as bulldoze into it, when a shocking story went viral: Fourteen black girls went missing in Washington, DC, in one 24-hour period. Throughout the first half of March, activists and celebrities and their followers spread the haunting figure on Instagram. Members of the Congressional Black Caucus wrote the Justice Department asking the federal government to investigate. With the hashtag #MissingDCGirls, thousands on Twitter decried the media for going so long without covering the epidemic, for perpetrating missing white woman syndrome.
The number, it turned out, was hugely inaccurate, a botched interpretation of police data. But it resonated with so many people in the age of Black Lives Matter and on the heels of the Women's March because it seemed like it could be true. According to the FBI, nearly 56% of the country's reported missing minors in 2016 were girls, and nearly 39% of those kids were black. In 2014, 64,000 black women and girls were missing, according to the Black and Missing Foundation, a DC-based nonprofit dedicated to raising public awareness and helping families of missing people of color.
In 2014, 64,000 black women and girls were missing, according to the Black and Missing Foundation.
The viral sprawl of the false DC story meant that people who'd never heard of missing white woman syndrome suddenly had the phrase in their vocabularies. But by the end of April, the public had largely moved on. "The story became a fad and died," said Natalie Wilson, cofounder of the Black and Missing Foundation. Mainstream media didn't obsessively cover the five days in June between the disappearance of 12-year-old Naomi Jones, a black Florida girl, and the discovery of her body in a creek, or the four days in July between the abduction of Shavon Randle, a 13-year-old black Texas girl, and the finding of her body in an abandoned home. In the first week of May, three black South Carolina girls separately disappeared. Two of them were eventually found safe; the third, an 8-year-old, was found dead. They had no hashtags.
In 1998, everyone in ShyShy Pate's neighborhood knew her, and everyone in her small town of Unadilla, Georgia, knew that she disappeared. Many were questioned by authorities, and even more opened up their homes to be searched — though it took more than 14 hours for authorities to begin looking for ShyShy in earnest, a mammoth lag that still haunts investigators and her family.
But few people outside middle Georgia have ever heard ShyShy's name. The Pate family has felt the attention swell and dwindle (and mostly dwindle) for nearly two decades. They've struggled to keep the news media interested in the case. They've turned to social media, but it's been hard to get followers there, too. On Facebook, there are almost too many missing kids; the Searching for ShyShy page has just 70 followers. Last fall, ShyShy's family organized a 5K walk, selling T-shirts to promote awareness for her case and raise funds for the missing-children campaign Rock One Sock. They ended up $500 in the red. No one is searching for ShyShy anymore, outside a handful of her loved ones in Georgia.
Which raises two questions that Veronica Pate can't answer quite so quickly, even after these 19 years: Is it because they're black? Is it because they're poor?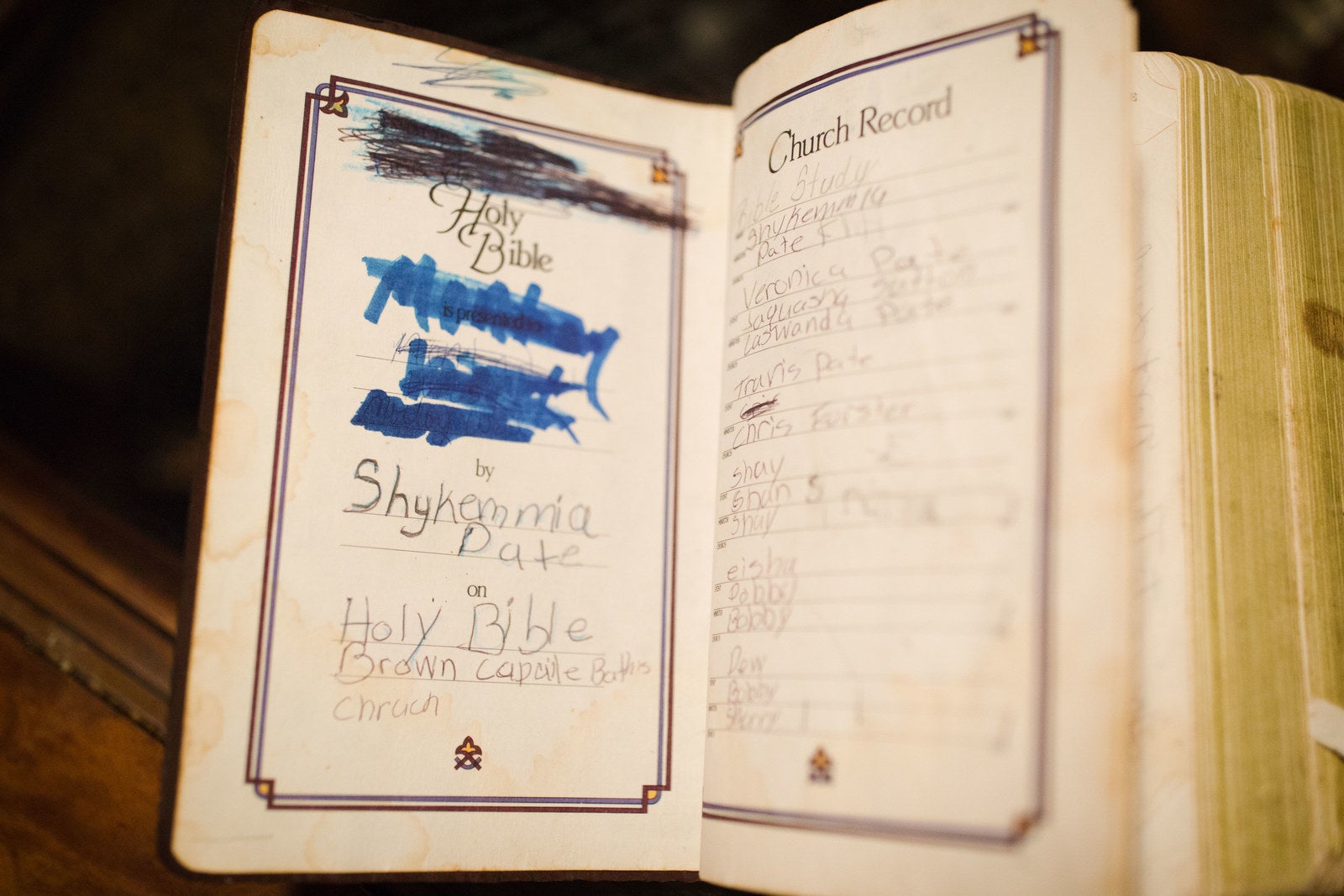 ShyShy is a nickname. Her full name is Shy'Kemmia Shy'Rezz. Kemmia came from the word "leukemia," which the pregnant Pate saw one day at the store, on the side of a coin-donation box for leukemia research, and thought it sounded pretty.
ShyShy was sick a lot — with severe asthma, among other illnesses — but she could never stay still. She was a playful kid, always dirty from riding her bike around outside. She sung in the church choir and promised her aunt she'd perform at her wedding. She was sweet by her mother's word and aggravating by her older sister's. One year for her mom's birthday, ShyShy gave her a card with a $1 bill inside. "She said, 'That's all the money I have. I don't have no more,'" Pate remembered.
No one is searching for ShyShy anymore, outside a handful of her loved ones in Georgia.
The three of them — Pate, her 36-year-old daughter LaSwanda Hickey (chief T-shirt designer), and her 45-year-old sister Rotando Freeman (social media wrangler) — are the ones who talk about ShyShy today. Pate lives in Perry, Georgia, a city more than three times the size of Unadilla; she moved out of the Unadilla projects where ShyShy last lived nine years ago. The new apartment is just 17 miles away from her old one, but it feels a world away. Most people who lived in Unadilla back in '98 have moved away ("or died," Hickey offered, dryly).
So it's in Pate's Perry living room that the women gathered to tell the story of ShyShy — her childhood, her quirks, the last time they saw her — one afternoon in June, interrupted only by one or more of Pate's grandchildren galloping down the stairs to pull ice pops from their grandma's freezer.
In September 1998, ShyShy had just entered third grade. She was weeks away from her ninth birthday. It was high school football season, and Hickey, then a senior and member of the ROTC, performed in the color guard. On the evening of Sept. 4, while Hickey got ready for the home game, ShyShy went to play outside.

In their neighborhood, everyone knew everyone, and all their kids played in their sun-scorched yards together. It was a rough place — men sold drugs on the street and gambled on tables at the club across from their apartment — but no one considered it unsafe for kids. Never in Unadilla or all of Dooly County before or since ShyShy went missing had a child been abducted, the sheriff's office said. Later, when the sheriff began investigating her disappearance — turning the club across from the Pate home into the case's headquarters — known dealers in the area worked closely with deputies to help find ShyShy.
She was last seen standing outside a neighbor's house at the intersection closest to her apartment. Hickey waved to her there, right before she went to pick up a friend. ShyShy was wearing a neon-green Atlanta Braves jersey, with jeans and white K-Swiss tennis shoes. But when Hickey and her friend circled back to pick up ShyShy, the little girl wasn't there.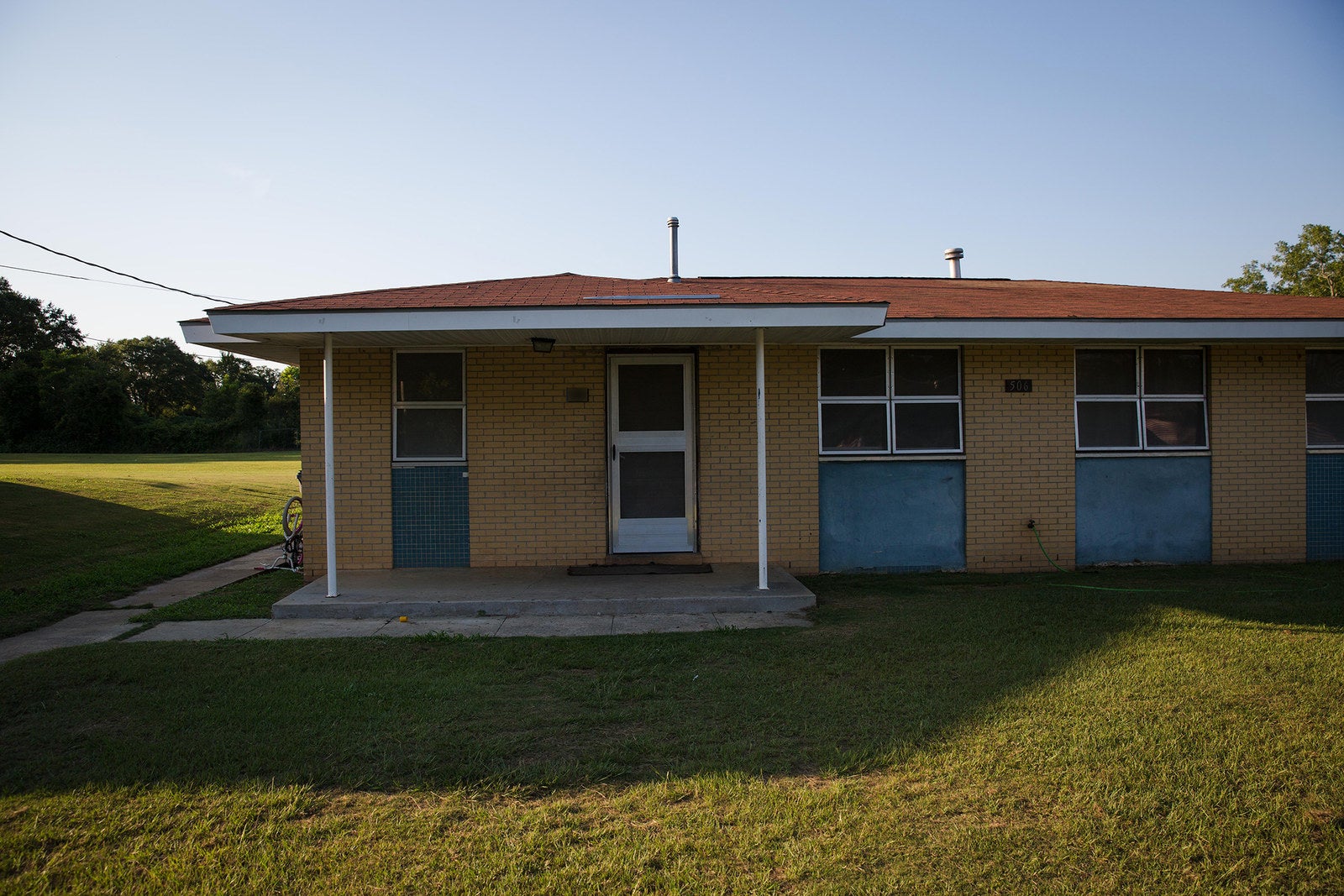 At first no one panicked. ShyShy could have found another ride to the game. Or she could just be playing with another neighborhood kid at someone's house. Neighbors started looking for her, but it didn't hit anyone that ShyShy was really gone until Hickey came home from the game that night without her sister. Then Pate called the police.
According to Pate, an officer from the Unadilla Police Department told her that ShyShy had to be gone 24 hours before she could be considered missing.
When the lead investigator in ShyShy's disappearance looks back on her case, this moment is the one that stings. The Dooly County Sheriff's Department didn't learn about the case until late the following morning, depriving the investigation of valuable time and evidence: The neighborhood search party inadvertently covered up what might have been ShyShy's scent and tracks. More importantly, there is no protocol that children have to be missing for 24 hours until searching begins; even in cases involving adults, that time frame is largely a myth or misconception. But it was a young officer who responded to the Pates, Dooly County investigator Randy Lamberth said.
"We're a lower-middle-class black family (with) no money. And my criminal record has stopped people from looking for my child, which it should not."
"I wish we could have gotten involved with it from day one, instead of being 14 to 16 hours behind," Lamberth said. (The Unadilla Police Department was dissolved in 2008, and area policing has been taken over by the sheriff's department.)
Lamberth is the one who finally launched the investigation into ShyShy's disappearance, after visiting the Pate family the next morning. He brought out the Georgia Bureau of Investigations. They brought out the fire department to begin ground and grid searches, the Georgia State Patrol's aviation unit to take aerial photos for 10 square miles, and the FBI to enter ShyShy into the National Crime Information Center system. Deputies searched the back roads of Unadilla while federal agents conducted interviews and followed up on out-of-state leads. For weeks, authorities worked 12-hour or longer days, every day, Lamberth said. A reward of $15,000 was eventually offered after all immediate family members in Georgia at the time of ShyShy's disappearance passed lie-detector tests.
But if the police department had taken Veronica Pate's call seriously in the first place, if the responding officer had reported the case to the sheriff's office immediately, all that manpower would have come sooner, in the critical hours after ShyShy went missing. That night she would have had more than just neighbors yelling her name in the dark.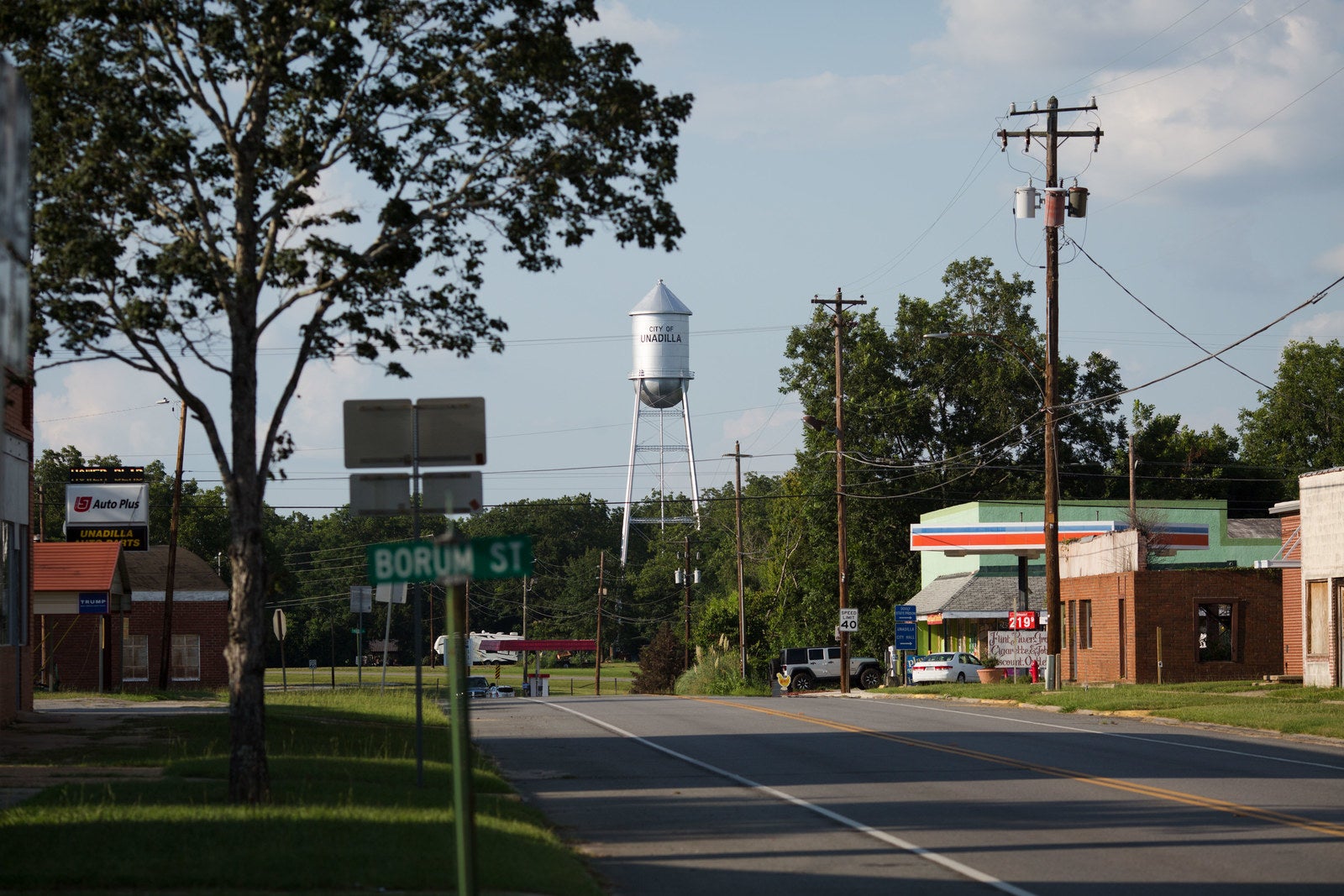 The DC missing black girls story that went viral in March was drawn from the Twitter account of DC's Metropolitan Police Department, which had just begun tweeting out missing-persons flyers. But the account was posting all of the department's active-case flyers at once — not tweeting them live as the cases came in, as many on Twitter had interpreted. Though the department tried to clarify that there had been no spike in missing-persons cases, no 24-hour surge, and that their missing-persons cases had actually decreased since 2014, the viral storm couldn't be stopped.
The DC mayor and police chief held public meetings with outraged residents, who didn't just blame the media for not covering black girls' disappearances, but also law enforcement for its perceived bias against black families — its belief that black children aren't kidnapped the way white children are.
The relationship between families of missing black girls and law enforcement can be precarious. The Black and Missing Foundation, an organization founded by two black women, often points out that families of color historically don't trust law enforcement, which can lead to delays in calling police. Wilson said that's because of the stereotypes police often attach to missing black children. "Many times when a child goes missing, especially a child of color, they're classified as a runaway," she said. "They don't receive an AMBER alert or any type of media coverage."
One Tuesday this past June, 12-year-old black twin sisters in Florida disappeared for three days, found eventually at the home of a family friend. While they were missing, police told reporters the girls were "runaways … They're not abducted. The father went to work [and] they never went to school." But when police asked for the public's help to find the girls, many pushed back on the cops' "runaways" classification, asking why the girls did not receive an AMBER Alert. "How does the police dept know they are runaways, what clues do you have?" one woman challenged the department on Facebook. The department insisted, defensively, the girls did not meet the Department of Justice's criteria for an AMBER Alert, which include police believing that a missing child has been abducted and is in imminent danger.
A decade ago, in 2007, continued frustration around criteria for AMBER Alerts led to creation of the Rilya Alert, named in memory of a 4-year-old black girl, Rilya Wilson, who vanished while in the Florida foster care system. Founded by a small nonprofit called Peas in Their Pod, the Rilya Alert has broader criteria than the AMBER Alert, allowing for the inclusion of missing children classified as runaways. But neither the Rilya Alert nor the nationwide AMBER Alert system existed when ShyShy Pate went missing.
The Pate family is aware of the racial dynamics of her case — that is, that all of them are black and all of the investigators are white. Just look at the age-progression pictures that agencies have distributed over the years, which the Pates say have never been able to get ShyShy's skin tone, lips, or hair quite right.
But it's not more diversity that police departments or investigative agencies need the most to better serve families of color, Wilson of the Black and Missing Foundation said. It's training. Training that doesn't lead officers to default to "she's a runaway" or "she'll turn up eventually" — training that would have led to ShyShy's search beginning immediately, not 14 hours later. And sensitivity training, Wilson added. Often family members who have a criminal record are immediately suspected to be involved in a child of color's disappearance, she said.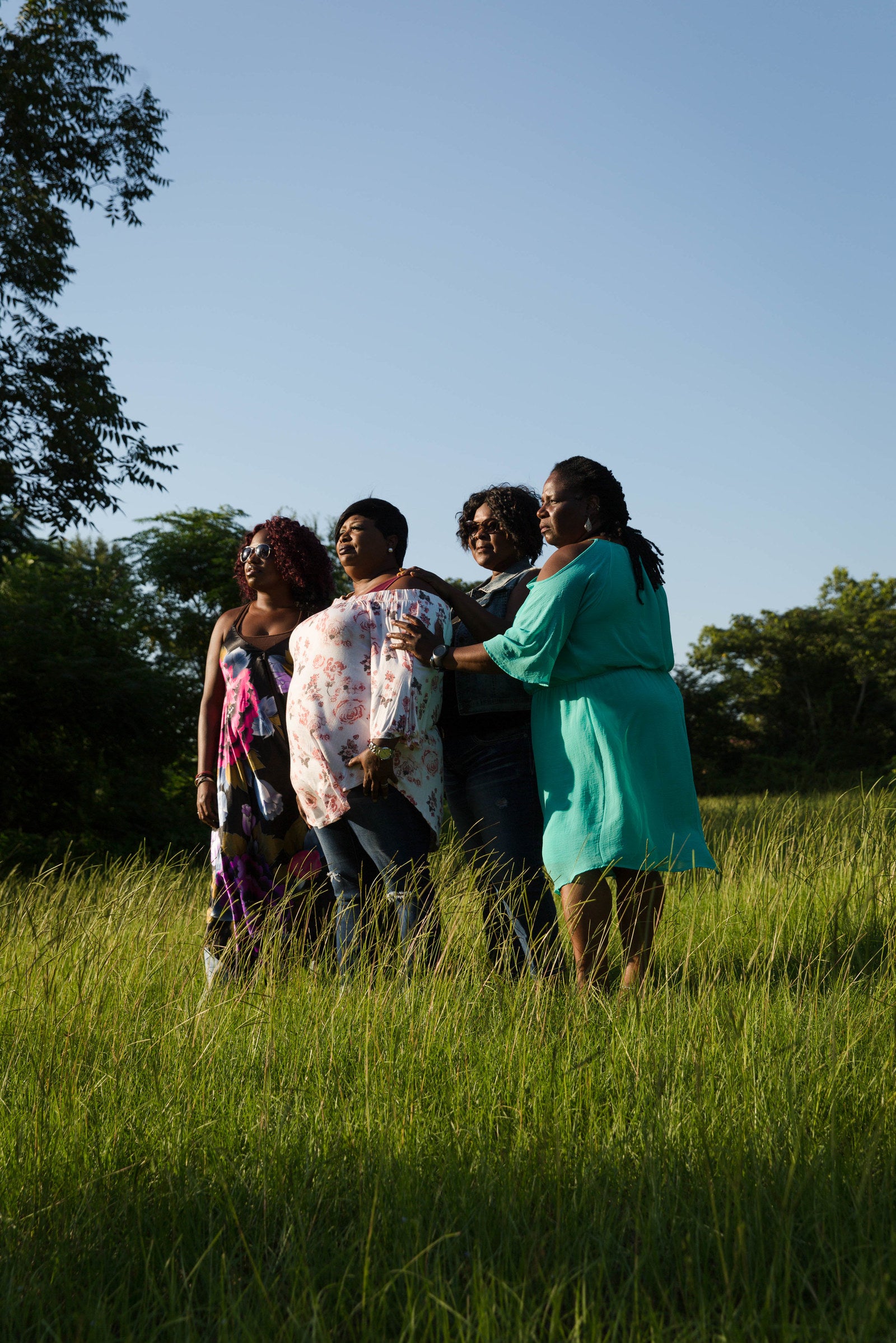 Even Lamberth, who spearheaded damage control after those 14 hours and has maintained a good relationship with the Pate family — he was the only white participant of last year's 5K walk for ShyShy — has repeatedly described ShyShy as "street-smart" in interviews over the years, as if the 8-year-old could or should have known better than to be kidnapped.
Still, ShyShy's family is not convinced that she would have been found by now if she were white, or that her case has been handled any differently because she's black. They point to an 11-year-old white girl named Teresa Dean who went missing in Macon, 50 miles from Unadilla, the year after ShyShy disappeared. She still hasn't been found, either.
"I think money is the bigger issue than color," Hickey said.
"Oh, if she was a white rich kid, they probably would have found her that same day," Freeman added. "We wouldn't have had to depend on the police department. We would have had the resources to have private investigators, the whole nine yards."
But beyond not having money, the Pates don't have time on their side anymore. Too much of it has passed. Who can even remember the lost girl from Unadilla? That adorable 8-year-old is now almost 28. (And where is Unadilla again, anyway?) The National Center for Missing and Exploited Children used to send Pate free stacks of posters each month featuring ShyShy's photo and information to distribute locally. "They don't send them to me anymore," she said.

"Money is the difference," Hickey repeated.
"If you got money then you can make things happen," Freeman said.
Ask Randy Lamberth if he believes ShyShy is alive and he will look you straight in the eye. "Honestly?" he'll ask, a bit awkwardly. "No, ma'am."
He's never really this said out loud to Pate. "Not directly, but kind of indirectly," Lamberth said. "I don't want to kill the family's hopes. But just statistics and everything says that she's not. … With her age, I think she would have tried to contact family, and there's been no attempts."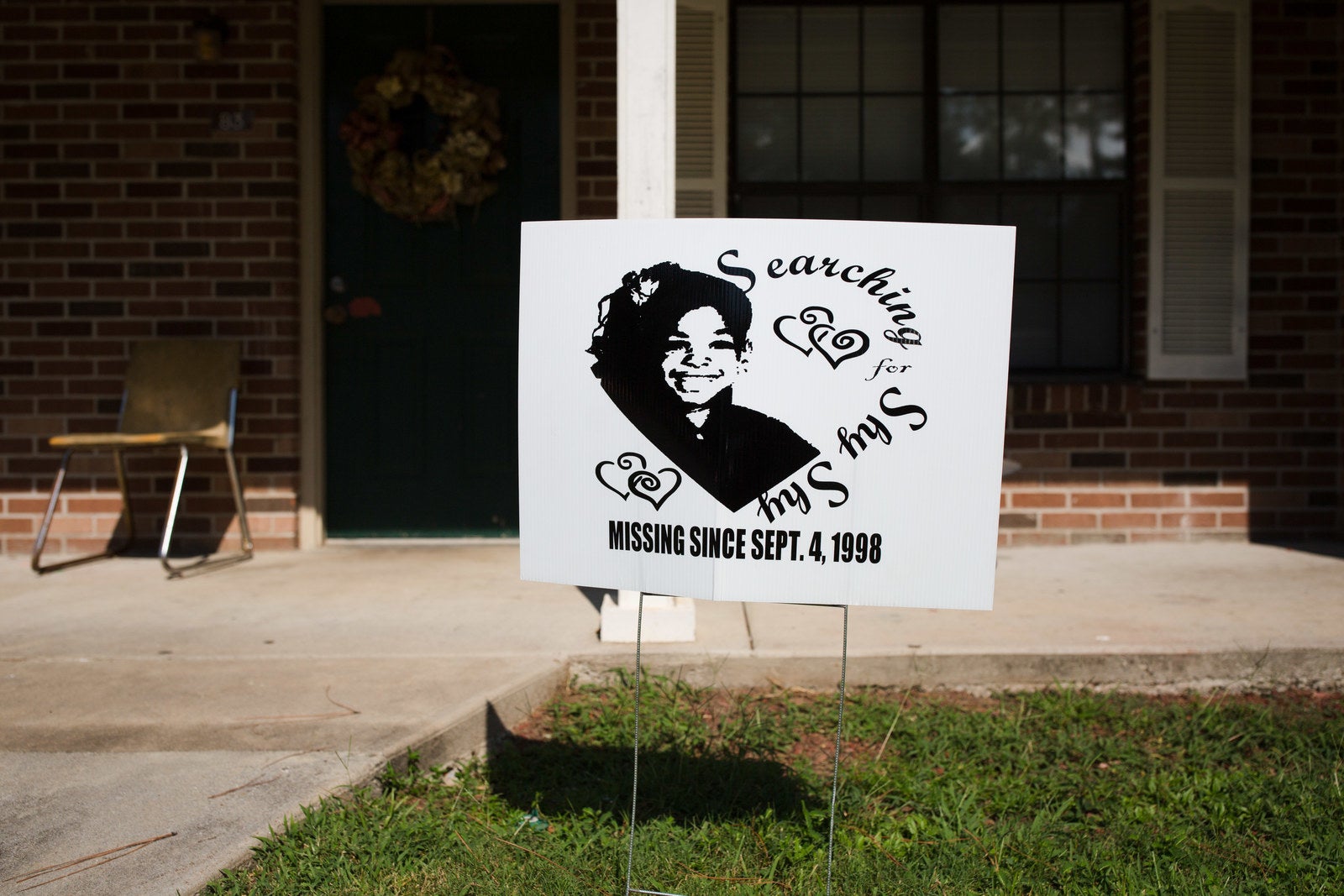 The family has their own theory. They believe, first of all, that ShyShy is alive. But maybe she's been brainwashed. It's not unheard of. She was young when she was taken, and maybe she was convinced by her kidnapper that her family didn't want her anymore. Michelle Knight, one of three Ohio women who escaped kidnapper Ariel Castro in 2013, said Castro convinced her that no one wanted her or was looking for her, and she was 21 when she was abducted.
In missing children investigations, there can be emotional necessity to conceal some information from the family. When new leads have come in over the years, Pate hasn't wanted to hear about them until they're chased down. Once, a few months after ShyShy disappeared, a body was found in Cobb County, Georgia. The late Dooly County Sheriff Van Peavy called Pate to say, "I don't know if it's our baby, but I gotta go see," Pate recalled. Pate, distressed, told the sheriff to wait until the next morning to give her the news. But it wasn't ShyShy; it was the body of an 11-year-old boy. Pate remembers that he was wearing red jeans when he was found.
The family has only accidentally found out about other leads, like in 2012, when police received a tip that a young Facebook user in Michigan looked an awful lot like ShyShy. A GBI sketch artist said she didn't think it was the same person, but the resemblance was too close to rule out, Lamberth said. So he, Sheriff Peavy, and a GBI agent drove to Detroit together, only to discover when they arrived that the girl looked like ShyShy because she was ShyShy's cousin.
In the first few weeks of ShyShy's investigation, there were eight to ten leads a day, Lamberth said. Now there are still about two to three leads a year. The emergency of ShyShy's disappearance has faded into more of a cold fact of daily life. Though ShyShy's case is still considered an active investigation, the most promising lead to date was that cousin on Facebook. Lamberth believes her case will never be closed.
But there's something else he's concealed from the family after all these years: Not only does the investigator believe ShyShy is dead, but he thinks he knows who killed her.
"My true theory is it involves one person, one person only," Lamberth said. There was a man, Lamberth said, who provided information during interviews with investigators back in 1998 that aligned with the FBI's profile of the suspect. Lamberth said he believes this man kidnapped and killed ShyShy in a spontaneous fit of anger.
In either scenario — whether ShyShy has been murdered or brainwashed — the evidence just isn't there, even if the theories are.
Alexis Patterson went missing on May 3, 2002, nearly four years after ShyShy did. She was last seen walking to her Milwaukee elementary school on a Friday morning. She was 7.
Though she may lack name recognition, Alexis is arguably the most important figure in the short history of missing white woman syndrome, because she went missing at the same time as one of the most publicized missing children in American history: Elizabeth Smart.
Elizabeth disappeared on June 5, 2002, about one month after Alexis did. She was 14 and abducted from her parents' Utah home. It took Milwaukee reporters — who were diligently covering Alexis's disappearance — about a week before they began to draw comparisons between the two cases.

"The national media flocked to Salt Lake City to tell the nation about Elizabeth Smart," they wrote. "Why haven't the reporters descended on Milwaukee to tell the nation about Alexis Patterson?"
The reporters said that since Alexis had gone missing, 67 newspaper and magazine stories had been written about her, mostly by them (the Milwaukee Journal Sentinel) and by the Associated Press. They compared that to the 400 stories written about Smart in the 10 days following her abduction.
After the Milwaukee Journal Sentinel called out this discrepancy, other American media outlets began to pay attention. CNN asked, "Missing kids: Has media coverage been fair?" CBS News said it was "A Tale of Two Kidnappings." ABC News called Alexis the "'Other' Missing Girl." But what this meant was although Alexis's story had finally made it to the national stage, it was never about the missing girl or her community's desperate search to find her. Alexis Patterson's disappearance became a forum on media ethics; journalism professors were interviewed rather than grieving parents. No national outlets covered what was happening on the ground in Milwaukee, like the racist flyers found posted around America's Black Holocaust Museum, which asked why white people should care about Alexis.
"We're not in control of the media," Alexis's stepfather, LaRon Bourgeois, told the National Association of Black Journalists at the time. Bourgeois was an early suspect in the search for Alexis due to an alleged failed polygraph and a criminal record.
"We're a lower-middle-class black family (with) no money. And my criminal record has stopped people from looking for my child, which it should not," he said.
ShyShy was also from a lower-middle-class black family with no money. She had family members with criminal records, too. The stories just keep repeating themselves; Alexis's kidnapping came four years after ShyShy's. Five years later, Chimoa Gray was kidnapped at 15 in a wild teenage flee-to-Mexico plot that should have made international headlines but didn't. Four years after Chimoa disappeared, 2-year-old Detroit girl Bianca Jones went missing; her body has never been found, but her father was convicted of her murder.
And those are just cases that have received mild media attention — enough to fill a page or two of Google results. None of these girls reached the same level of urgent fame as Elizabeth Smart. None of these girls will be the subject of a new 2017 TV docuseries like Natalee Holloway, the blonde white teenager who disappeared in 2005 while on vacation in Aruba and dominated network news for months. None of these girls will have a legacy, beyond being forgotten. And then remembered. And then forgotten again.
"We have nothing against the other kids that have been missing," Bourgeois said after Alexis went missing. "We want the same attention for our child so we can have just as much a chance of getting her back as they do."
That was back in 2002. In April of this year, following the viral DC story, the recently formed Congressional Caucus on Black Women and Girls held a public forum, announcing they were working on an official report offering solutions to the problem of missing black girls. Wilson with the Black and Missing Foundation was invited to participate. But beyond this congressional report — which was promised by the end of the year, but which Wilson hasn't heard about since — Wilson hasn't seen any significant efforts or conversations among lawmakers or law enforcement to address missing black girls. She doesn't see much from the black community, either.

"I don't really think our community understands the depth of the issue," Wilson said — in part because "we don't necessarily see ourselves in the news. We've come a long way. We're starting to see more children or people of color featured on news when they go missing. But there are many cases that don't make the news cycle."
Social media has helped; it's the one place where it's been proven that missing black girls and women can get attention. In 2011, Wilson recalled, she had to beg St. Louis TV news stations to cover missing college student Phoenix Coldon's disappearance. The stations turned her down at first, Wilson said, telling her they didn't have time, brushing her off. So Wilson used Facebook and Twitter, blasting out Coldon's image and information. Once this began, a producer from the local Fox affiliate agreed to also broadcast Coldon's picture, Wilson said, for a "couple of seconds." Coldon is still missing.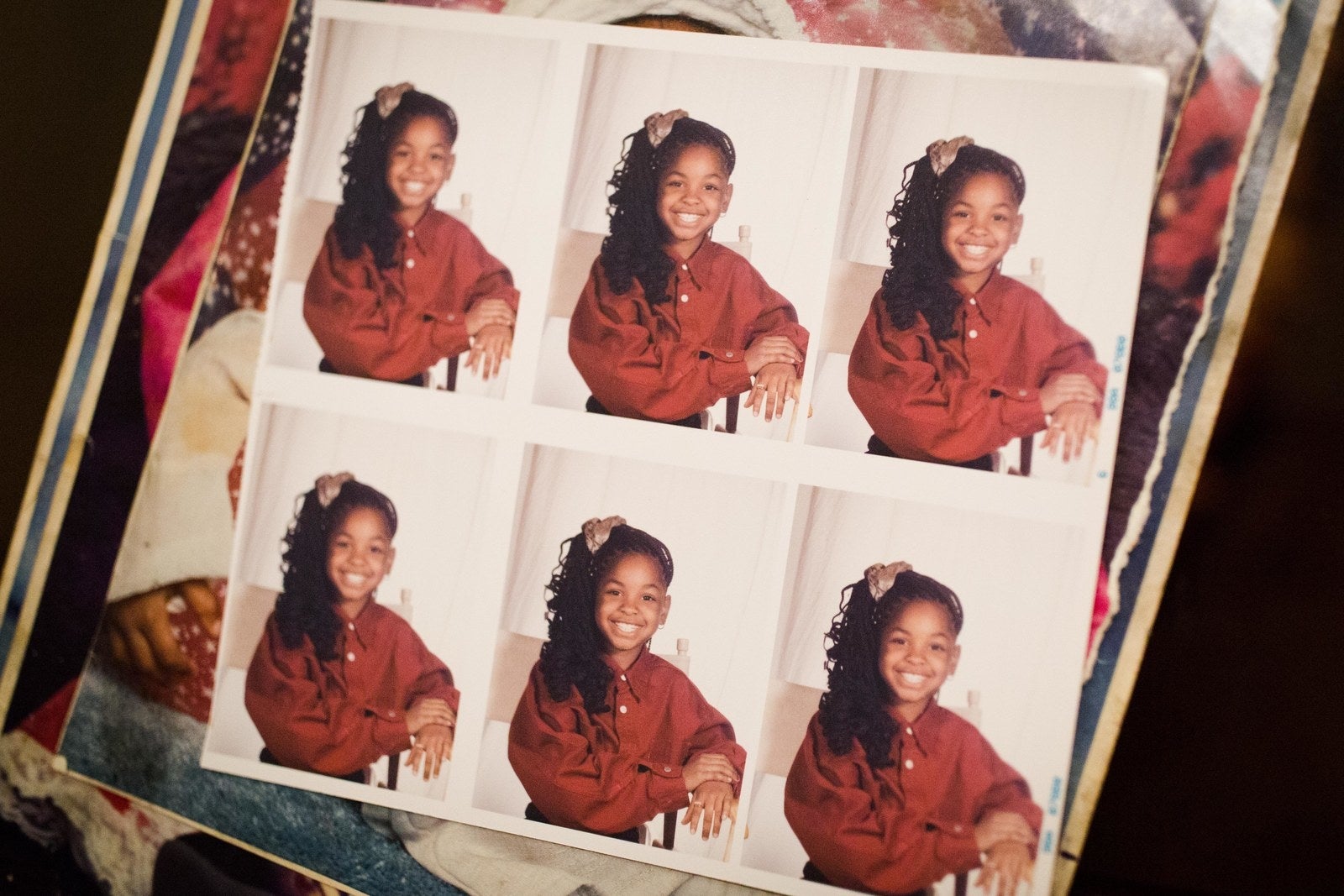 Even though the local media return to ShyShy's case every few years — to mark an anniversary or to footnote another missing child's story — some details have never been told. Like Lamberth's theory. Like the fact that ShyShy was plagued with illnesses. The identifying scar on her abdomen mentioned on her missing-person alert came from a surgery to treat kidney disease. She had to wear a leg brace because her kneecap was out of place. The week before her disappearance, she was hospitalized with an asthma attack. The last morning Pate saw her daughter, ShyShy was so tired that she asked her mom to carry her on the walk to school. Pate agreed, propping her baby up on her hip. The Tuesday after ShyShy went missing, she had another scheduled doctor's appointment. She had a bladder leak that caused her to wear pull-ups at age 8, otherwise she'd use the bathroom every 10 to 15 minutes. Doctors were building her a new bladder. If ShyShy wasn't murdered the night of her kidnapping, as Lamberth believes, not having medical treatment in the months and years following her disappearance could have been what killed her.
But until a body is found, her family will firmly believe ShyShy is alive. They will hold 5Ks for her again (on Sept. 2), even if it costs them — not only money, but immense pain. Pate struggles every September on the anniversary of her daughter's disappearance and every October on ShyShy's birthday. Up until last year, when her sister organized the 5K and birthday balloon release, Pate traditionally stayed home alone on those days, immobilized by the pain. That pain often clouds ShyShy's siblings' birthdays later in the fall and winter. And the holidays are always hard, as is Pate's own birthday in January. The cloud only really lifts from February to August. Then another year without ShyShy starts anew.
The first year ShyShy was gone, Pate tried to sleep sitting up in a chair next to the unlocked door, waiting. She was terrified to be alone in her house. Now she does OK on her own. What helps the most is the joy she gets from helping raise her grandkids. The first one came in 2001. The ninth came last week.
But another hard reminder came last year, when three of her granddaughters started the third grade — the same grade ShyShy entered when she went missing. The kids mostly understand that their Aunt ShyShy is missing. They all participated in the 5K, and as they've gotten a little older, they've stopped questioning their parents' strictness about not going outside and playing by themselves.
When her now-16-year-old grandson was about 5, he once hid from Pate under a clothes rack at a Walmart. Pate broke down and grabbed him by the shoulders when he eventually came out, shaking him. A woman nearby approached, judging, ready to call the cops. Pate explained what had happened to her family, she said, and the woman understood.
But sometimes Pate is asked to explain to other parents of missing children how she manages. This feels impossible.
"There's no way to tell anybody that it's OK. The only thing I can say is never give up hope. If she ain't found dead, you just keep on prayin', keep believing," she said, her scratchy voice growing scratchier with emotion. You might think it gets easier each year, living without ShyShy — that time heals wounds and all that. You'd be wrong.
"There's no easin' no pain," Pate said. "How can it be this long? How can a person be missing all these years and nobody don't say nothin' or she ain't found?"
Pate, Hickey, and Freeman are waiting in the McDonald's drive-thru line in Pate's SUV, satisfying one of Hickey's late-pregnancy cravings on the way from Perry to Unadilla to show me the corner where ShyShy vanished. Pate is running through what she sometimes imagines people think about her — that because she was on welfare and living in the projects and had three other kids already, she didn't really need to find ShyShy.
"Maybe since I'm poor and I ain't got a lot, maybe that's why ain't nobody lookin' for her, ain't nobody searchin' for her. They don't care," she said. "Maybe if I had money or I could hire a private investigator and all that, maybe she would've been found a long time ago."
She doesn't consider, in this scenario, that maybe ShyShy isn't out there to be found anymore. ●