Watertown Is No "Sleepy Town"
Yesterday's standoff with marathon bombing suspect Dzhokhar Tsarnaev wasn't the most exciting thing to ever happen in the Boston suburb — not by a long shot.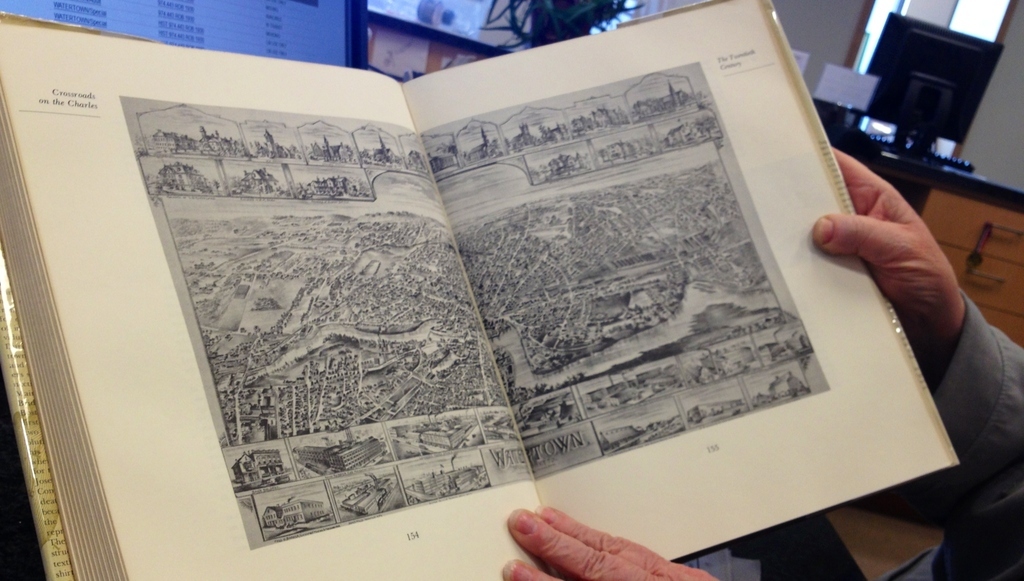 WATERTOWN, Mass. — If you watched Friday's manhunt unfold on Twitter or TV, you might think it was the most exciting thing to ever happen in Watertown. A Chechen teenager suspected of bombing the 117th Boston Marathon ditched a stolen car and fled into this relatively unknown suburb, bringing 9,000 city, state and federal officers with him. The officers — one for every three Watertown residents — filled the town's streets, ordering residents to "shelter in place" for nearly 12 hours. There was a tense search, a tenser standoff, and a thrilling conclusion. You might assume this was the biggest story to ever hit the sleepy, sleepy town.
But then you'd be laughed at by the town's librarians.
They don't mean to belittle Friday's events or the work of those 9,000 officers, "but Watertown has over 375 years of history," one librarian told BuzzFeed, speaking anonymously, in compliance with library policy. "There's the Revolutionary War, for starters."
Watertown was founded in 1630, one month before Boston — though they were named on the same day, the librarian pointed out. When the British Army seized Boston in 1775, the Massachusetts government relocated to Watertown. The general court convened inside a house five blocks away from where Dzhokhar Tsarnaev was hiding. Sam Adams lived here. Paul Revere lived here. George Washington passed through here. One of the earliest versions of American currency — used to pay soldiers — was printed here.
Watertown was one of the first American towns to protest taxation without representation — in 1632, its citizens refused to pay a tax benefiting neighboring Cambridge. The United States' first international treaty was signed here with the Mi'kmaq Indian nation, 15 days after the Declaration of Independence.
A few of the librarian's favorite pieces of trivia? Frozen pizza was developed and patented here. The Stanley Steamers brothers built their first cars here. Leverett Saltonstall, the renowned mid-century Republican Governor and U.S. Senator, was a descendant of Watertown founder Richard Saltonstall.
And then there's the town's enormous immigrant community. Watertown has the largest Armenian population on the East Coast — the third largest in the country — plus considerable Greek, Irish, and Italian communities.
"There's an incredibly vibrant culture," the librarian said — enough to fill up a "Local History" room in the library with hundreds of archived documents and volumes of books. Friday's events will no doubt become a part of that history. But for now, some Watertown residents are frustrated with the world's new perception of them. Yes, they're a close-knit community, but it's not like everyone knows your name. The streets may be clean, but they're not always quiet. The houses may be quaint, but their inhabitants aren't.
"Watertown has a lot of layers," said Stephen DePamphilis, a native who lives on the same block as Friday's police stakeout. "When my son was in elementary school, he came home one day and told me about a project the kids did, where they had to make a graph of all the languages they spoke." The final tally was 28.
"Immigrants come here for the American dream," DePamphilis said. "And in this area of Boston, we invented America."
Another neighbor, Carol Ginsberg-Brown, said Watertown's diversity is why she's loved living here for 22 years.
"A lot of people come here for refuge from conflict zones in Eastern Europe and other areas," she said. "And I'm very proud of that. But there have been incidents like this — not exactly like this but similar — that have happened before," Ginsberg-Brown said. She referred to an episode in 2010, when two Watertown cousins, Aftab Ali Khan and Pir Khan of Pakistan, were detained in connection with the attempted Times Square car bombing.
In this context, Ginsberg-Brown said she wasn't all that surprised the Tsarnaev brothers' saga unfolded here.
"The story of people moving to this area, and trying to find a place, it's sort of familiar," she said. "For that to happen in Watertown, it just doesn't feel completely random."