Violence In Egypt Continues On Muslim Brotherhood's "Day Of Rage"
It's now the third day of conflict between Egypt's military forces and the supporters of ousted president Morsi. On Wednesday and Thursday, more than 600 Egyptians died.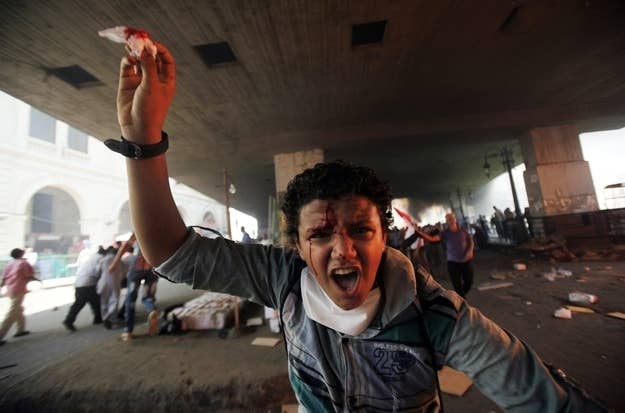 As clashes between the Egyptian military and supporters of deposed President President Mohamed Morsi continued for a third day, Morsi's Muslim Brotherhood supporters called for a "Day of Rage."
According to Reuters, at least 50 people died in Cairo on Friday and more than 20 elsewhere in Egypt — a significant decrease from this week's earlier death toll of 638 people. The violence began on Wednesday with a government crackdown on the camps that Morsi supporters had inhabited since the military forced the country's first democratically elected president out in a widely-supported coup in early July.
On Friday, as part of their declared "Day of Rage" retaliation, Morsi's Muslim Brotherhood supporters attempted to take over more government buildings after successfully setting one on fire on Thursday; officials said that at least eight police stations were attacked Friday.
But after security forces amped up defense at these buildings — including announcing they would use live bullets on protesters — and cut off access to popular gathering squares, the demonstrators reportedly migrated to Cairo's bridges. From NBC News:
Clashes broke out on the central May 15 Bridge and the sound of gunfire could be heard coming from an area near the front of a large column of pro-Morsi supporters. A man in civilian clothes with a gun was seen occasionally firing into the air as he walked with protesters on the bridge.

Later, crowds of people appeared to be trapped on the bridge by occasional bursts of gunfire on one side and tear gas on the other. Some ran back and forth between the two ends.
Demonstrators trapped on the nearby Sixth of October Bridge were seen jumping off it. Also on Friday, guns and tear gas were reportedly fired into a crowd in Cairo and several residents were seen throwing rocks and bottles at Morsi supporters.
A security official told Reuters that at least 24 police officers have died since Thursday night. Some have criticized the Egyptian Health Ministry's death toll reports, as it appears to only include people dying in Egyptian hospitals. Hundreds of Morsi supporters died as their campsites were attacked and burned by military forces.
The Muslim Brotherhood said on its English language website Friday that it wouldn't stop fighting the new regime, but that it aims to remain peaceful.
"Despite our deep pain and sorrow following the August 14 Rabaa massacre and others committed since the bloody coup, the crimes of the coup regime have only increased our steadfastness and firmness in rejecting it and determination to remove it. The struggle to overthrow this illegitimate regime is an obligation, an Islamic, national, moral, and human obligation which we will not steer away from until justice and freedom prevail, and until repression is conquered. Our revolution is peaceful, and we will continue to mobilize people to take to the streets without resorting to violence and without vandalism. Violence is not our approach. Vandalism only aims at distorting the image of our peaceful revolt and finding justifications for the coup leaders to continue to govern."
The group has said it would not follow the military's 7 p.m. curfew.
Meanwhile, in Turkey, hundreds of anti-U.S. protesters gathered to protest the Egyptian government's crackdown. Government officials said "all that happened in Egypt is a shame for Islam and the Arab world."
On Thursday night, the U.N. Security Council called on both the Egyptian government and Morsi's supporters to exercise "maximum restraint" and end violence against each other.