Violence Continues As Hundreds Lie Dead In Egypt
New protests erupted Thursday and the death toll surpassed 600 — with hundreds more unaccounted for — following the government's crackdown on supporters of ousted President Mohamed Morsi.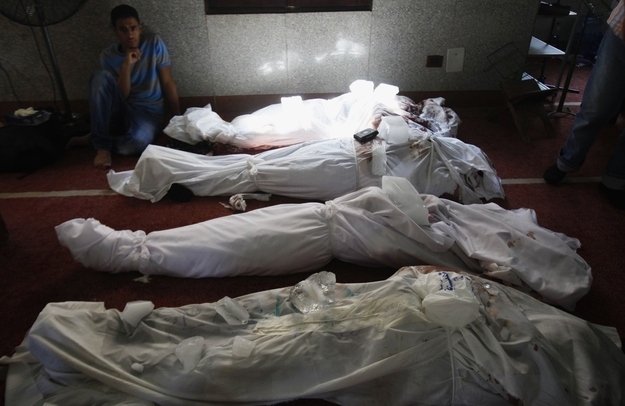 The Egyptian government's official death toll rose above 638 on Thursday, though hundreds reportedly remained uncounted on the second day of the state's crackdown on supporters of former President Mohamed Morsi. At least 3,700 people are believed injured, according to the Egyptian Health Ministry.
Reuters reported that more than 228 bodies filled the Al-Iman mosque in a haunting scene reminiscent of "the aftermath of a battle from World War One."
Medics pushed burning incense sticks into blocks of ice covering the bodies and sprayed air freshener to cover up the overpowering stench of decay. A cry of "Allahu akbar" (God is Greatest) echoed through a loudspeaker at the back of the mosque.
The bodies, taken to the mosque from pro-Morsi camps that were set on fire Wednesday night, may never be counted, as the Health Ministry bases its toll on hospital reports.
The Muslim Brotherhood and Morsi's supporters fought back against the state's crackdown Thursday, storming a government building in Giza and setting it on fire, prompting Egypt's interior ministry to instruct police to use live bullets to defend state facilities, according to Agence France-Presse. The deposed leader's supporters also reportedly attacked as many as 36 Christian churches and businesses.
The United Nations Security Council is planning to meet to discuss the crisis. The U.S. State Department issued a travel warning urging Americans to defer travel to Egypt.
On Wednesday, Egpyt declared a month-long state of emergency. The crackdown comes six weeks after Morsi, a longtime Muslim Brotherhood leader and Egypt's first democratically elected president, was forced out of office in a widely supported military coup, spurring angry demonstrations from Morsi's supporters.