U.S., U.K. Inch Closer To Taking Action On Syria
British Prime Minister David Cameron says he will submit a U.N. Security Council resolution condemning Syria today, as more details are released about the alleged chemical attack.
Britain is expected to submit a draft resolution to the United Nations Security Council to take "necessary measures" against the regime of Syrian President Bashar al-Assad — a move that some have called premature without the release of U.N. inspectors' findings into last week's deadly chemical attack.
Lakhdar Brahimi, the U.N.'s special envoy to Syria, said in a press conference Wednesday that evidence suggests a "substance" was used to kill hundreds in Syria, but said that no government can take military action — a decision the U.S. and U.K. have inched toward over the past few days — without U.N. Security Council approval.
More from Brahimi's comments:
"With what has happened on the 21st of August last week, it does seem that some kind of substance was used that killed a lot of people: hundreds, definitely more than a hundred, some people say 300, some people say 600, maybe 1,000, maybe more than 1,000 people."
"This was of course unacceptable. This is outrageous. This confirms how dangerous the situation in Syria is and how important for the Syrians and the international community to really develop the political will to address this issue seriously, and look for a solution for it."
U.N. inspectors in Syria — who were were shot at in Damascus on Monday — will need at least four more days to conclude their investigation, U.N. Secretary-General Ban Ki-moon said.
Speaking at the Peace Palace in The Hague, Netherlands, on Wednesday, Ban urged the Security Council to not go "missing in action" over Syria but voiced support for a peaceful resolution.
"Give peace a chance. Give diplomacy a chance. Stop fighting and start talking," the secretary-general said.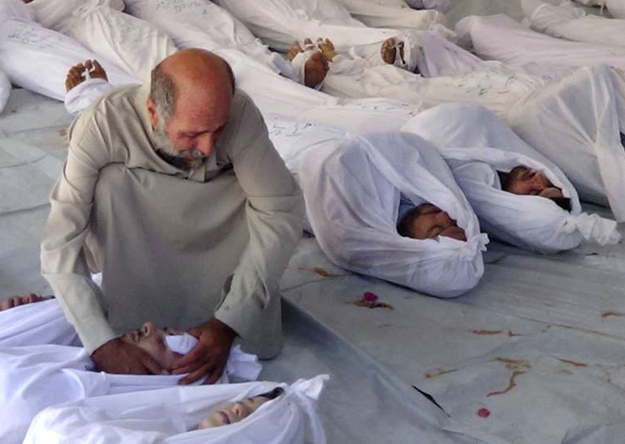 On Tuesday, the White House reiterated its belief that the attack, which killed at least 355 people, was proof that Assad had violated international norms.
"It is not around the question of whether the Syrian regime is responsible. It is around the question of what is the appropriate response to this clear violation of international norms," White House Press Secretary Jay Carney said, echoing U.S. Secretary of State John Kerry's statement that the attack was "undeniable."
According to a Foreign Policy report, the Obama administration's certainty of Assad's culpability comes from U.S. intelligence officials overhearing phone calls between a "panicked" Syrian defense official and a weapons unit leader hours after the chemical — believed to be sarin, a nerve gas — was deployed.
"We don't know exactly why it happened," one U.S. intelligence official told FP. "We just know it was pretty fucking stupid."
Bashar al-Assad's brother, Maher al-Assad, is suspected of authorizing the attack, a U.N. official told Bloomberg News.
On Tuesday, Obama called U.K. Prime Minister David Cameron to discuss the crisis — his administration's second call to Cameron and the 88th Syria-related call to a foreign leader in one week. On Wednesday, Britain announced it would submit a Security Council resolution condemning the Syrian government and "authorizing necessary measures to protect civilians" later on Wednesday.
Russia, Syria's chief ally, has evacuated its citizens from the country in anticipation of U.S.-led intervention, which Foreign Minister Sergey Lavrov said "will lead to the long-term destabilization of the situation in the country and the region."
During a Monday phone call with Cameron, Russian President Vladimir Putin echoed Syria's denial of the events, saying that Russia has no evidence of "whether a chemical weapons attack had taken place or who was responsible."