U.S. Runner Speaks Out Against Russia's "Serious Injustices" In Moscow
After winning silver at the World Athletics Championships on Tuesday, middle-distance runner Nick Symmonds criticized the country's "gay propaganda" law. He's the first foreign athlete to do so on Russian soil.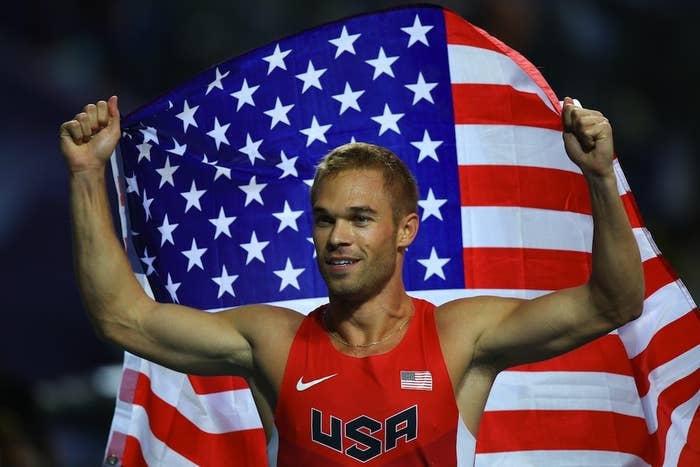 On Tuesday night at the World Athletics Championships, 29-year-old American runner Nick Symmonds dedicated his silver medal in the 800-meter final to his LGBT friends.
"As much as I can speak out about it, I believe that all humans deserve equality as however God made them," Symmonds reportedly told Russia's R-Sport in Moscow. "Whether you're gay, straight, black, white, we all deserve the same rights. If there's anything I can do to champion the cause and further it, I will, shy of getting arrested."
Symmonds' comments were prompted by the controversy over Russia's recently passed "anti-gay propaganda" law — which strictly punishes the "promotion of non-traditional sexual relations among minors" — and its hosting of the 2014 Sochi Winter Olympics.
Symmonds later expanded on his remarks, telling ABC News that he "[disagrees] with their laws and I disagree with their views." His comments make Symmonds the first prominent foreign athlete to speak out against the country's treatment of LGBT people on Russian soil.
Symmonds, who has previously supported equality organization NOH8, indicated that he would like to wear a rainbow-flag pin during competition in Russia but that he fears arrest.
"I'm trying to tread that fine line of being respectful as a guest in this country and also speaking against some serious injustices that I see ... As adamant as I am about this issue, I don't know what me sitting in jail is good for."
"This has been an issue that has been personal for me. From day one I've always spoken out against this one. It's just so ludicrous you would give rights to some people and not to others ... It was just such a slap in the face I couldn't sit back and watch it happen to some of my friends."
But Symmonds' statements contradict an Aug. 6 blog post he wrote for Runner's World, in which he said that he disagrees with Russia's law but will not "lecture the Russian government on how to govern their people."
I will say, once again, that our LGBT neighbors deserve all the same rights as the rest of us. However, as an American who is about to reside in Moscow for 12 days, this will be the last time I will mention this subject.

I say this not out of fear of prosecution by the Russian government, but out of respect for the fact that I will be a guest in the host nation. Just as I would not accept a dinner invite to a friend's house and then lecture them on how to raise their kids, neither will I lecture the Russian government on how to govern their people ...

The playing field is not a place for politics.
In a separate interview after his win on Tuesday, Symmonds maintained this stance and declined to talk about the Russian law, referring reporters to the blog post.
"I silently celebrated and I will very vocally celebrate when I get back to America," he said. "Not trying to get arrested here, sorry, everybody."
In Symmonds' NOH8 ad, he says that he believes LGBT equality is the "defining legal movement of our generation. To deny someone the rights afforded to others based on their gender or sexual orientation defies logic and is completely un-American."
Last week, International Olympic Committee President Jacques Rogge said that he received assurances that the propaganda law will not affect the Olympics. Russia's Interior Ministry has maintained that the law will be enforced during the games.
President Barack Obama also weighed in on the controversy last week, saying that he has "no patience for countries that try to treat gays or lesbians or transgender persons in ways that intimidate them or are harmful to them," but that a boycott of the games is not appropriate. Russia's treatment of LGBT citizens in advance of the games has added to ongoing tension between Obama and Russian President Vladimir Putin.
Update: Aug. 14, 1:30 p.m., ET.
In an email to BuzzFeed, Symmonds explains what made him change his mind about speaking out on Russian soil.
"I am still walking a fine line here in Russia, attempting to be respectful of their laws and their culture, but at the same time trying to lend my voice to the movement for gay rights. I would say what inspired me to be a bit more vocal was a video I saw on CNN the other day. This video shows two Russian women kissing in a street and a deranged lunatic running up and pushing them down. That dipshit really pissed me off. It gives me great pleasure to imagine him reading my words in a newspaper and to know that his actions singlehandedly irked me enough to break my silence here in Russia."