Tufts University And Federal Government In Standoff Over Sexual Assault Policies
The Massachusetts school failed to comply with Title IX, the Department of Education said Monday. UPDATED.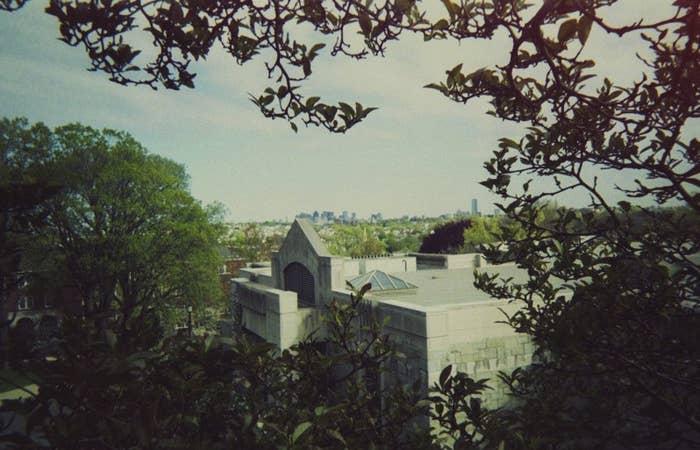 The Department of Education said Monday that it "may move to initiate proceedings to terminate federal funding" at Tufts University after finding the Massachusetts school failed to comply with Title IX.
Title IX is a federal law that requires schools to "respond promptly and effectively" to sexual violence and harassment. Among the school's specific violations, according to the government: Tufts didn't employ a Title IX coordinator for two academic years, and "allowed for the continuation of a hostile environment" for one student who identified as a survivor.
The Department of Education said Tufts' violations aren't limited to these past incidents; its current policies don't comply with Title IX requirements, either. But in a statement on Monday, Tufts called this an "unsubstantiated finding" — one that led the school to revoke a voluntary agreement it made with the Department of Education's Office for Civil Rights (OCR) to work toward compliance on April 17.
According to the university, at the time that agreement was signed, OCR didn't inform Tufts that its current policies were out of compliance — only its past practices. Days later, when OCR informed the school of its current finding, Tufts revoked its signature.
"We could not, in good faith, allow our community to believe that we were not in compliance with such an important law," the school said, adding that its "repeated requests to speak with OCR in Washington about this new finding have been unsuccessful."
In its statement, OCR acknowledged that Tufts had made "important improvements" to its policies. "However," it said, "more changes are necessary to ensure the safety of more than 10,000 students."
Tufts said it was "surprised and disappointed" by the "unexpected and troubling" declaration:
Tufts University is deeply committed to the safety and well-being of our students, faculty and staff. We have in place and fully support policies and procedures that comply with Title IX, are consistent with the significant guidance documents issued by the department, and effectively serve our students, faculty and staff. We believe the department's recently announced finding has no basis in law ...
In an email to BuzzFeed, activist Wagatwe Wanjuki — who founded the blog Raped At Tufts University after a disappointing experience with Tufts' judicial process in 2008 — said she was "heartened" at the news of OCR's findings.
"I know too well the impact of the university's failure to take sexual assault seriously," Wanjuki said. "While I am disappointed that the same university that failed me in the aftermath of sexual violence has done the same to other survivors, I am grateful for the actions of the Department emphasizing the need for schools to protect students' civil rights under Title IX."
Tufts said it has requested to meet with OCR in Washington; OCR said it "stands ready to confer with Tufts on how to come into compliance speedily."
Along with Monday's press release, the Department of Education also published the voluntary agreement in question — the sort of document that is often kept between schools and federal government. Though it has pulled out of the agreement, Tufts said it's still moving forward with "actions described in that agreement."
"Indeed many of those actions have already been undertaken," Tufts spokeswoman Kimberly Thurler said in an email.
Read the government's letter to Tufts University.
Download PDF