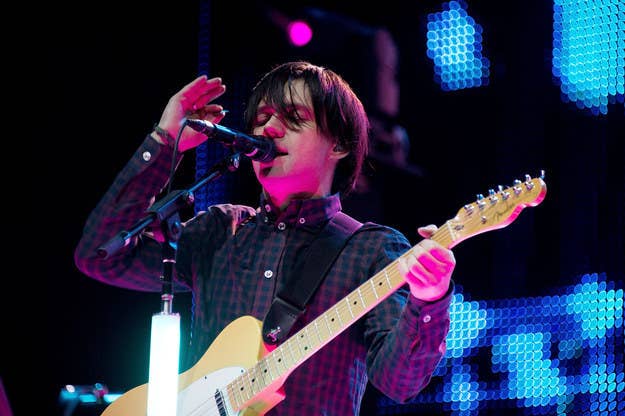 Conor Oberst has not been dropped by his record label, his publicist told BuzzFeed, contradicting a new report from TMZ that Oberst "got canned ... when an obsessed fan lied about him raping her."
Oberst sued North Carolina resident Joanie Faircloth in February after she claimed in the comments of xoJane that Oberst assaulted her as a teenager. The case is still ongoing.
According to court documents, Oberst claims his reputation was "irreparably tarnished" by Faircloth's "libelous statements." TMZ reported Tuesday that in these documents, Oberst also claimed to be dropped by his record label — but the documents don't make this claim, and Oberst's spokeswoman called TMZ's report "inaccurate."
In a recent declaration, the Bright Eyes singer's father and business manager Matthew Oberst said Oberst's May album, Upside Down Mountain, has "sold substantially fewer copies than his prior albums, despite receiving some of the most positive reviews of Oberst's career."
"I directly attribute this decline in sales to the fact that numerous media outlets who would have otherwise publicized the album refused to do so on account of Faircloth's false rape allegations," Matthew Oberst said in the document.
Not including legal fees and travel expenses, he estimates the cost of Faircloth's allegation to be at least $700,000 — $500,000 in lost album and tour sales and $200,000 in a lost payment from Songs Music Publishing, which declined to exercise its option with Oberst's latest release. (Songs is a publisher — licensing Oberst's work and managing his copyrights and loyalties — but not his label; that would be Nonesuch Records, which hasn't yet responded to a request for comment.)
Oberst's annual income is more than $1 million, according to the documents. Oberst has said he will "donate the proceeds of this suit to charities benefiting the victims of violence against women."
More from Matthew Oberst's declaration:
For example, the website One Week One Band had planned to promote Oberst's album for a full week in January of this year, but canceled those plans at the last minute, specifically citing Faircloth's rape allegations. Similarly, in January of this year, NPR radio had planned to air a recording of Oberst performing live, but cancelled the airing in order to be "sensitive" to Faircloth's allegations of rape. The Daily Nebraskan, a newspaper in Oberst's home state, also published an article specifically encouraging its readers to refrain from purchasing Oberst's music on account of Faircloth's false rape allegations.

The decline in Oberst's recent album sales has also negatively impacted his ability to tour in support of his new album, and he has lost out on substantial profits that he otherwise would have gained from such touring.

Based on the decline in Oberst's album sales and touring opportunities, I reasonably presume that Oberst has been damaged and will continue to be damaged in the amount of at least $500,000 on account of Faircloth's libel.

Separate and apart from the reasonably presumed damage to Oberst's record sales and touring opportunities, I am able to point to certain actual damages caused by Faircloth. In particular, prior to Faircloth's libelous statements, Oberst had a lucrative publishing deal with Songs Music Publishing, LLC ("Songs"), a company based in New York City. The initial term of that agreement had already been satisfied, and Oberst's new record would have satisfied the additional option period which had a corresponding minimum guaranteed advance of $200,000. I understood that this option period would be exercised as a matter of course. However, after Faircloth published her libelous statements, Songs declined to exercise its option, and Oberst was deprived of the guaranteed payment that he would have received. It is my understanding that Songs' decision not to exercise the option was directly attributable to Faircloth's false allegations of rape.