15 Times Toronto Mayor Rob Ford Has Talked About Drugs
"I know if I was on drugs I would want somebody to pick me up," he said in 2010. There's reportedly a video for sale of Ford smoking crack.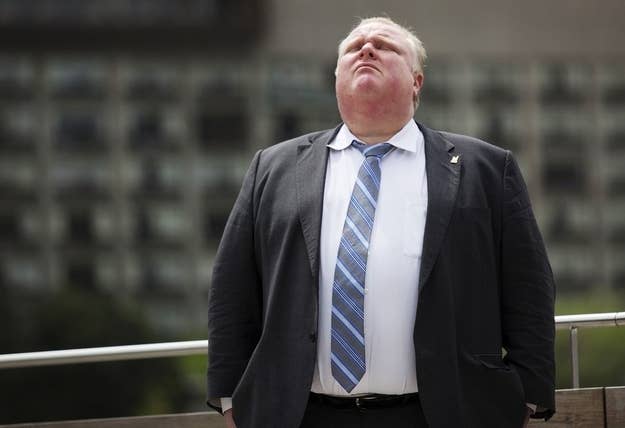 1.
October 18, 2005
Before he was a mayor, Ford was a councilman with strong opinions about the country's drug injection sites:
The councillor, who has battled addiction in his own family, blasted a new report by Toronto Public Health on combating alcohol and drug use in the city. The report recommends the city distribute crack pipes and other paraphernalia to addicts and explore opening safe injection and inhalation sites.

"It's euthanasia. You're just giving them a place to kill themselves. That's what is going to happen. You might as well just have a crematorium beside the crack house," Mr. Ford said.

He said these "harm reduction" strategies only encourage addicts to continue their drug use.

"You're not helping them, you're enabling them," Mr. Ford said. "They're going to smoke that crack whether you give them those crack pipes or not. They're going to shoot that heroin whether you give them clean needles or not. If people want a change, it has to come from within."
2.
December 5, 2005
On safe injection sites, again:
"I think this is absolutely ridiculous" said Councillor Rob Ford (Ward 2, Etobicoke North). "I don't know how the government can come in and let people get high using taxpayers' money, essentially because taxpayers are going to be paying for staff. ... Crack kits? Again, you're just condoning this behaviour and supplying paraphernalia to kill themselves. You might as well just give them a rope and chair, put them in a room and say 'Hang yourself.'"
3.
December 15, 2005
And again:
"Let me give you a suggestion on how you deal with hard-core drug addicts," Mr. Ford said. "This is not drinking wine or smoking a joint, this is heroin or cocaine. With heroin or cocaine, you end up one of two ways: dead or in jail. That's it. There's only two ways."
National Post, Toronto/Late Edition
4.
December 15, 2005
This time he brings up his sister, an addict who survived being shot in the face in what was believed to be a drug-related accident months earlier.
"You know a day's going to come when either the person's dead or in jail; you know it's going to happen," he said. "You don't know what to do next. And all of a sudden you get the phone call that something happened.

"I got that phone call. And what I saw, I can't deal with it to this day. It's something that I hope that no one, that anyone in this world doesn't have to deal with what I went through."
The Toronto Star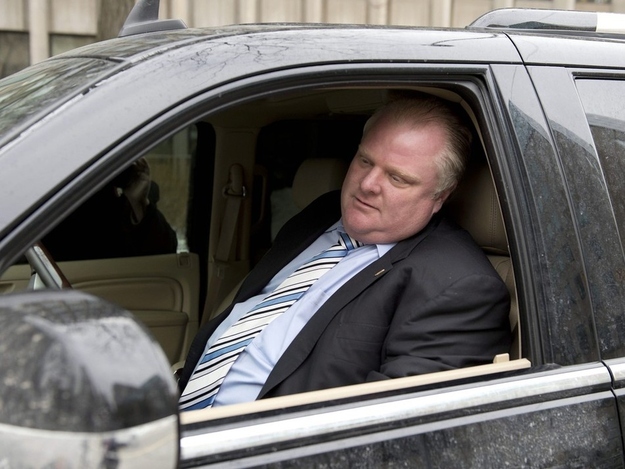 5.
April 8, 2006
Criticizing a program that would provide wine and cigarettes to the homeless.
He said at the time: "I know myself after a couple of glasses of wine I get a little light-headed. These guys must be half-smashed."
National Post, Toronto Edition
6.
May 3, 2006
After a rambunctious appearance at a hockey game:
City Councillor Rob Ford yesterday admitted lying to reporters about causing a drunken fracas at a hockey game last month...

"I have no idea but it was a lot, I had too many obviously," he said, adding, "I'm not a big drinker at all, so when I drink, it hits me pretty hard. I made a mistake. Maybe I shouldn't have drank at all. That's alcohol — it's a bad drug."
National Post, Toronto Edition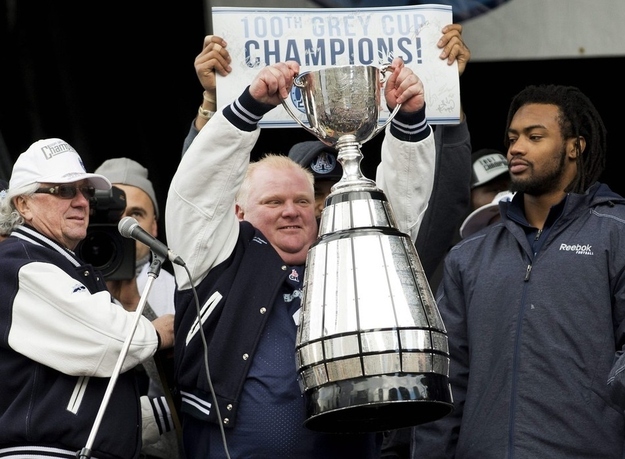 7.
August 13, 2009
The safe-injection site debate returns:
A city-sanctioned study is looking into the feasibility of Vancouver-style safe-injection sites in Toronto, but critics fear the study's support for such sites is a done deal...

"It's getting pushed out of Vancouver and they want to move the problem somewhere else, but we don't want it here," said Rob Ford, city councillor for Etobicoke North. "My residents don't want it, I don't want it and I'll do everything in my power to stop it. Who's going to want to live in a community that's invaded every day and night by drug users?"
National Post, Toronto Edition
8.
March 22, 2010
On the campaign trail:
When asked to describe Mayor Rob Ford's Toronto, the candidate says: "It's going to be spotless. You go downtown ... you aren't going to have any graffiti there.

"We're going to help the people you see laying on the streets. A lot of them are drug addicts or alcoholics. We're going to get them into a shelter or get them the help they need. I know if I was on drugs I would want somebody to pick me up."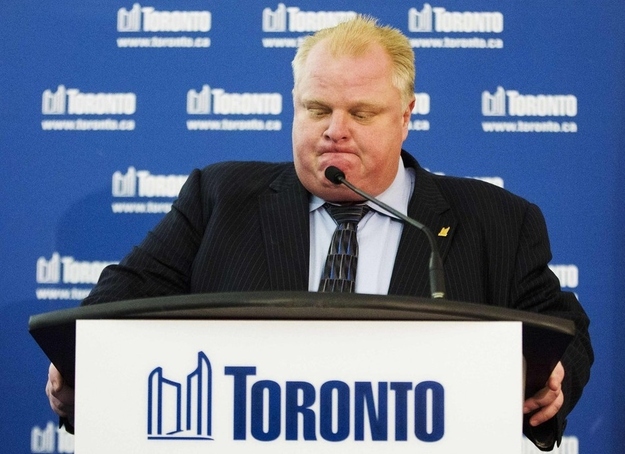 9.
April 24, 2010
Reflecting on his family's dark past:
"Our family has been through everything — from murder to drugs to being successful in business," he says. "We've dealt with the very, very poor and the worst, worst tragedies ... nobody can tell me a story that can shock."
10.
June 17, 2010
Getting into more trouble while trying to apologize for some offensive AIDS comments:
In conversation on June 4 with Dieter Doneit-Henderson, the man Mr. Ford publicly apologized to over insensitive remarks about homosexuality and HIV, the councillor says he'll try to get more OxyContin for the man. Mr. Doneit-Henderson, a 30-year-old gay married man who suffers from a fractured rib and fibromyalgia, tells Mr. Ford the last doctor he went to refused to give him more. Mr. Ford says repeatedly that he'll try, according to a copy of the tape obtained by the Toronto Sun, and asks how much the prescription painkiller sells for on the street.

"Why don't you go on the street and score it?" Ford says in the conversation.
When pressed by Mr. Doneit-Henderson, Ford interrupts. "I'll try buddy, I'll try."

"Leave this with me. I have no idea. I don't know any drug dealers at all," he said. "I'll bet my life I won't be able to help you out, because I've never done this kind of s--t," Mr. Ford says on the tape.
11.
June 17, 2010
Speaking later about the incident:
"He threw me for a real loop," Ford said at the time. "I felt bad for the guy. Of course I'm not going to go out and buy drugs for the guy ... I think I was panicking ... I didn't know what to do."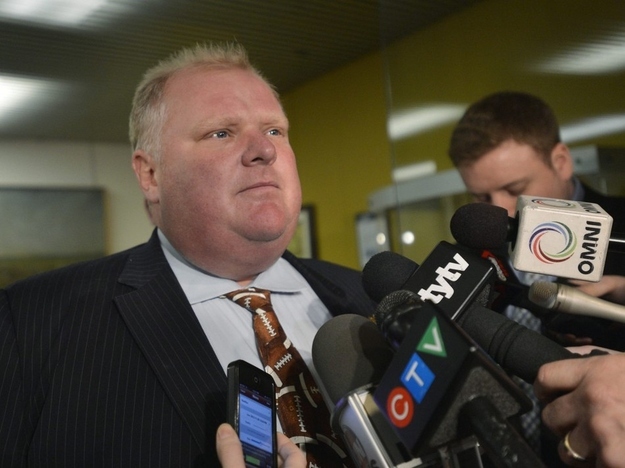 12.
August 18, 2010
Explaining a marijuana possession charge from 1999:
"They pulled me over," Ford said. "I was with my wife. They found one joint in my back pocket." …

Ford said he's never had any trouble crossing the border since the incident and no longer uses marijuana.

"I don't use drugs. I'm not in that scene," he said.
13.
August 19, 2010
And again:
On Thursday morning, Toronto mayoral candidate Rob Ford admitted to being charged by police in three incidents after media reports that he was charged with marijuana possession in Florida in 1999.

"I truly believe this election is not about mistakes I made 11 1/2 years ago, by me or by any other candidate," Ford said. "I am not perfect. I have never claimed to be perfect."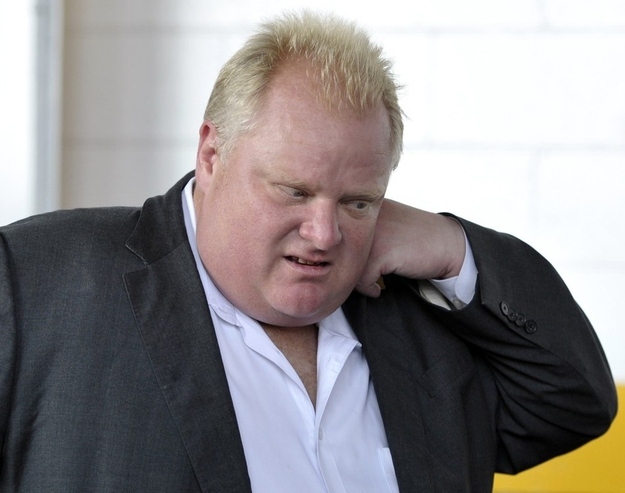 14.
April 18, 2011
The issue of safe-injection sites comes up once again:
Mayor Rob Ford, who in the past has said he does not support supervised consumption sites as a form of drug treatment, confirmed his position on Friday.

"I've always been opposed to those," Ford told a group of reporters. "I've never been in favour of safe injection sites."
15.
March 11, 2013
After he was accused of being high on cocaine and groping a fellow politician, Sarah Thompson:
Ford used his radio on Sunday to hit back at a former election rival, telling his listeners the allegations were "not true" and questioning whether his accuser was "playing with a full deck."

"I don't want to waste my time anymore on this," he said.
(Thompson later said she had no proof but believed Ford was high based on a Google search of the symptoms.)