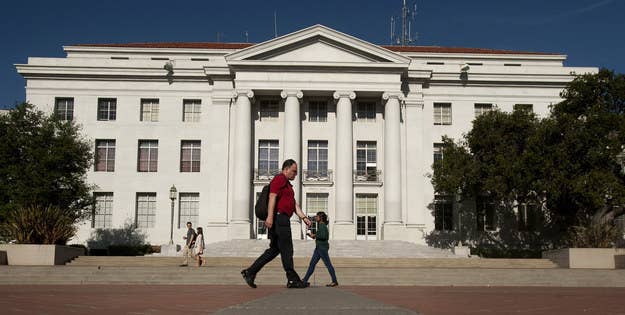 Three women filed a lawsuit Monday against the University of California, Berkeley, alleging the school mishandled their reports of sexual assault — marking the first time the college has faced legal action regarding its policies despite two years of highly publicized criticism.
According to the lawsuit, Berkeley allegedly violated federal and state anti-discrimination laws, failed to "warn, train, or educate" the plaintiffs — Sofia Karasek, Nicoletta Commins, and Aryle Butler — "about how to avoid [risk of sexual abuse]," and committed fraud by communicating to them that Berkeley "was safe and that students only experienced a minimal amount of sexual violence."
A spokeswoman for Berkeley said Monday afternoon that the school had not yet been served and would reserve comment "until after we have seen and reviewed such a filing." (The Zalkin Law Firm, which filed the suit on behalf of the three women, confirmed it had been filed.)
"At UC Berkeley we are committed to creating a campus community where sexual assault is not tolerated," the university's statement continued. "Working with students, faculty and staff, we have made great strides on this front and we are dedicated to building on those efforts."
In February 2014, Karasek, Commins, Butler, and more than two dozen others filed federal complaints against Berkeley — some for the second time — informing the federal government that they believed Berkeley wasn't complying with two federal laws. The first, the Clery Act, requires Berkeley to publicly report crimes on campus, including sexual violence. The second is the federal gender equity law Title IX, which requires colleges to "respond promptly and effectively" to sexual violence and harassment.
The U.S. Department of Education's Office for Civil Rights opened an investigation into Berkeley a month after the 2014 group complaint, but the plaintiffs in Monday's lawsuit say they're not going to wait on the federal government — currently investigating more than 100 schools whose students have filed similar complaints.
Once considered potentially harmful to a school's reputation, Title IX investigations have become commonplace. Title IX lawsuits, however, are less common, though notable suits have recently been filed against schools in Florida, Colorado, Oregon, and California as well. The plaintiffs in Monday's lawsuit say they believe it's their last opportunity to get Berkeley to acknowledge its alleged misdeeds and better comply with its Title IX obligations. The lawsuit also makes these students' allegations public in a court of law for the first time — not just the circumstances of their assaults, but details of the aftermath, offering a picture of just how bad they claim life has become at Berkeley for sexual assault victims.
There's some desperation in the act of filing the suit, said Sofie Karasek, who was allegedly assaulted in February 2012 by another student on a trip organized by a student club.
"I'm graduating now," she told BuzzFeed News, "and I'd like to have a sense of closure — well, not closure, because I feel like I'll never have closure. But I'd like to feel as though I did everything that I possibly could, that I took every possible avenue to hold them accountable, and there wasn't any stone left unturned."
After the 2014 mass filing, Karasek began exploring options outside the federal grievance system.
"I was really disillusioned with how the university was responding to our activism — largely taking steps that were good for public relations but weren't going to help survivors on the ground," Karasek said. And so she met with Alexander S. Zalkin at the Zalkin Law Firm, a California-based group specializing in sex abuse lawsuits.
Zalkin called Monday's lawsuit a "useful tool" for forcing change at Berkeley. Often at large institutions, he said, "until victims come out and start filing lawsuits that hit their pockets, they make no changes" — in this lawsuit, those changes would mean Berkeley publicly acknowledging its past mishandlings and taking steps toward compliance with federal requirements.
But money is a big part of the campus sexual assault conversation, too. Schools could lose federal funding by violating Title IX — though no school ever has — and be fined for Clery Act violations. But those fines only amount to up to $35,000 per violation, or "literally pocket change " for large colleges, as Karasek said. Damages from a lawsuit could constitute a significantly stronger blow. (Monday's lawsuit didn't include a specific dollar amount.)
Of Berkeley's 31 Title IX complainants, just two more signed on to join Karasek in the lawsuit. That figure, Karasek said, had much to do with students' anonymity concerns — Title IX complaints are always confidential, while lawsuits are less so — and the substantial difference in time and effort between filing a one-time report and becoming a plaintiff in civil court. For Karasek, though, the prolonged nature of lawsuits is an advantage.
"Students are usually only in school for 2-5 years, and universities really benefit from that lack of institutional memory and rapid turnover between activists," she said. At schools throughout the country, younger activists are stepping up — but Karasek said she's still "afraid that many of the students who started this movement have graduated or are graduating. It's not clear what the trajectory of the movement will be in the coming years.
"We've been pushing for so long, but what we have to show for that is not sufficient," she said. "Berkeley just hasn't stepped up in the way that we had hoped that they would."
Nicoletta Commins, one of the other plaintiffs in the suit, was assaulted in 2012 as a junior by her Taekwondo teammate. She reported it to the student health center and then the police department, which pursued an investigation that ended with a felony assault conviction and community service sentence for her assailant. But while the police investigation was ongoing, Berkeley wouldn't simultaneously investigate, despite Commins' requests, she said. The university didn't inform Commins that its investigation had ended — and that her assailant had indeed been suspended until the fall of 2015 — until more than a year after her assault, according to the lawsuit.
Aryle Butler, the third plaintiff, said she was assaulted repeatedly by the same person while she was enrolled in a summer program and employed by the school in Alaska. When she returned and reported the assault to administrators, she said, they told her it wasn't their problem. According to the lawsuit, the school's Title IX coordinator even admonished her "regarding the consequences of falsely reporting sexual assaults."
Butler said she threw herself into activism, but continued to feel frustrated by the school's "complete lack of movement," even after joining the Clery and Title IX complaints, even after advocating for California's affirmative consent legislation, and even after Congress and Hollywood started paying attention to campus assault.
"I thought I was going to a school with a long established history of political activism, and I hit a brick wall," Butler said. "Civil court was the last and only option left to get the university to face up to what they've done and find out what exactly is happening at Berkeley."
After Butler's assault, she was "forced to withdraw from an internship," the lawsuit said, "because she was deemed 'too political' for speaking out against the way the University handles reports of sexual assault." Commins said she was "forced to drop a class because it let out at night, and she was fearful of encountering [her assailant] on campus after dark."
But after graduating from Berkeley, Commins decided to attend graduate school there, too — of the four programs she was accepted to, Berkeley had the only one she could attend while supporting herself, she said. Her assailant's suspension will end soon, and they may overlap again. On top of that, attending a school while planning to sue it has been a "little weird," she said.
"I feel a lot of day-to-day anger," she said "Being on campus makes me feel angry. Being part of the lawsuit has maybe brought that up a little bit more. But it has also given me a chance to feel resolved."
This story has been updated to clarify Nicoletta Commins' experience at Berkeley after her assault.