Thousands Stuck On Another "Poop Ship" [Updated]
Overflowing toilets in the Caribbean. Life on the Carnival Dream.
Just one month after Carnival Triumph flooded cable news with its red bags of dung, another group of passengers is claiming to be stuck on a cruise ship with nowhere to defecate.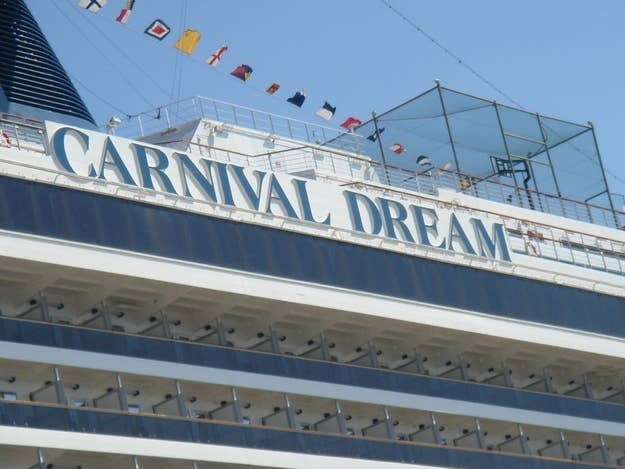 Carnival Dream, a seven-day Caribbean cruise, is stuck at dock in Philipsburg, St. Maarten, because of a "technical issue" — one that apparently affected the plumbing system Wednesday night.
As Gregg Stark told CNN, "There's human waste all over the floor in some of the bathrooms and they're overflowing — and in the state rooms." (Sounds familiar.)
Jonathan Evans, another passneger, also told CNN he was "not allowed off of the boat despite the fact that we have no way to use the restrooms onboard."
UPDATE: A Carnival spokeswoman reached out to BuzzFeed to clarify the toilet situation.
We have had multiple conversations with the ship's management team related to this subject. Based on the ship's service logs and extensive physical monitoring of all public areas, including restrooms, throughout the night, we can confirm that only one public restroom was taken offline for cleaning based on toilet overflow and there was a total of one request for cleaning of a guest cabin bathroom. Aside from that there have been no reports of issues on board with overflowing toilets or sewage. The toilet system had periodic interruptions yesterday evening and was fully restored at approximately 12.30am this morning.
Carnival issued a statement about the incident Thursday morning, explaining that all services had been restored.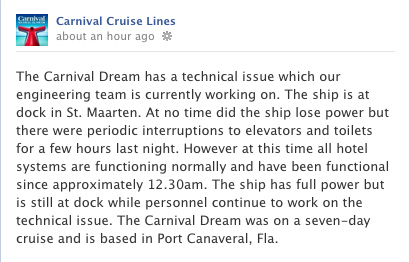 The cruise company is currently working to fly all 4,300 passengers back to Florida. They'll be refunded for three days and given 50 percent off another cruise.