The AP's Twitter Account Has Been Hacked, The White House Did Not Blow Up
The giveaway: no AP style. The fake tweet comes just days after hackers targeted the 60 Minutes and 48 Hours accounts.
This tweet from the Associated Press caused some alarm Tuesday, just a week after the Boston Marathon bombings.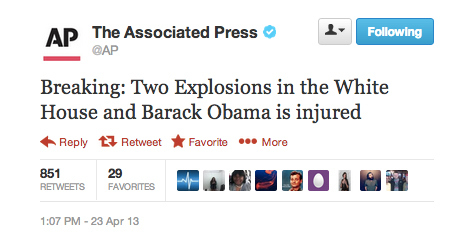 But right away, it was pretty clear the news was fake.
The @AP account was suspended within a few minutes.

And then this happened.
Other Associated Press accounts tried to do damage control...
But everyone made the same joke anyway.
(H/T to Dan Amira for some of the last few tweets.)
UPDATE: Could this be what led to the hacking?
UPDATE 2: The "Syrian Electronic Army" has taken credit for the hack.