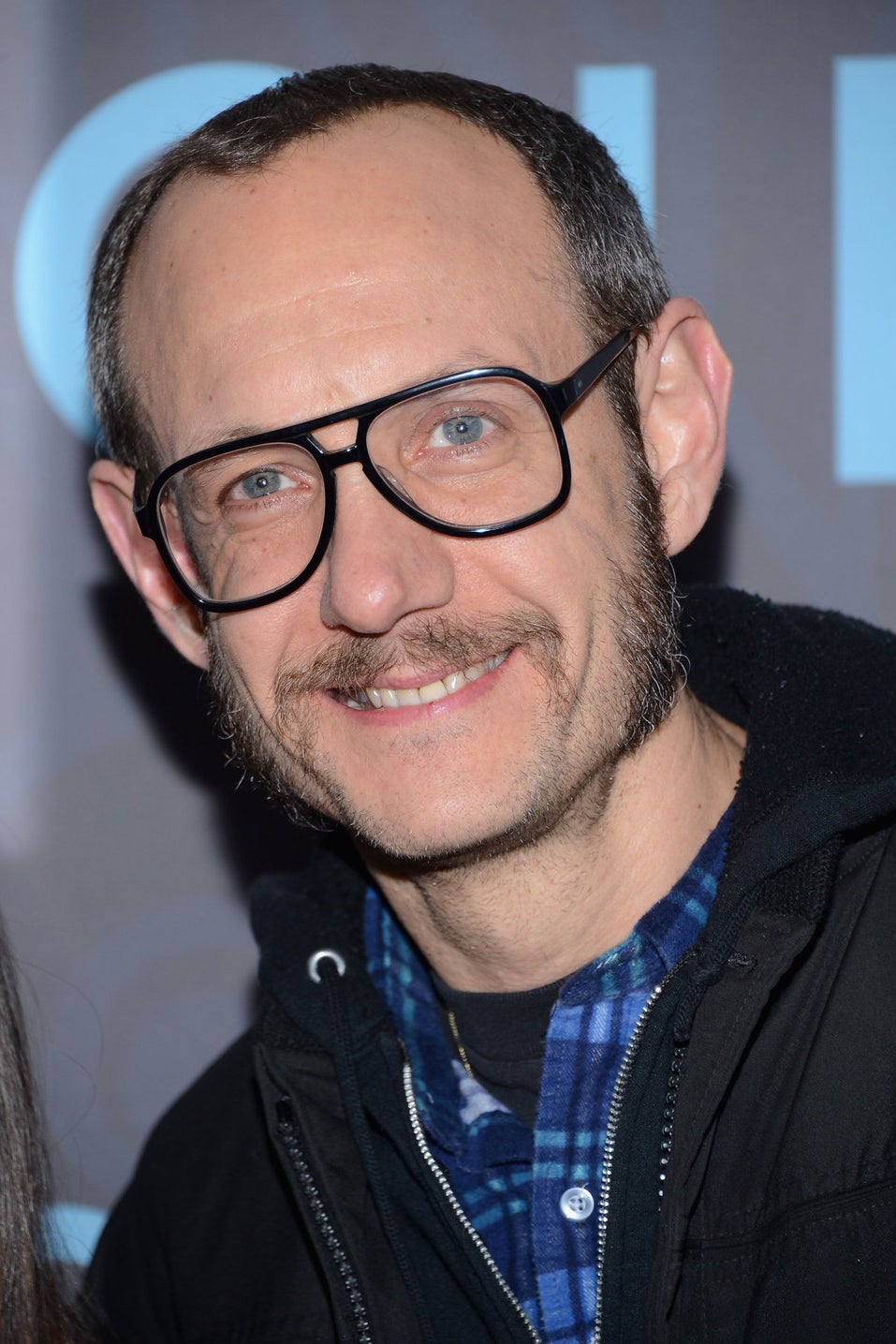 Left: Terry Richardson in January 2013. Right: The Harper's Bazaar masthead from the June/July 2014 issue.
As some fashion magazines and companies continue distancing themselves from Terry Richardson following his most recent round of sexual misconduct allegations, the photographer's work appeared in only one major U.S. publication this month: Hearst magazine Harper's Bazaar. The piece, "What's Next," is a 10-page editorial shot at the shuttered mid-century modern TWA Flight Center at John F. Kennedy International Airport.
This spring, after the latest accusations emerged, three prominent magazines — Vogue, W, and T, the style magazine of the New York Times — told BuzzFeed they had no future plans to work with him.
These magazines' comments weren't quite as forceful as Richardson's critics may have hoped for, but they were significant as the first public statements indicating that his support among the fashion media was dwindling.
Still, some magazines were notably silent: Rolling Stone, which commissioned Richardson for its Neil Patrick Harris May 2014 cover; GQ, which has featured 11 Richardson covers since 2009; and Harper's Bazaar, where Richardson has shot 25 covers — or about 40% of all covers — since 2009, according to the comprehensive archive on models.com.
Since at least 2010, "Uncle Terry" has faced allegations that he used his art world acclaim to coerce models into performing sexual acts on him, or letting him perform acts on them.
Richardson, who has never been charged with a crime, has denied these allegations, calling them "Internet gossip and false accusations … vicious and distorted, moving outside the realm of critical dialogue and becoming nothing more than an emotionally-charged witch hunt."
BuzzFeed has reached out to Harper's Bazaar four times since April 20, seeking comment on the magazine's ongoing relationship with Richardson, which can be traced back to the '90s. Representatives for the magazine and Hearst's magazine division have not responded. But a closer look at the Bazaar masthead makes clear that this relationship is thriving — and not random. Many of the magazine's editors employed Richardson at their former jobs, including at some publications that have not worked with Richardson since those editors exited. With assignments as recent as May 2014's Kate Moss cover and the June/July 2014 editorial, Harper's Bazaar has solidified itself as a safe haven for Richardson, a nest held up by his supporters while many past patrons turn their backs.
Start at the top of the masthead: Just below Editor-in-Chief Glenda Bailey is Creative Director Stephen Gan. Both have been at the magazine since 2001. Gan is also the editor of V magazine. V is one of Richardson's most recent clients — he shot Lea Michele for the March 2014 music issue. (V also did not respond to BuzzFeed's request for comment.)
Executive Editor Stephen Mooallem joined Bazaar from Interview in December 2013. It appears Richardson's last Interview appearance was October 2013. Kristina O'Neill, who held Bazaar's executive editor position before Mooallem, is now the editor of WSJ. magazine, for which Richardson shot two covers in 2013. In April, a spokeswoman for WSJ. declined to say whether the magazine will continue working with him.
Elissa Santisi was the style director of U.S. Vogue from 1998 to 2003, then became a contributing editor, working on many Richardson shoots. Vogue stopped hiring Richardson in 2010, but when Santisi officially departed for Bazaar in 2013, they reunited again — she was most recently the stylist on his June/July editorial.
Carine Roitfeld, Bazaar's global fashion director and former longtime Vogue Paris editor-in-chief, is a friend and collaborator of Richardson's. He continued working for Vogue Paris after her departure, along with Vogue editions in China, Germany, Hommes International, Japan, and Mexico.
Derek Blasberg, editor at large of Bazaar and V, lists Richardson among his frequent collaborators. Richardson has photographed Blasberg, and he makes appearances on Blasberg's blog and social media accounts.
While Harper's Bazaar typically emphasizes fashion over lengthy articles, prominent women who identify as feminists have written for the magazine in recent years — including Naomi Wolf, Tavi Gevinson, and Elizabeth Wurtzel. Of the three, Wurtzel was the only to provide comment to BuzzFeed.
"It is surprising that Richardson has not been charged with a crime, if these rumors are true, because his behavior sounds extreme, and also as if it happened quite a lot and in front of others," she wrote in an email. "But in a way he was hiding in plain sight. Because there are neither lawsuits nor criminal actions, at this point there are only terrible rumors, which fuels the fashion world. It is a shame this has been handled so badly. Perhaps we really should not hate models because they are beautiful."
None of this will come as a surprise to those within the fashion industry, which, like many others, is often sustained by nepotism. But Richardson's continued work for Harper's Bazaar — and the magazine's ongoing silence — underscores how fame and connections can overpower or even silence women who consider themselves victims of Richardson's behavior.
On Tuesday, Jezebel reported that New York magazine was planning a cover story on Richardson, according to an unnamed source, in which Richardson will "say the girls are full of crapola." (New York confirmed on Friday that the June 16 issue will feature an exclusive interview with Richardson on the accusations, as well as reporting on his "early years, development as a photographer, and his career.") This inspired a woman identified as "Anna" to write to Jezebel about her 2008 encounter with Richardson. According to the woman, Richardson invited her to his studio for a photo shoot after they met at a party. The shoot was "innocent fun," she said, until she allegedly found herself with Richardson's penis pushed against her face.
I would have come out with the story when the incident happened, but - as pathetic as this sounds - didn't think anyone would give a shit about a non-model getting a dick, albeit a famous fashion photographer's dick, shoved in her face without any proof whatsoever … The guy shouldn't just be locked out from the fashion photography world, he should be in jail. Add another girl to the list!
Email the author at jessica.testa@buzzfeed.com.