Teen Who Allegedly Murdered Teacher Used Her Credit Card At Wendy's, Saw "Blue Jasmine"
The boy's suspected motive for killing Colleen Ritzer is still unknown.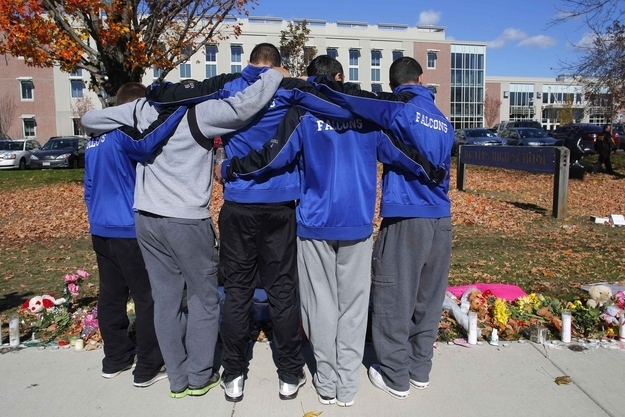 The Boston Globe reported new details Thursday in the murder of Colleen Ritzer, a well-liked math teacher at Danvers High School in Massachusetts.
Police suspect that Ritzer was killed by Philip Chism, a 14-year-old student who recently moved to Danvers from Tennessee. On Tuesday, the day of her death, Ritzer asked Chism to stay after class for test prep, according to the Globe.
"He just gave a nod," said Rania Rhaedaoui, a freshman who sat near Chism. "There was a test coming up, and she wanted to know if he had any questions."

After Ritzer first noticed [Chism's sketching in class], she remarked matter of factly, "I didn't know you could draw," Rhaedaoui said.
The school day ended just before 2 p.m. Though no surveillance video has been confirmed or released by police yet, 7 News reported that one of the school's 200 cameras apparently captured Chism "following Ritzer into a women's bathroom on the second floor" around 3:30 p.m. and " leaving the bathroom covered in blood."
Sources also say Chism who was wearing white gloves struck his math teacher twice before slashing her with a box cutter then placing her body in a recycling bin and wheeling it out of the school and into the woods.
Later, Chism reportedly skipped after-school soccer practice and went to a 4:30 p.m. showing of Woody Allen's Blue Jasmine, alone in an empty movie theater. He allegedly destroyed his and Ritzer's cell phones and used her credit card at a nearby Wendy's.
Chism was found by police at 12:30 a.m., an hour after Ritzer was reported missing; the teacher's body was found in the woods behind the school the following morning.