Steve Kornacki Is The New Host Of MSNBC's "Up"
He replaces Chris Hayes, who's moving to a weekday prime-time slot.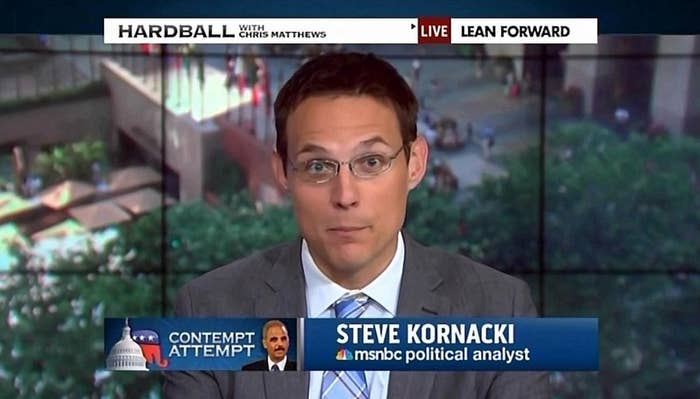 The full MSNBC press release:
Steve Kornacki has been named the new host of MSNBC's "Up" which airs Saturdays and Sundays from 8:00 – 10:00 a.m. ET. Jonathan Larsen will continue to serve as Executive Producer for the program. This announcement was made by Phil Griffin, President of MSNBC.

"I give so much credit to the 'Up' team who created appointment viewing on the weekends for us and some of the smartest conversations on television," said Griffin. "Steve has a great political mind and his ability to connect with viewers made him a natural fit to continue driving that dialogue."

"I want to thank Chris Hayes and his team for creating a totally original and incredibly smart model for political television," said Kornacki. "It's a real honor and a real challenge to take his seat, and I'm excited by the chance to foster the same kind of lively and diverse conversations. Mainly, though, I'm looking forward to spending four hours each weekend with the @UpPastryPlate."

Kornacki was previously a co-host on "The Cycle"' and he is currently a senior political writer for Salon.com. He has also written for the New York Observer and Roll Call and his work has appeared in numerous publications including Wall Street Journal, New York Times, New York Daily News, New York Post, Boston Globe, Daily Beast and Capital New York. He began his career in New Jersey co-hosting a weekly show on News 12 New Jersey.

Kornacki is a native of Groton, Massachusetts and graduate of Boston University.