Edward Snowden Will Seek Asylum In Russia, Asks Human Rights Organizations For Help
PLUS: New photos!
One minute of footage secretly taken during the meeting. (Warning: The audio does not match up with the video.)
Edward Snowden, the U.S. fugitive who's been living in the transit zone of Moscow's airport since late June, told human rights officials Friday that he will pursue asylum in Russia until he's able to get to Latin America without interference.
The meeting on Friday was the public's first look at Snowden since June 16, when the former National Security Agency contractor filmed an interview with the Guardian in Hong Kong. According to the Guardian, the eight officials meeting with Snowden at Sheremetyevo included members of Human Rights Watch, Amnesty International, and Transparency International.
Snowden requested the meeting via an email, which Tanya Lokshina of Human Rights Watch posted to Facebook early Friday morning. He asked the groups to join him for "a brief statement and discussion regarding the next steps forward in my situation."
Russian President Vladimir Putin has previously said that Snowden could stay in Russia if he stops "harming" the U.S. This prompted Snowden to withdrawal his asylum request, though it now appears he will resubmit it.
"No actions I take or plan are meant to harm the U.S.," Snowden reportedly said Friday. "I want the U.S. to succeed."
Snowden said he has received offers of asylum from Venezuela, Nicaragua, Bolivia, and Ecuador, but he's been unable to find a way from Moscow to one of these countries without flying through U.S. airspace or being grounded by a U.S. ally.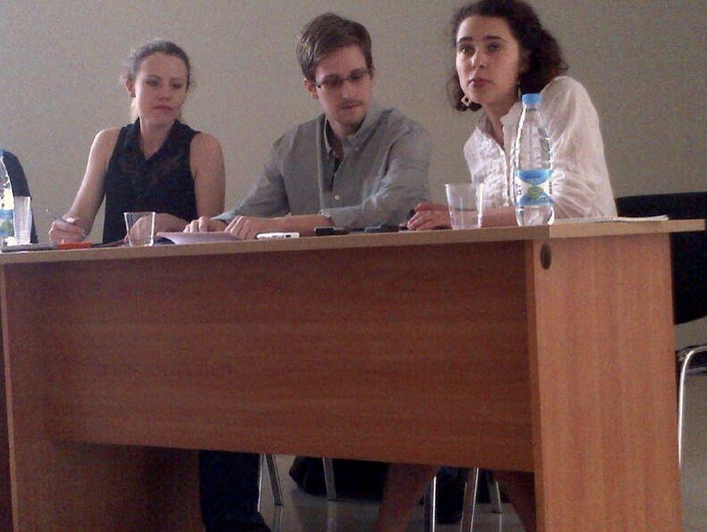 After the 45-minute meeting, WikiLeaks released Snowden's full address to the human rights officials:
Hello. My name is Ed Snowden. A little over one month ago, I had family, a home in paradise, and I lived in great comfort. I also had the capability without any warrant to search for, seize, and read your communications. Anyone's communications at any time. That is the power to change people's fates ...

I announce today my formal acceptance of all offers of support or asylum I have been extended and all others that may be offered in the future. With, for example, the grant of asylum provided by Venezuela's President Maduro, my asylee status is now formal, and no state has a basis by which to limit or interfere with my right to enjoy that asylum. As we have seen, however, some governments in Western European and North American states have demonstrated a willingness to act outside the law, and this behavior persists today. This unlawful threat makes it impossible for me to travel to Latin America and enjoy the asylum granted there in accordance with our shared rights.
More reports of what was said during the meeting:
Snowden's full email to Lokshina: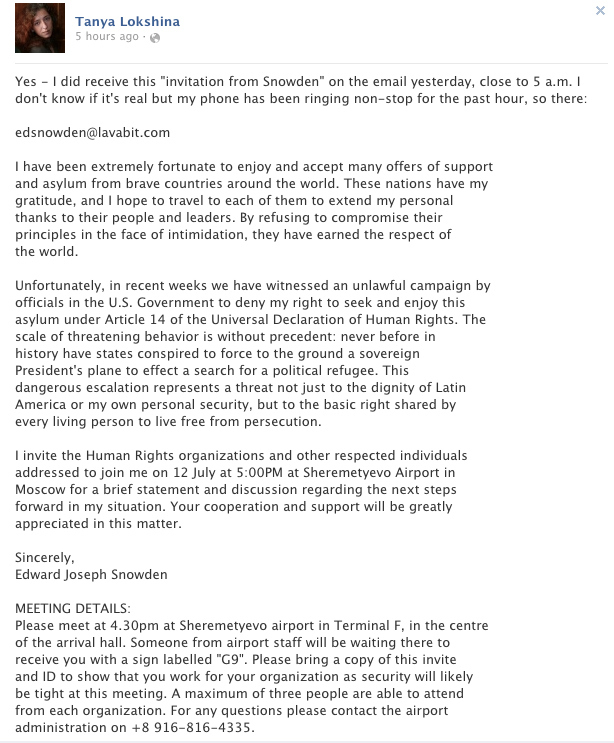 The scene inside the airport, prior to the meeting:
And another photo!