Prompted by a discussion over how women "shouldn't dress," Twitter user @steenfox asked her followers a question: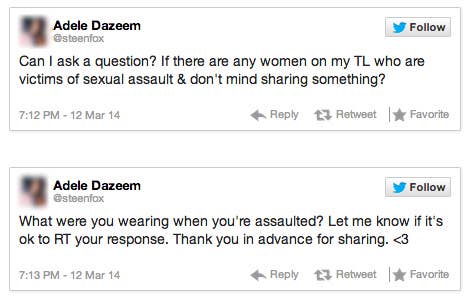 The response was overwhelming.
Note: All users featured here gave BuzzFeed permission to post their responses; some asked that their names, photos, or both be blurred. For a thoughtful take on Twitter, sexual assault, and privacy, see this post from New York.
Ayanna Brooks, or @AmiWinehouse, told BuzzFeed she shared her story because she often sees victim blaming — and women being "so at odds with each other" — on Twitter.
"[Users] tend to shame women and call them names for experiencing things like I've experienced," she said in an email. "I've stopped feeling like the villain and accepted that I was a victim but it doesn't define me. Seeing everyone else share made me feel a sense of unity and togetherness."
According to RAINN, 73% of sexual assaults are committed by someone known to the victim; this was reflected in the women's stories.

Nicole Aghaaliandastjerdi, or @justjerdi, said her assailant later became her stepfather. Today, she facilitates a women's abuse support group — the importance of "putting faces to each assault" motivated her to tweet her story, she said in an email.
"I think it's important to strip away the stigma that wearing 'provocative attire' is a woman's way of 'asking for it.' As I read each of the tweets, I saw those girls wearing their pajamas getting ready to go to school the next day, the women just getting off work, the college freshman on her way to class — and I wept. It was powerful and moving, and I'm in awe at the strength we possess."
Aghaaliandastjerdi wasn't the only woman to use the phrase "the first time." Many users described multiple outfits for multiple assaults.

Some women were dressed for school.
Some were ready for work.

Others described assaults that began as consensual encounters.
And so many were just children.


A previous version of this post included four additional tweets which were later removed at the request of users. One user's tweet has also since been added. (All users gave permission prior to publication.) By request, we've also updated the thumbnail photo and blurred an additional photo. The post has been updated to include a link to an analysis of privacy, sexual assault, and Twitter.