Rupert Murdoch And Wendi Deng Are Divorcing
And we were just recovering from the Putins' split.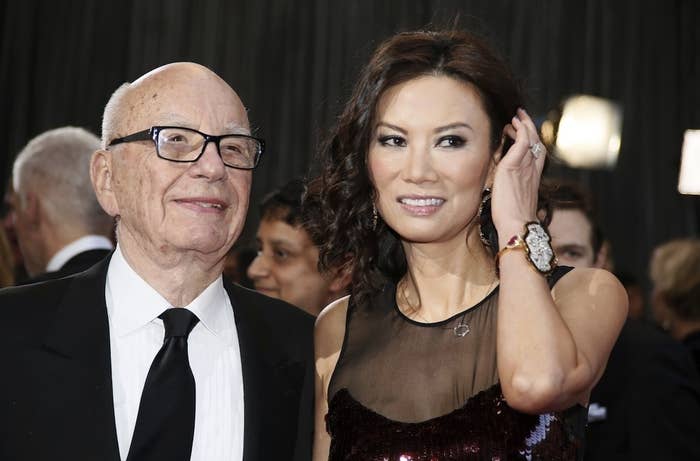 America's sweethearts Rupert Murdoch and Wendi Deng Murdoch are divorcing, according to a spokesman. The News Corporation CEO and businesswoman married nearly 14 years ago, just 17 days after Murdoch's $1.7 billion divorce from Anna Murdoch Mann was finalized. Murdoch and Deng have two daughters together.
Deadline Hollywood's Nikki Finke broke the news on Thursday:
Today's news comes despite numerous denials for months by PR man Steven Rubenstein and News Corp PR woman Julie Henderson to me as recently as April and May ... Today I'm told by insiders that, at that time, there were still no divorce proceedings underway so the denials were issued in good faith. "The divorce happened very quickly," an insider tells me today.
If you recall, Deng nearly body-slammed a man who tried to shove a shaving-cream pie in her husband's face during a July 2011 British parliamentary committee hearing on phone hacking. (It was amazing.)
Reuters later described Deng's save as a "scorpion-like swipe." At the time, media figures largely praised the Chinese-born Yale graduate and producer of Snow Flower and the Secret Fan.
"That's our Wendi," said Vanity Fair writer Michael Wolff, author of a Murdoch biography.

"She is great -- incredibly full of energy, incredibly intelligent, living the life and just squeezing everything out of it," he said. "She is incredibly ambitious."
"Wendi Murdoch may be even smarter than Rupert Murdoch," said New York Daily News gossip columnist Joanna Molloy. "She is no dummy. She is a consigliere to him, she has a self interest. She is very protective of him and very involved."
A year later, the pie incident was described in the New York Times as giving the Murdochs' marriage "legitimacy."
"Until the cream-pie incident, she'd really been branded the classic younger wife with a tinge of racism and stereotyping," said Andrew Butcher, a former senior communications executive at News Corporation. "That turned everything around for her."
We'll miss Wendi's husband-saving antics, but there may be hope yet...