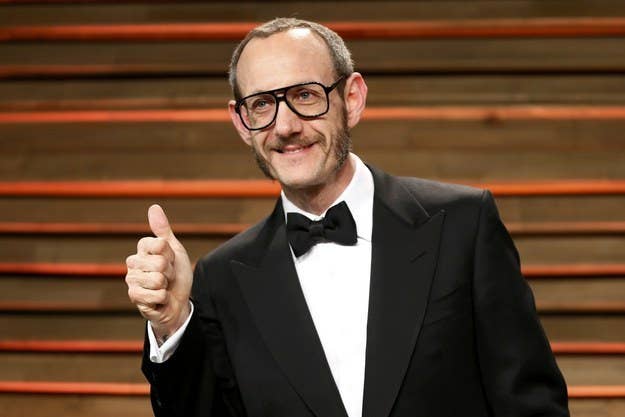 Two national magazines — Vogue and T — say they have no plans to continue their relationships with photographer Terry Richardson after featuring his work in prior years.
Richardson's employers are reckoning with a series of allegations, beginning in 2010, of the photographer making inappropriate sexual advances toward models during photo shoots. Richardson has never been charged with a crime and wrote recently that he never "used an offer of work or a threat of rebuke to coerce someone into something that they did not want to do."
On Sunday, model Emma Appleton tweeted a message purportedly from Richardson saying he would book her for a Vogue shoot if he could have sex with her. Richardson's spokeswoman called the message fake.
But the drumbeat of allegations — that "Uncle Terry" would use his art-world acclaim to earn the models' trust, then coerce the women into performing sexual acts on him, or letting him perform acts on them — has begun to get the attention of Richardson's employers. U.S. Vogue communications director Hildy Kuryk told BuzzFeed "we have no plans to work with him in the future."
Monday, a spokeswoman for The New York Times, which publishes the style magazine T, issued a similar statement: "Under Deborah Needleman, T Magazine has not worked with him and there are no plans to do so," Eileen Murphy said in an email.
Needleman was hired to lead T in September 2012. Earlier that year, Richardson had photographed Lana Del Rey, Amber Heard, and Azealia Banks for the magazine. Richardson last shot for U.S. Vogue in July 2010. (Vogue Paris used him as recently as February of this year.)
Other magazines, however, declined or did not respond to inquiries about Richardson.
WSJ., the Wall Street Journal's style magazine, featured Richardson's portraits throughout 2013, from Daft Punk and Gisele Bundchen in November to Woody Allen in June. A WSJ. spokeswoman declined to comment on whether the magazine will continue its relationship with Richardson.
Also declining comment: Rolling Stone, which recently hired Richardson to shoot Neil Patrick Harris for a future issue, and W, which last used Richardson in July 2011.
GQ and Harper's Bazaar, where Richardson's work appears most consistently in the U.S., did not respond to requests for comment — Richardson shot the March 2014 cover of both magazines.
V magazine, where Richardson shot Lea Michele for February 2014's music issue, did not respond to requests for comment. Vanity Fair and Esquire UK, where Richardson's work appeared throughout 2012, and Vice, where Richardson had bylines in 2011, also did not respond.
Update: W most recently published Richardson's work in 2010 and 2011. An earlier version of this item omitted the latter year. (4/22/14)