Reports: U.S. Lacks "Slam Dunk," "Smoking Gun" Needed For Syria Intervention Support
Everything you need to know about the crisis in Syria today.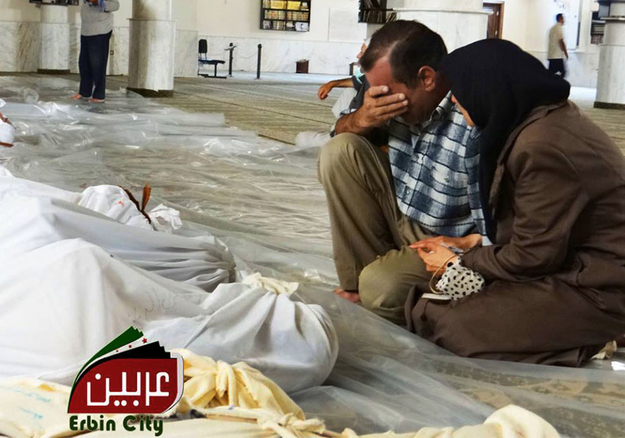 • The Obama Administration is expected to release some of its intel on the gas attack Thursday.
U.S. officials have told the Associated Press that intelligence proving the Syrian government gassed a Damascus suburbs last Wednesday — killing at least 355 Syrians — is "not a slam dunk." Sources told The New York Times that there is no "smoking gun."
Yet in an interview with NewsHour, President Obama echoed statements coming out of the White House and State Department for days: "We have concluded that the Syrian government in fact carried these out," he said. "And if that's so, then there need to be international consequences."
Obama hasn't made a decision on intervention yet, he said. On Thursday, his administration is expected to publish some of the information forming its "undeniable" belief that Syrian President Bashar Assad is responsible for the chemical attack.
Among this information might be an overheard "panicked" phone call between a Syrian Defense Ministry official and weapons unit leader hours after the attack, as Foreign Policy reported on Wednesday.
• The U.S. and U.K. are facing backlash over their apparent willingness to act without approval from the United Nations Security Council and their domestic lawmakers.
U.N. investigators are expected to leave Damascus on Saturday, but it's unclear how long it will take them to compile the report that U.N. leaders are expected to use when forming their decision on intervention.
White House officials told the AP that a U.N. decision would not affect U.S. plans. Some international leaders have condemned this approach, from Arab League-U.N. envoy Lakhdar Brahimi on Wednesday to South African President Jacob Zuma on Thursday.
"Any attack on Syria without the U.N. Security Council authorization would constitute a grave violation of international law and dangerously undermine international order," Zuma said. "South Africa does not believe that bombing the already suffering people and crumbling infrastructure of Syria will contribute to a sustainable solution."
But the Obama administration has also been greeted with firm support from U.K. Prime Minister David Cameron, who yesterday ordered the drafting of a U.N. Security Council resolution condemning Assad and "authorizing necessary measures to protect civilians." On Wednesday, however, Reuters reported that Cameron — in a "humiliating climb-down" — was pressured by U.K. lawmakers and international allies to delay his plans for a military strike.
The British government has published a statement asserting the legality of military action in Syria. Cameron and Parliament are currently discussing possible military response.
UPDATE: British House Of Commons Votes Against Syria Intervention
In the meantime, House Speaker John Boehner has told President Obama in a letter that it is "essential" to lay out the legal justification for using force in Syria before doing so.
"Having again determined your red line has been crossed, should a decisive response involve the use of the United States military, it is essential that you provide a clear, unambiguous explanation of how military action — which is a means, not a policy — will secure U.S. objectives and how it fits into your overall policy," Boehner wrote.
In a separate letter to Obama, 116 House members asked the president to get congressional authorization before taking action in Syria.
• The ships are moving in.
Russia's Interfax reported Thursday that the Syrian ally will send two warships to the east Mediterranean, including a missile cruiser and a large anti-submarine ship.
"Declared plans by some states to inflict a military strike on Syria are an undisguised challenge to the key provisions of the U.N. charter and other norms of international law," Gennady Gatilov, Russia's deputy minister of foreign affairs, reportedly told Ban Ki-moon.
The U.S. has increased its aircraft carriers in the Persian Gulf from one to two. The U.K. has deployed six Royal Air Force Typhoon jets to Cyprus.
Assad has promised that Syria "will defend itself against any aggression."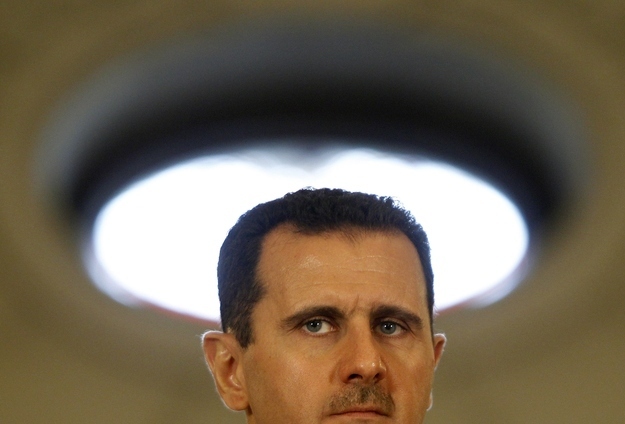 • Assad is moving his missiles and troops.
Reuters reports that Syrian military forces, in preparation for a strike, have relocated several Scud missiles and launchers.
At the headquarters of the army's 155th Brigade, a missile unit whose base sprawls along the western edge of Syria's main highway running north from the capital to Homs, rebel scouts saw dozens mobile Scud launchers pulling out early on Thursday.
Military personnel have reportedly already evacuated Damascus' defense headquarters.
• In Thursday press briefings, the White House and State Department fought back against Iraq War comparisons.
U.S. State Department spokeswoman Marie Harf said no one within the U.S. government is talking about an "Iraq-style intervention." She said there are "considerable differences" between the U.S. trying to prove there were weapons of mass destruction in Iraq in 2003 and the situation in Syria today.
"I would encourage people not to equate the two assessments," Harf said. "We are not going to repeat the mistakes of the Iraq war."
White House deputy spokesman Josh Earnest rejected Iraq comparisons as well. He added that U.S. military action in Syria would be "very discreet and limited." White House spokesman Jay Carney has previously said that Obama "does not envision a situation in Syria that would lead to U.S. boots on the ground, and that remains the case."