Reports: FBI And NSA Secretly Mining Data From Major Internet Companies
Including Microsoft, Yahoo, Google, Facebook, AOL, Skype, YouTube and Apple. All of the information government analysts need "to track a person's movements and contacts over time."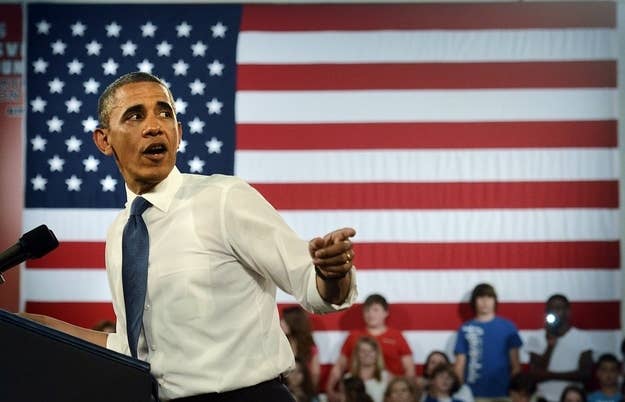 One day after the The Guardian reported that the NSA has access to millions of Verizon customers' phone logs, the Washington Post and Guardian have details of a top-secret program called PRISM, which the National Security Agency and FBI are using to mine major internet companies for users' "audio, video, photographs, e-mails, documents and connection logs."
A 41-slide PowerPoint document obtained by the news outlets offers details of PRISM, including the companies involved: Microsoft, Yahoo, Google, Facebook, AOL, Skype, YouTube, Apple and PalTalk, a messaging service. According to one of the PRISM slides, the government has had access to Microsoft data since 2007, but only Apple since October 2012.
DropBox will soon be added to the list. But Twitter, as the Post explains, is "conspicuous by its absence."
From the Guardian:
The extent and nature of the data collected from each company varies.

Companies are legally obliged to comply with requests for users' communications under US law, but the PRISM program allows the intelligence services direct access to the companies' servers. The NSA document notes the operations have "assistance of communications providers in the US".
And a frightening detail on how the Washington Post got the PowerPoint:
Firsthand experience with these systems, and horror at their capabilities, is what drove a career intelligence officer to provide PowerPoint slides about PRISM and supporting materials to The Washington Post in order to expose what he believes to be a gross intrusion on privacy. "They quite literally can watch your ideas form as you type," the officer said.
Here's some of the data the government has access to, via one of the PRISM slides: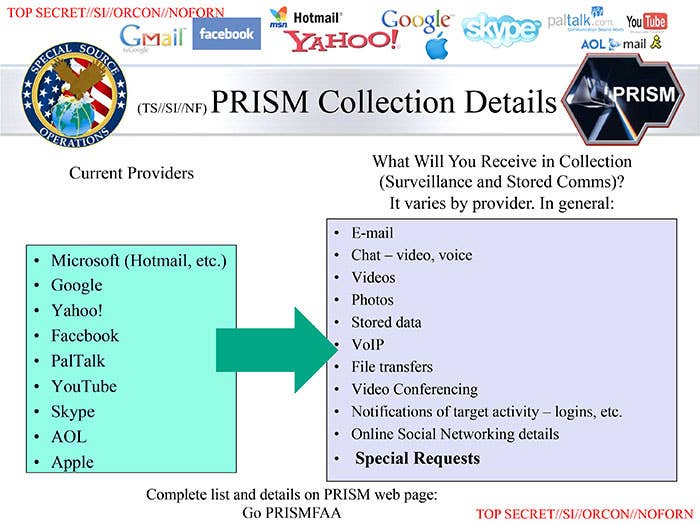 UPDATE - Thursday, June, 6, 2013, 8:26 p.m. ET: Companies have begun denying involvement.
Update: Thursday, June 6, 2013 - 10:36 p.m. ET:
Update — Thursday, June 6, 2013, 10:36 p.m. ET: The DNI Statement on Activities Authorized Under Section 702 of FISA
DNI Statement on Recent Unauthorized Disclosures of Classified Information: