Putin: No Evidence That Syrian Chemical Attack Took Place
In a phone call with British Prime Minister David Cameron, the Russian president sticks to Syria's denial.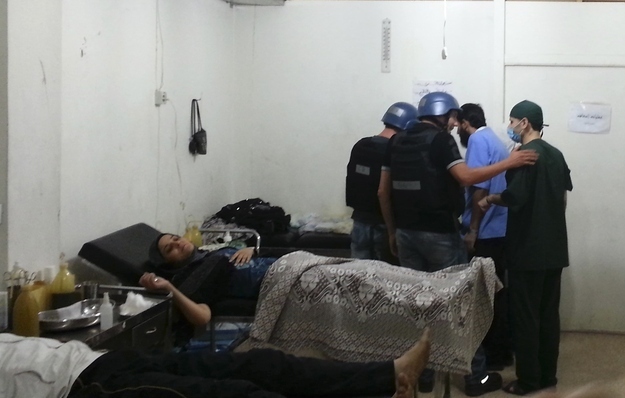 During a phone call Monday with British Prime Minister David Cameron, Russian President Vladimir Putin said that Russia has no evidence of "whether a chemical weapons attack had taken place or who was responsible" in Syria, according to a Downing Street statement.
Syria, a Russian ally, has denied reports of using chemical weapons on opposition forces last Wednesday, calling those claims "hysteria and floundering."
Cameron told Putin he had "little doubt" the Syrian government was responsible for the attack — the same words used by White House officials on Sunday.
The Prime Minister's Office's full statement:
The Prime Minister called President Putin this afternoon to discuss how the international community responds to the chemical weapons attack in Damascus last Wednesday.

They both reiterated the position agreed by all leaders at the G8 in June: no-one should use chemical weapons and any use would merit a serious response from the international community.

The PM made clear that there was little doubt that this was an attack carried out by the Syrian regime. There was no evidence to suggest that the opposition had the capability to carry out such a significant attack and the regime had launched a heavy offensive in the area in the days before and after the incident. The regime had also prevented UN access in the immediate aftermath, suggesting they had something to hide.

President Putin said that they did not have evidence of whether a chemical weapons attack had taken place or who was responsible.

The Prime Minister will be working from Downing Street tomorrow ahead of a meeting of the National Security Council scheduled for Wednesday. The government will decide tomorrow whether the timetable for our response means it will be necessary to recall MPs sooner than Monday when the House is currently due to return.
On Monday, U.N. inspectors — who survived a sniper attack en route to a Damascus neighborhood — examined and took samples from victims of the apparent attack.