Obama To Boston Bomber: "We Will Find You"
The president attended an interfaith service in Boston Thursday alongside local spiritual and political leaders.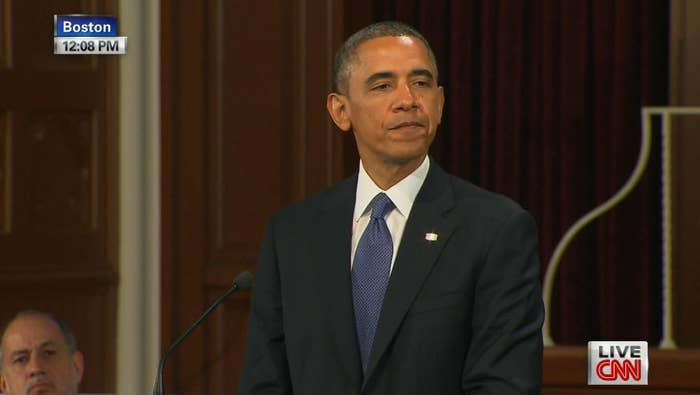 BOSTON — President Obama praised Boston's spirit and resilience at an interfaith service Thursday honoring the victims of the marathon bombings.
"For millions of us, what happened on Monday is personal," the president said from the city's historic Cathedral of the Holy Cross, adding a promise to find those responsible for the bombings. "Yes, we will find you. And yes, you will face justice ... We may be momentarily knocked off our feet. But we'll pick ourselves up."
He called Boston his home, referencing the years he and the First Lady spent at Harvard Law School. He offered prayers for each of the three people who died in the explosions, as well as the 176 injured.
"I have no doubt you will run again. You will run again," he said. "Because that's what the people of Boston are made of."
Before delivering his remarks, Obama listened as local spiritual leaders offered their support. Mayor Tom Menino, standing in public for the first time since undergoing leg surgery last Friday, also spoke about the love displayed in Boston in the days after the explosions.
"Since the clock struck that fateful hour, love has covered this resilient city," Menino said. He pointed to New York City, where Yankees fans sang "Sweet Caroline," the anthem of their Red Sox rivals, on Monday.
Massachusetts Gov. Deval Patrick emphasized how the tragedy has brought out Bostonians' kindness and hospitality.
"The grace this tragedy exposed is the best of who we are," he said.
About 2,000 people filled the cathedral on Thursday, but 300 others watched the service from a Catholic high school gymnasium next door. After delivering his remarks in the cathedral, Obama spoke in the overflow room, greeting marathon organizers, cathedral workers, and others who spent hours in line for tickets to the service.
"You displayed compassion, you displayed civil duty, you displayed courage," Obama said. "You've inspired the entire country."
Sister Lena Deevy said it was incredibly important to her that Obama made the trip to Boston. "We do inspire one another, and if the leader of the country is encouraging you to carry on, that encourages the country to be at its best," she said.
The president's combined rhetoric of compassion, hope, and resilience seemed to strike a chord with attendees. Brianna Chaves was particularly moved by the president's comment that "they picked the wrong city." "I've lived here all my life, and he's exactly right," she said.
Some in attendance were regular parishioners at the Holy Cross, and the service's location held special significance. Marisel Rivera, one such church member, is a 55-year-old Puerto Rican teacher who moved to Boston three decades ago. When she found out she wouldn't be able to sit inside the cathedral, she said sadly, "But this is my church ... I teach Sunday school here."
Like the rest of her city, Rivera was devastated by the attack on Boston's "most spectacular event."
"I have been crying since Monday," she said. "But I am here now, because we need to pray."
On her cell phone, Rivera has a photo of her 20-year-old daughter Anna with Cardinal Sean O'Malley, who spoke before Gov. Patrick and President Obama on Thursday. Anna was baptized in the cathedral. She received her first Communion here. Her mother and father — before he died of cancer — used to run the cathedral's annual Easter play productions.
"As Catholics, we're taught to forgive," Anna said. "Well, I could forgive whoever did this, but the truth is, I'll always have it in my heart."