Bombing Victim Pictured In Iconic Boston Marathon Photo Is Writing A Book
Jeff Bauman's memoir will be out April 2014. Warning: Graphic photo within.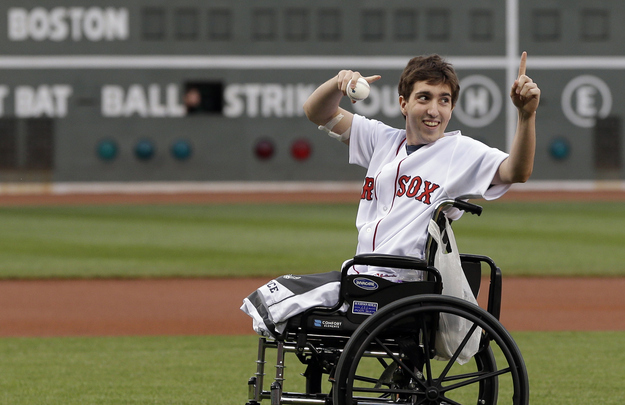 Boston Marathon attack survivor Jeff Bauman is writing a memoir, to be released by Grand Central Publishing in April 2014 — the one-year anniversary of the bombing that killed five and injured 280, including 264 people gathered at the finish line.
Bauman, 27, was at the marathon on April 15 cheering on his runner girlfriend. Both of his legs had to be amputated above the knee. As he recovered in the hospital, Bauman helped investigators finger the Tsarnaev brothers as suspects in the bombing.
He is also pictured in one of the most iconic images from the attack. In the photo, he's being helped to safety by a marathon worker, first responder, and a bystander.
(Warning: Mildly graphic.)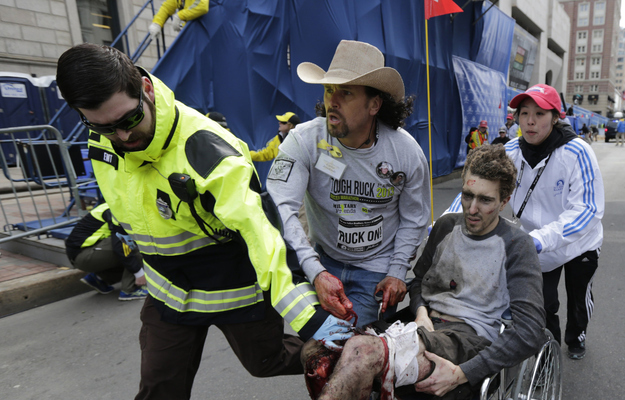 After the explosion, Bauman's parents told The New York Times they wanted to meet that bystander, a 52-year-old cowboy hat-wearing man named Carlos Arredondo.
"The man in the cowboy hat — he saved Jeff's life," Bauman's mother said.
"There's a video where he goes right to Jeff, picks him right up and puts him on the wheelchair and starts putting the tourniquet on him and pushing him out," his father said. "I got to talk to this guy!"
The Bauman family didn't just meet Arredondo — Jeff formed a strong friendship with him, as the Wall Street Journal reported. Arredondo visited him in the hospital, and they texted every day.
Bauman is now on the speaking circuit.
Bauman and Arredondo at a Red Sox game on May 28.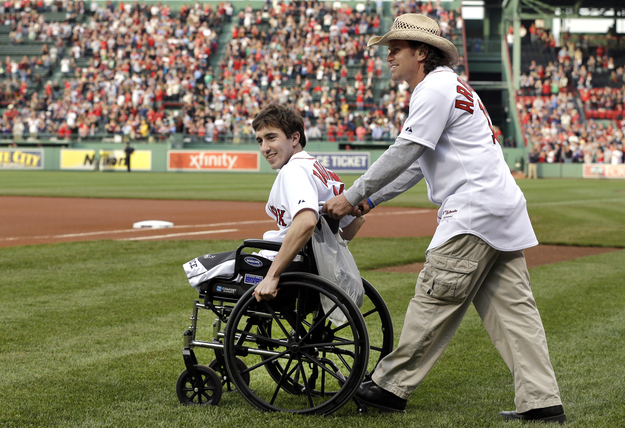 And Game 6 of the Stanley Cup Finals on June 24.