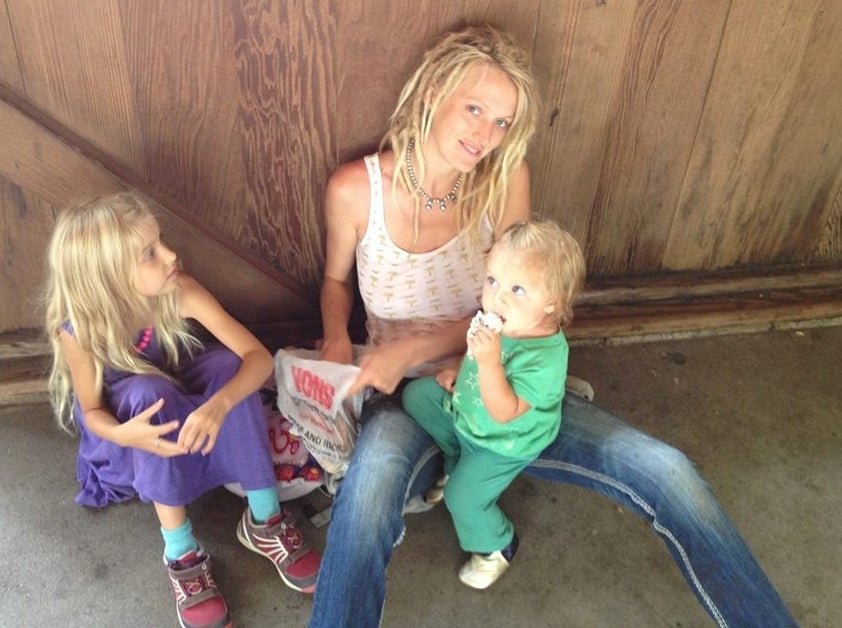 Left: Sena Cech with her children. Right: The cover of New York's June 16-29 issue.
In an email to BuzzFeed on Monday, model Sena Cech called her alleged encounter with Terry Richardson at age 19 "sneaky, sleazy, weird and unexpected," criticizing this week's New York cover story on the photographer as seeming "to validate Richardson's disgusting behavior in the name of 'art.'"
This is how New York's Benjamin Wallace described Cech and her allegations:
When Sena Cech, then 19, was sent to see Richardson that same year, she says her agent told her it was "really exciting" that she'd been booked and that she should "just do whatever it takes to get the job." Cech says that at that time, she was unaware of Richardson's more risqué work. When she arrived, she was asked to sign a release, which she did, even though normally her agency would take care of any paperwork. Richardson took off his clothes. "And they wanted me to get naked. And they're like, 'Grab his dick and twist it and squeeze it really hard.' " She laughs. "It wasn't even a hand job. It was maybe not even sexual. Weirdo. And then they were taking pictures the whole time. They were like, 'You're awesome! You're in the club!' " When her agent called her afterward to say Richardson wanted to use her for the assignment, she turned it down. "I was like, 'No way I'm doing the shoot, this guy's too weird.' " (A source close to Richardson insists that Cech was the instigator, and that she willingly returned after the casting to take sexual pictures.)
And this is how Cech describes her encounter with Richardson:
In my ten years of experience working professionally as a model in the global fashion industry, Richardson was the first and only photographer to get naked at a shoot or casting. I was just 19 at the time that this occurred. Richardson's assistant, Leslie Lessin, asked me to undress for the photo, which I did, but I didn't notice that Richardson was also undressing until he was standing there with his semi-hard penis out just a few feet away. I was completely taken off guard. I was not warned that I would be expected to pose nude or engage in any sexual activity at the casting. Lessin then asked me to grab his penis and twist it really hard. I was worried about getting dirty and about hurting Richardson, but he just pushed his penis into my hand and I halfheartedly twisted it and pulled it for a few pictures. Then I asked if they had the shot and went to wash my hands and get dressed. I did not instigate the penis twisting, nudity or any kind of sexual touching. The experience was not consensual. It was revolting and humiliating.
Here's the rest of Cech's statement, in which she calls the claim that she was the instigator "a flat-out lie."
I just finished reading Benjamin Wallace's article "Is Terry Richardson an Artist or a Predator?" in New York Magazine. It seems clear in this very long read that Richardson is both. However, what the article does not make clear is that Richardson's sexual escapades go way beyond artistic "boundary-pushing" and involve serious sexual harassment and abuse of young models in the workplace.

The biography paints Richardson as being mentally unstable, abusive and extremely perverted, but it also seems to validate Richardson's disgusting behavior in the name of "art." I was abused by Richardson when I was 19, while I was working in debt to my modeling agency that sent me to his casting, and I was quoted in the article. Therefore, I feel it is necessacary [sic] to make a statement. Not because I care what becomes of this poor sick man, but because I want to be clear that I was sexually harassed at a job interview and that this kind of abuse should not be tolerated. My experience at the Terry Richardson casting stands out among all of the abuse I have endured in my life and in the fashion industry because it was sneaky, sleazy, weird and unexpected. It came from a stranger, and happened at what I thought was supposed to be a professional meeting ...

The article sites an anonymous source close to Richardson who insists that I was the instigator and that I willingly returned after the casting to take more sexual pictures. This is a flat-out lie. I remember going home after the casting and crying hysterically, unable to tell my boyfriend why I was upset and unwilling to share with him that I had been coerced into this bizarre sex act at work. I believe that Richardson is using his connections and financial power in the industry to sexually harass and abuse vulnerable young women. As a mother to two young daughters, I would never want my children, or any young woman, to have to go through anything like what I experienced. By telling my story and setting the record straight, I hope that people will take the time to take this issue of sexual abuse of models more seriously. It's not about creating provocative art, and it's not all fun and games. Richardson clearly violated my rights.
"We respectfully disagree with Sena Cech's reading of the piece, which details the accusations against Terry Richardson at length, and treats them with the seriousness they deserve," a spokeswoman for New York told BuzzFeed in response to Cech's criticism of the story.
While Cech and other advocates continue speaking out against Richardson and the piece, the photographer's friends have been promoting it.
From Richardson collaborator Harry Bernstein:
From Gavin McInnes, the Vice co-founder quoted in New York's piece:
BuzzFeed has reached out to a representative for Richardson and will update this story with any response.
Email the author of this post at jessica.testa@buzzfeed.com.