Did Ariel Castro Die Of Autoerotic Asphyxiation?
It's possible, according to a new state report. The investigation also revealed that correctional officers weren't watching the convicted kidnapper in the hours before he was found hanging in his cell.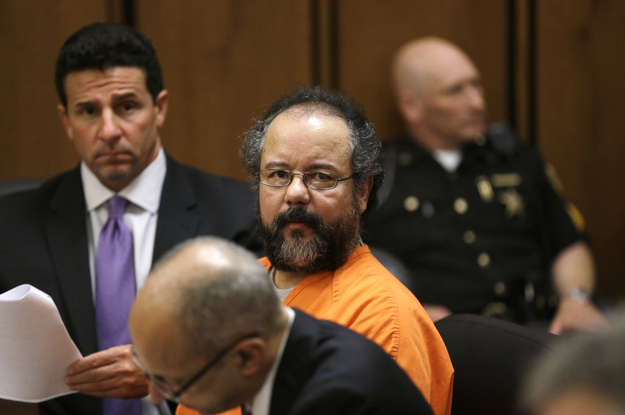 The prison officers assigned to watch Cleveland kidnapper Ariel Castro on the day of his death failed to complete all of their required monitoring rounds and falsified records of these rounds — one of multiple missteps outlined in a report released by Ohio's Department of Rehabilitation and Correction on Thursday.
At 9:18 p.m. on Sept. 3, Ariel Castro was found hanging from a sheet on the window bars of his cell. According to the state's report, between 3 and 9:15 p.m., Castro's correctional officers skipped eight of their 10 required rounds. Five of those eight missed rounds were falsely marked as completed in their log books.
From the report's conclusions:
Rounds were not properly completed. Post log books were falsified. There was no satisfactory verification process in place. Shift supervisors were not given clear direction on verification procedures and expectations.
The ambulance meant to transport Castro from prison to the hospital was also "significantly delayed," according to the report. It was called at 9:25 p.m. but didn't arrive until 9:59 p.m. It began heading back to the hospital at 10:18 p.m. but didn't arrive there until 10:46 p.m. (Castro was pronounced dead at 10:52 p.m.)
The report also indicates there's a possibility Castro died of autoerotic asphyxiation, rather than suicide. His body was found hanging with his pants and underwear around his ankles — a sign of autoerotic asphyxiation — but the "relevance of this finding is unclear," the report states. Despite being on constant mental health watch when he first arrived at Lorain Correctional Institution, Castro was never considered suicidal; watch precautions were discontinued almost a full month before his death.
Before he died, Castro compiled — though never submitted — a list of "Informal Complaints," found in his cell along with photos of his family and a Bible open to John Chapters 2 and 3. Castro wrote that other inmates were verbally harassing him and that he feared guards were tampering with his meals. But according to the report, Castro didn't provide enough details about the harassment for officials to follow up on, and there was "no opportunity" for anyone to tamper with his food.
During his orientation at Lorain Correctional Institution, Castro was supposed to watch a video about suicide. But he was never shown the video, and his initial medical, mental health, and substance abuse screening records have been lost.
The full report:
Download PDF