On Saturday, former Notre Dame football player Prince Shembo spoke publicly for the first time about the sexual assault allegations made against him by Saint Mary's College student Lizzy Seeberg in 2010.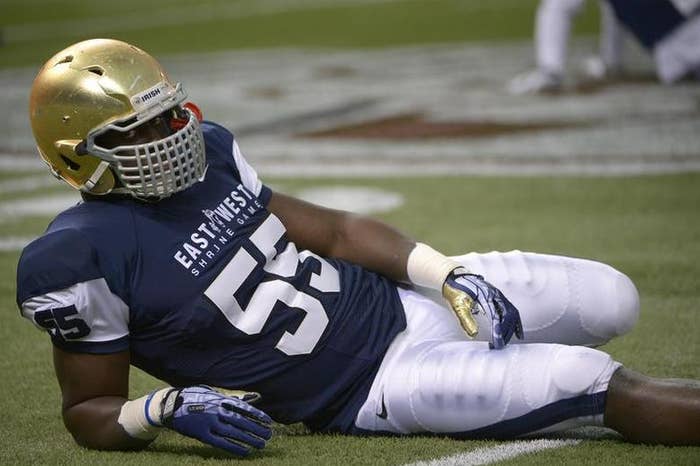 According to 247Sports' Blue & Gold Illustrated, Shembo addressed the 2010 case at Saturday's NFL Combine, saying he's not surprised when questions about the investigation arise from teams during interviews, despite his name being kept out of most press reports on the case.
"I just tell [NFL team executives] the truth, I have nothing to hide," Shembo reportedly said. "No one's heard from me one time. Do you go off of one person's story? I'm still here, so I know I didn't do anything. I tell them exactly what happened."
"It's all over the internet," Shembo continued. "Everyone that does the background check can type my name in and you'll see all the stuff that people have said about me and have never heard from my mouth."
Lizzy Seeberg was allegedly assaulted by Shembo on Aug. 31, 2010. She reported the encounter on Sept. 1 and committed suicide on Sept. 10.
According to a story by Melinda Henneberger in the National Catholic Reporter, Seeberg, a 19-year-old student at Saint Mary's College, which is adjacent to Notre Dame, texted her therapist late on Aug. 31: "Hey- can we talk in a little bit. I've been drinking and something bad happened." Seeberg had spent the evening with Shembo and two of his friends — and later just Shembo — in his Notre Dame dorm room.
Seeberg later described her encounter with Shembo in a written statement to Notre Dame campus police:
"He pulled down my tank top by the straps. He slipped them down my shoulders and proceeded to suck and lick my right breast while holding me down on his lap by the arms. I felt his hands start to move down towards my shorts as if he was trying to unbutton them or pull them off. I was still crying at this point and felt so scared that I couldn't move."
On Sept. 2, Seeberg received a text message from one of Shembo's friends: "Don't do anything you would regret," it said, according to records published by the Chicago Tribune. "Messing with notre dame football is a bad idea."
A week later, Seeberg overdosed on an antidepressant. Five days after the suicide, Notre Dame police finally interviewed Shembo. A week after that, when Seeberg's parents met with Notre Dame police, they left without answers.
"They said they were pretty busy," Mary Seeberg said, "because it's football season and there's a lot of underage drinking."
On Saturday, Shembo maintained his innocence.
In December 2010, county prosecutors declined to press charges, citing Seeberg's now inadmissible statement and inconsistent evidence. "Conflicts exist among the witnesses' accounts of the events given to the police. Subpoenaed cell phone records are inconsistent with parts of the complaint itself," St. Joseph County Prosecutor Michael Dvorak said.
Though he didn't comment on the case then, Shembo spoke directly about the accusations with ESPN.com on Saturday:
"I'm innocent," he said. "I didn't do anything. I'm, pretty much, I'm the one who ended it and pretty much told the girl that we should stop, that we shouldn't be doing this and that's what happened. So, I don't know."
Shembo said when he heard Seeberg had killed herself, he "was like, 'What's going on?' ... I was a freshman. I don't think games even started, and she was older than me," he said.
"I was confused. They were asking me questions, and I didn't know what they were talking about because I didn't do anything."
Shembo said he didn't come forward because Notre Dame head coach Brian Kelly "told me I couldn't talk about it."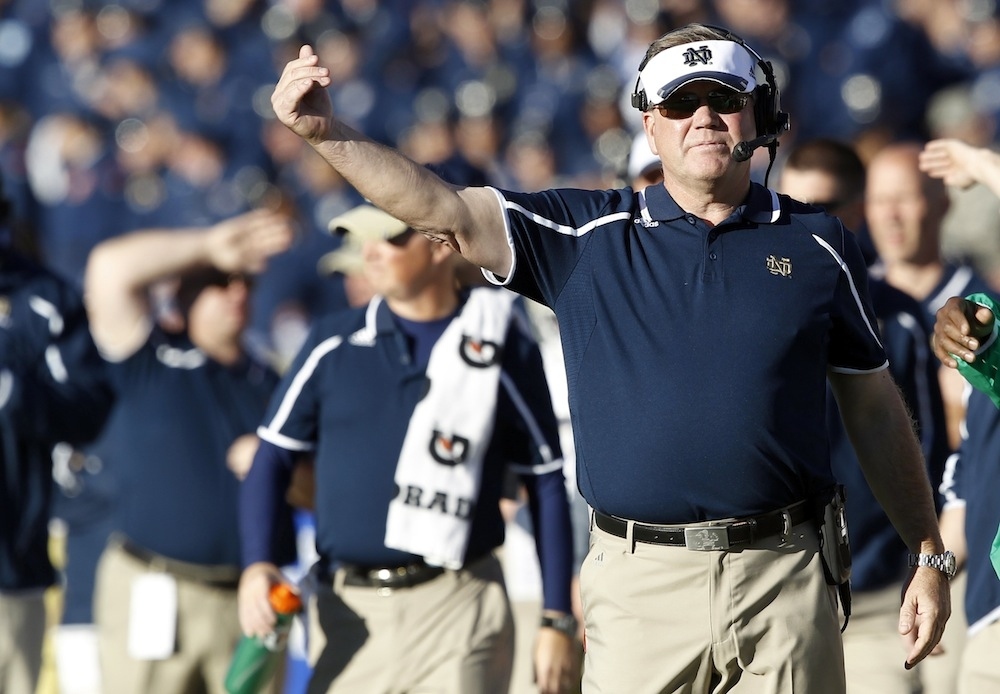 Shembo "wanted to talk about it" to clear his name, he told both ESPN.com and 247Sports, but reportedly kept quiet at his coach's wishes.
"I mean, I didn't get in any trouble or anything," Shembo told ESPN.com. "I wasn't in trouble with the law or nothing. No reason to talk about it. The reason I wanted to talk was just to clear up my name. My name was in flames, pretty much."
At the time, Chicago attorney Joe Power tried to put out those flames, telling Henneberger in her National Catholic Reporter story — which didn't name Shembo — that Seeberg made up a "complete phony lie ... this young lady was the aggressor."
After outrage over Seeberg's death led to a federal investigation, Notre Dame has changed its sexual assault policies.
In February 2011, the U.S. Department of Education's Office for Civil Rights began reviewing Notre Dame's handling of sexual assault complaints, apparently prompted by media reports about Seeberg's case. That same month, the university had concluded Shembo didn't violate Notre Dame's sexual misconduct policy — a conclusion Seeberg's parents later called "not at all surprising," considering the school's "wholly inadequate" investigation.
Seven months later, the university agreed to change its policies after entering into a settlement with the Department of Education. The key changes, according to the South Bend Tribune, were that victims are now "assigned a trained resource coordinator, don't have to face their alleged assailant in a hearing room and may appeal any decision reached by a campus disciplinary board."
But criticism of Notre Dame's handling of the case spiked again during last year's Manti Te'o revelations, when school officials rushed to stand by Te'o. Those officials never spoke publicly about Shembo's allegations, prompting USA Today's Christine Brennan to ask, "Why did the university show more public concern for a fake dead woman than a real one?" — a questioned echoed by Salon and New York, among others.
At the time, university spokesman Dennis Brown reiterated the county prosecutor's statement that Seeberg's story "was in 'conflict' with the accounts provided by the accused student and two students who were with them that night."
"We will not suspend a student based on an allegation, and certainly won't suspend one when the evidence supports his story, as the prosecutor stated," Brown said, before describing Seeberg's report as "an allegation of touching above the waist ... He says it was consensual. She says it wasn't."