North Korea Fires Missiles Into The Sea For Third Straight Day
South Korea called the North's increased rocket exercises "tension-creating acts."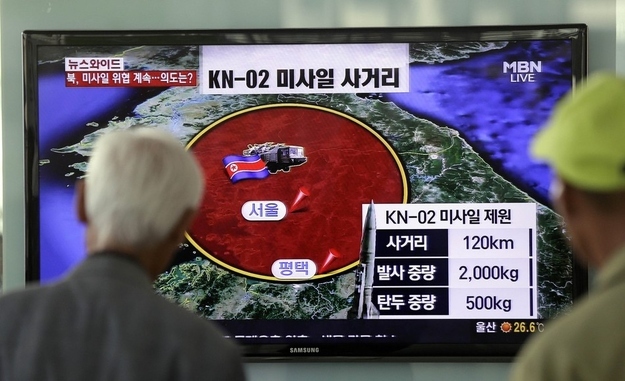 South Korean officials reported Monday that North Korea has fired multiple short-range guided missiles into the Sea of Japan, in what has become a "regular military exercise" for the Pyongyang forces.
Three missiles were reportedly fired on Saturday, one on Sunday, and two on Monday. They can only travel a few hundred miles, and Japanese officials said they never reached their side of the waters.
These exercises typically occur once every few months — not three consecutive days. It's believed the most recent string is either a weapons test or an act of protest against the United States moving its aircraft carrier USS Nimitz into South Korean waters last weekend. The day after the Nimitz arrived, the North's Committee for the Peaceful Reunification of Korea called the warship's presence "a wanton blackmail against us" and an "extremely reckless" attempt to invade the country.
From the Associated Press:
[The Committee for the Peaceful Reunification of Korea] said it conducted "rocket launching tests" on Saturday and Sunday as part of drills to bolster deterrence against what it calls U.S. and South Korean plots to launch nuclear strikes against North Korea. It didn't comment on Monday's firing.