She was a heap of clothes in the woods. The couple taking a chilly Sunday walk in Kalamazoo, Michigan, didn't know exactly what they were seeing at first. Those woods were full of litter and debris. But then she came into focus: a girl, one leg bent to the left, braids in her hair. The man called out to her, but she didn't stir. He dialed 911. He told the operator he didn't feel safe there.
The girl was Mujey Dumbuya, a 16-year-old sophomore in high school. Mujey smiled a lot. She danced. She gave constant compliments. She wrote really long text messages. She liked to spell her name "Mujay," the American pronunciation, much to the dismay of her Liberian family, who spelled it "Mujey." She loved hair and makeup and especially shoes. She was organized and tidy, particularly for a teenager. And in the summer of 2017, she was raped, she told police, by Quinn Anthony James, then a 42-year-old facilities worker at her high school.
After Mujey came forward in November, James was arrested and charged with four counts of third-degree criminal sexual conduct. He pleaded not guilty and posted bail. He was free, but he lost his job at the school, and he was ordered to stay away from Mujey. His trial was set for April. Then Mujey went missing, last seen heading to a bus stop on her way to school.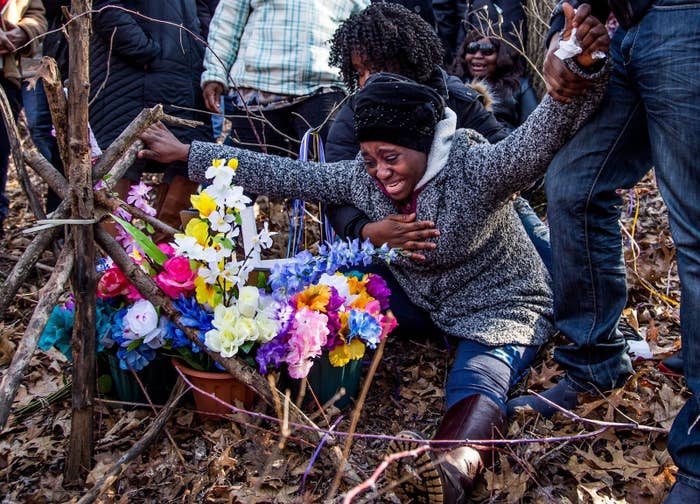 When her body was discovered four days later, it was unclear how long Mujey had been dead, or how she'd ended up in Kalamazoo, 45 miles away from her home in Kentwood, a suburb of Grand Rapids. But it was clear that no one had tried very hard to hide her. Mujey's body was dumped, not buried, in a sloping wooded area that is quiet but surrounded by scattered homes, far from remote. Her clothes were covered in white bleach stains, and her skin was burned by the chemical — presumably to mask her killer's DNA — but whoever poured the bleach had missed some spots, most notably on her jeans, where DNA would later be extracted for evidence.
Mujey's death made national news: a girl set to testify against her alleged rapist, killed while he's conveniently out of jail, and all of this happening while the world said #MeToo. Two months later, prosecutors charged James with murdering Mujey. Again he pleaded not guilty. As that homicide case now inches toward a trial, fragments of James' life have also come into focus, revealing a troubled adolescence, a series of unprosecuted crimes, broken lines of communication, bureaucratic hurdles, and second chance after second chance that put him on a collision course with Mujey. What's clear is that this collision could have been prevented.
"That's why I get angry. She was there for everybody, but nobody was there for her."
But with the institutions around them — the ones that were supposed to protect Mujey: her school, law enforcement, the courts, the government — dodging any responsibility for her death, Mujey's family has been left shouldering it all.
"That's why I get angry," said her aunt Najah Konneh, 28. "She was there for everybody, but nobody was there for her."
"I wasn't there for her," said another aunt, Jainya Sannoh, 42, imagining what the couple in Kalamazoo saw that day in January. "There was no one there to give her comfort, and she probably yelled. She probably cried."
"Yeah, she was crying for help," her 32-year-old mother, Fatmata Corneh, said with certainty. "Nobody was there."
"That beats me down every day," Sannoh said.
They don't point blame; that's not their nature. Instead they wonder what they could have done. They lost Mujey. The girl who'd make them all Mother's Day cards, handwritten, illustrated, and personalized. The girl they'd relied on to remember everyone's birthdays, who couldn't wait to plan her baby brother's first birthday party. The girl who once surprised her mother by befriending a homeless woman on a city bus. The girl abandoned in the woods.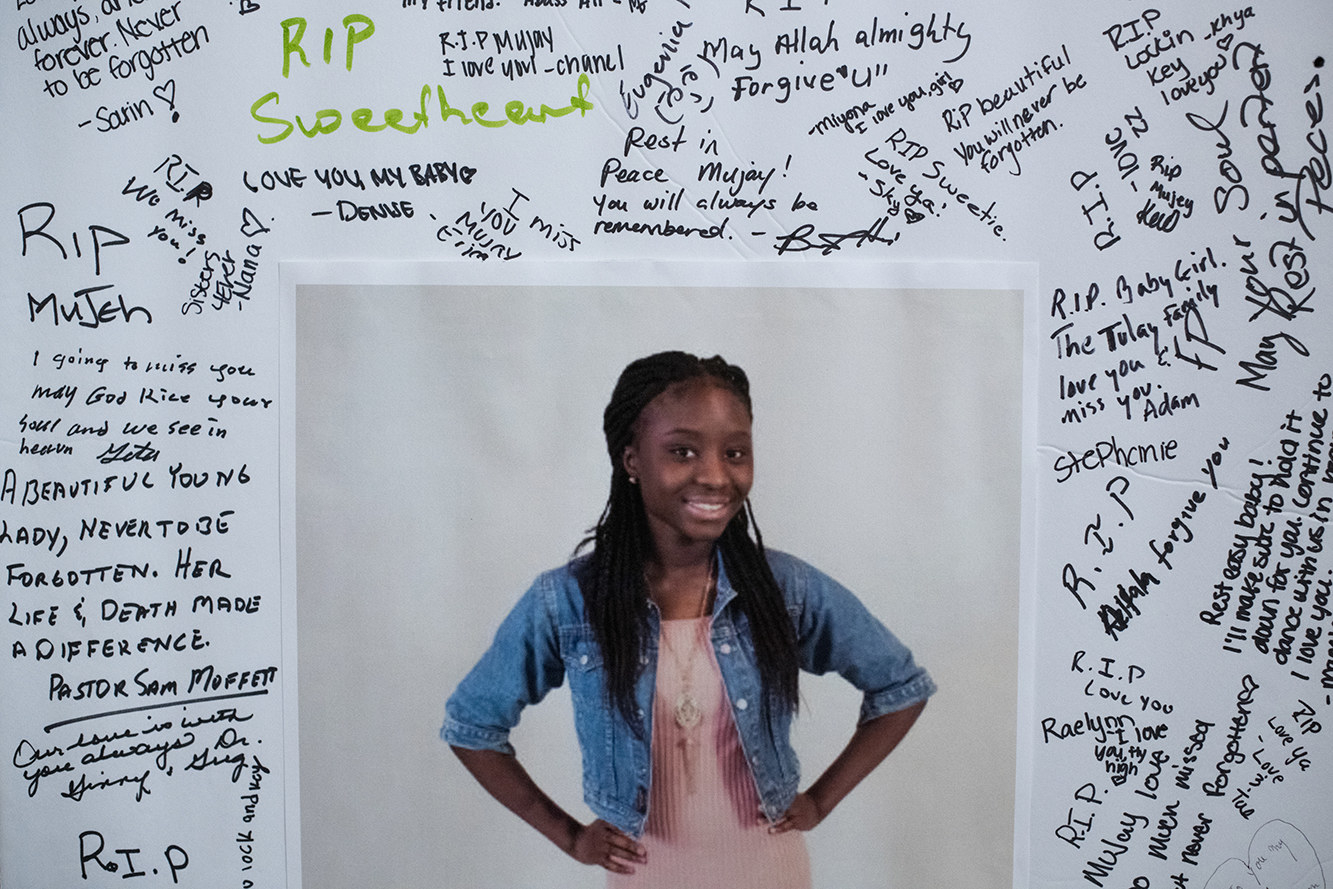 On a hot day in 2013, almost five years before Mujey's death, a black Chevrolet Impala pulled up beside a 17-year-old girl walking home from her Grand Rapids high school. One of the car's tinted windows rolled down, and Quinn James, then in his late thirties, leaned out.

"Hey," he said, the woman recalled in court this February. She kept walking. He said "Hey" again, then looked at her sandals. "Can I buy you some shoes?"
They went to Popeye's together. He paid. She gave him her number. She thought he was older, though she didn't know by how much.
From there, James — who's been described by others as charming and likable — developed a sort of friendship with the woman, whose initials are B.T. He would take her to the nail salon and buy her shoes and a few clothes, she told authorities. On one of these occasions, in June 2014, James drove B.T. to his apartment. He was frustrated that in a year, they'd never had sex; they'd never even kissed, she said. B.T., who was by then 18, told him she didn't want to have sex, and didn't want any type of relationship with him anymore. She got up to leave, and James stopped her, grabbing her with both hands around her neck, she said. He told B.T., "Give it to me or I'll take it." She was choking. She felt her face getting hot and her eyeballs bulging from her skull. She began taking her clothes off.
"I couldn't breathe, and I thought he was going to kill me if I didn't."
"I couldn't breathe, and I thought he was going to kill me if I didn't," B.T., now 22, testified in February. On James' bed, B.T. told him to stop but didn't physically fight back, she said — he'd threatened to kill her if she screamed.
After the rape, B.T. said, she didn't know what to do; she was in an unfamiliar neighborhood without a car. She tried to play it cool, telling James she was hungry, in hopes he would take her out of the apartment. He drove her to an Applebee's, and when she excused herself to use the restroom, she called 911 on her cellphone from a bathroom stall. She was whispering, so the call took a while, B.T. said, and James came into the restroom at one point.
"He told me if I was calling police, give him time to escape," she told the court. "When he left the bathroom, I got an Applebee's worker and I begged her to stay in there with me." They stayed together until the sheriff's department arrived. B.T. was later evaluated by a sexual assault nurse examiner and completed a rape kit.
But James was not charged. There wasn't enough evidence, prosecutors said. And the sheriff's department didn't inform James' employer, Kentwood Public Schools, where he was a custodian at a high school, of the report or investigation. That's because B.T. wasn't a Kentwood student, and because a warrant was never issued on James — the two things that would have triggered informing the school district, Michelle LaJoye Young of the Kent County Sheriff's Department told BuzzFeed News.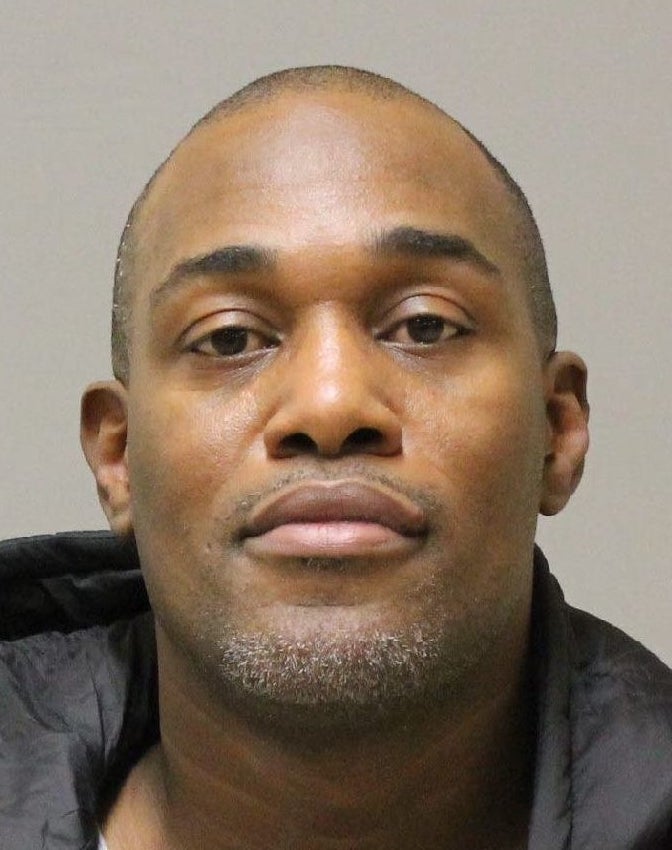 This wasn't the first time James had crossed paths with police. His record stretches back to at least 1989, when James was 14, involving at least 16 encounters with police over 29 years, despite having spent 20 of those years in prison.
In 1989, James allegedly stole a vehicle from a young woman, threatening her with a hammer and attempting to sexually assault her in the process, according to court documents. In 1990, when he was 15, James stole another car from another young woman, a Grand Rapids community college student. The woman had just gotten into her blue Ford Tempo when James opened her driver's door, hit the car and the back of her seat with a tire iron, and told the woman to "get over, bitch," according to a police report. She was able to jump out before James drove off with the car, which was found abandoned three days later.

James' current defense attorney Jonathan Schildgen described the young James to BuzzFeed News as "a kid doing something stupid who doesn't really understand the magnitude of it." He was a "classic example of somebody growing up fatherless and motherless and just being left to the streets, with nobody really looking out for him," said Schildgen, who also characterized James' "life of crime" as exaggerated.
But government assessments of James around this time called him aggressive, defiant, unremorseful, and likely to reoffend. He was "impulsive, socially arrogant and provocative and harbors resentment toward family members and authority figures," according to a document that helped convince a judge that James should be tried as an adult for the 1990 incident, which police viewed as not only a carjacking but an attempted kidnapping.
James pleaded guilty in that case to armed robbery, entering prison the year he turned 16. While incarcerated, he'd rack up another conviction: attempted possession of weapons by a prisoner, two counts. But in 2011, after 20 years, James was released on parole. Then he applied for a job with Kentwood Public Schools.
According to Michigan law, many people convicted of felonies can work at schools if they get approval from higher-ups — like the superintendent and the school board. (As long as the conviction wasn't a sex crime involving a child, for example.)
On his April 2011 application for a substitute custodian position, James, then 35, provided two school officials as references: Todd Bell, the district's director of facilities and operations (who would head James' department), and Ron Baum, a retired teacher and ice hockey "coaching legend" at the district's East Kentwood High School. It wasn't clear from James' personnel file how he knew them. Bell declined to comment, while Baum did not respond to a request for comment.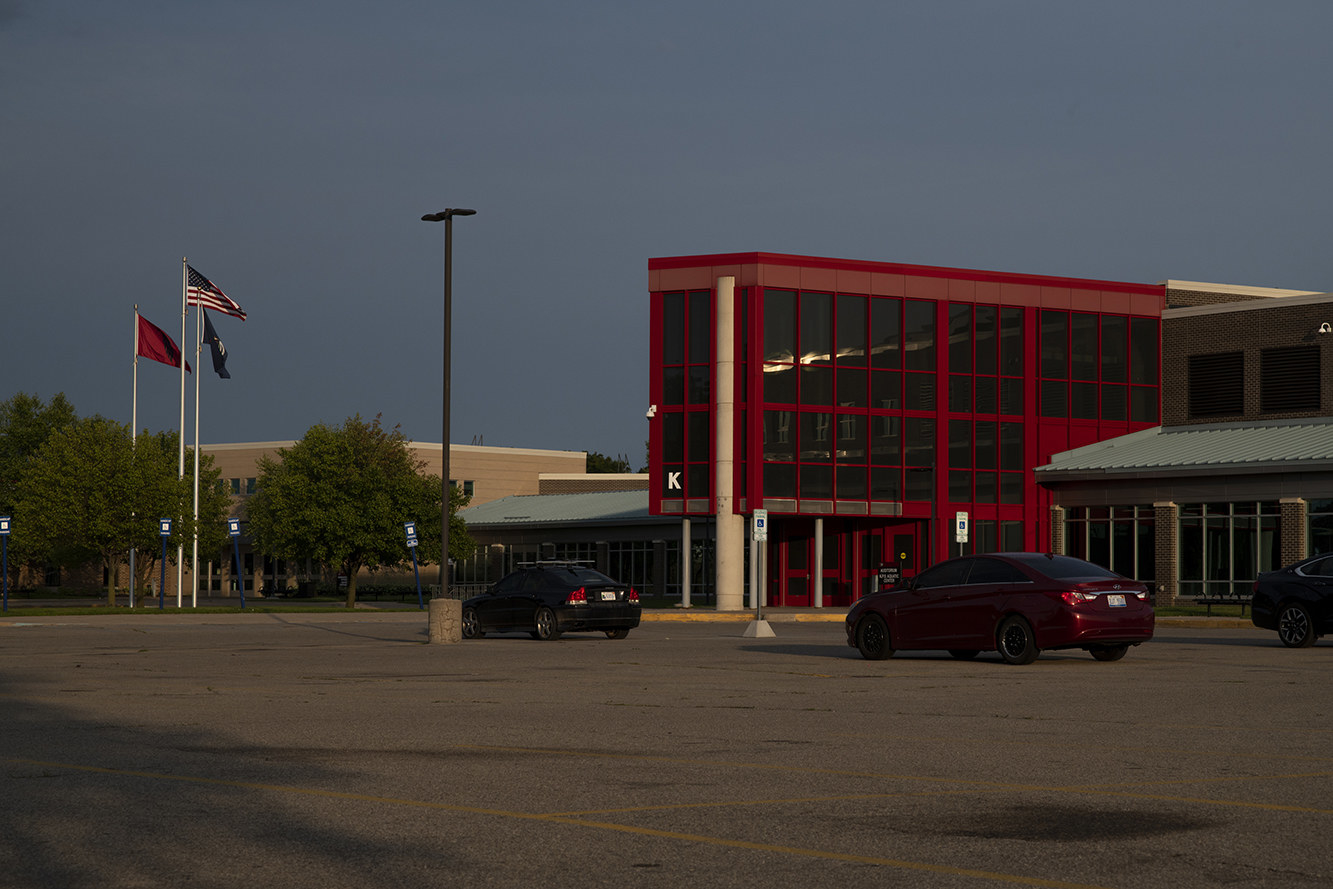 Kentwood Public Schools knew about James' felony for armed robbery, though they were unaware of his juvenile history prior to it, according to Superintendent Michael Zoerhoff. James was ultimately hired in May 2011 "because he met the position qualifications and there were strong recommendations from respected community members," the district said in a statement to WOOD-TV. James' young age at the time of his incarceration was also considered in the decision. He was grateful for the second chance, Schildgen said. It can be incredibly difficult for formerly incarcerated people to find employment and shed the stigma of their convictions upon release.
James rose through the district's janitorial ranks, working part-time in the cafeteria, then as a part-time custodian at an elementary school, then as a full-time custodian at East Kentwood High. An early performance review described James as being "well liked" with a good personality. But James' personnel file also documented a number of reprimands beginning in 2013. He was accused of using his cellphone while operating cleaning equipment, crashing one machine into a wall, leaving the building before his shift ended, having a guest during working hours, and sleeping on the job. James disputed most of these accusations.
Then in 2014, he was accused of stealing two iPods and an iPhone from students who'd stowed their belongings in the girls' locker room during an early morning cross-country practice. Video surveillance showed James — and only James — entering the girls' locker room that morning and leaving after a few minutes, then later putting items into his car, authorities said. Police investigating the theft learned the school had "prior issues with him" — namely the alleged theft of another worker's wallet the year earlier. "[The district] had all the information at that time to prosecute against Quinn, but the victim didn't want to pursue charges," according to a police report.
James denied any wrongdoing in the locker room, and the high school continued employing him. If James had been found guilty at trial for these larceny charges, he would have been fired. But a jury acquitted James, and he kept his job. The district "respected the decision by the jurors," the superintendent told reporters. Two years later, in May 2016, James was promoted to a districtwide position that combined groundskeeping and shuttle-driving.
Meanwhile, flying much further under the radar were James' extracurricular alleged crimes: assaults against women, including B.T. If deputies had informed Kentwood Public Schools about her case, the district would have opened an internal investigation, the superintendent said.
But there was also the incident in 2016, when James allegedly assaulted a 20-year-old woman by trying to strangle her, "in broad daylight, on public street in front of neighbors," according to court papers. That year, the Kentwood Police Department and Kent County Sheriff's Department each filed a domestic assault report involving James, including one initiated by a 911 caller who said he saw James choking a woman in an apartment complex parking lot. In a report from 2015, he was accused of choking, threatening to kill, punching, and pinning a woman down with one of his knees in her groin. In 2011, he was accused of stalking a woman who'd turned down an intimate relationship with him, a report said. James denied these accusations, telling officers his own version of events. No charges were ever filed.
Perhaps if charges were filed; perhaps if authorities had told the school district about any of these incidents; perhaps if the district had investigated and fired James following his alleged thefts; perhaps, as James' lawyer said, if he hadn't been abandoned as a child, he wouldn't have entered the system as a teenager, and then perhaps he wouldn't have been working at Kentwood Public Schools at all by the time Mujey Dumbuya began attending high school in the fall of 2016.

Kentwood Public Schools refused to answer questions for this story, telling BuzzFeed News the "community is heartbroken for the loss of our precious student," but "we dare not comment further and we will not do or say anything that would interfere or hinder" the ongoing criminal case.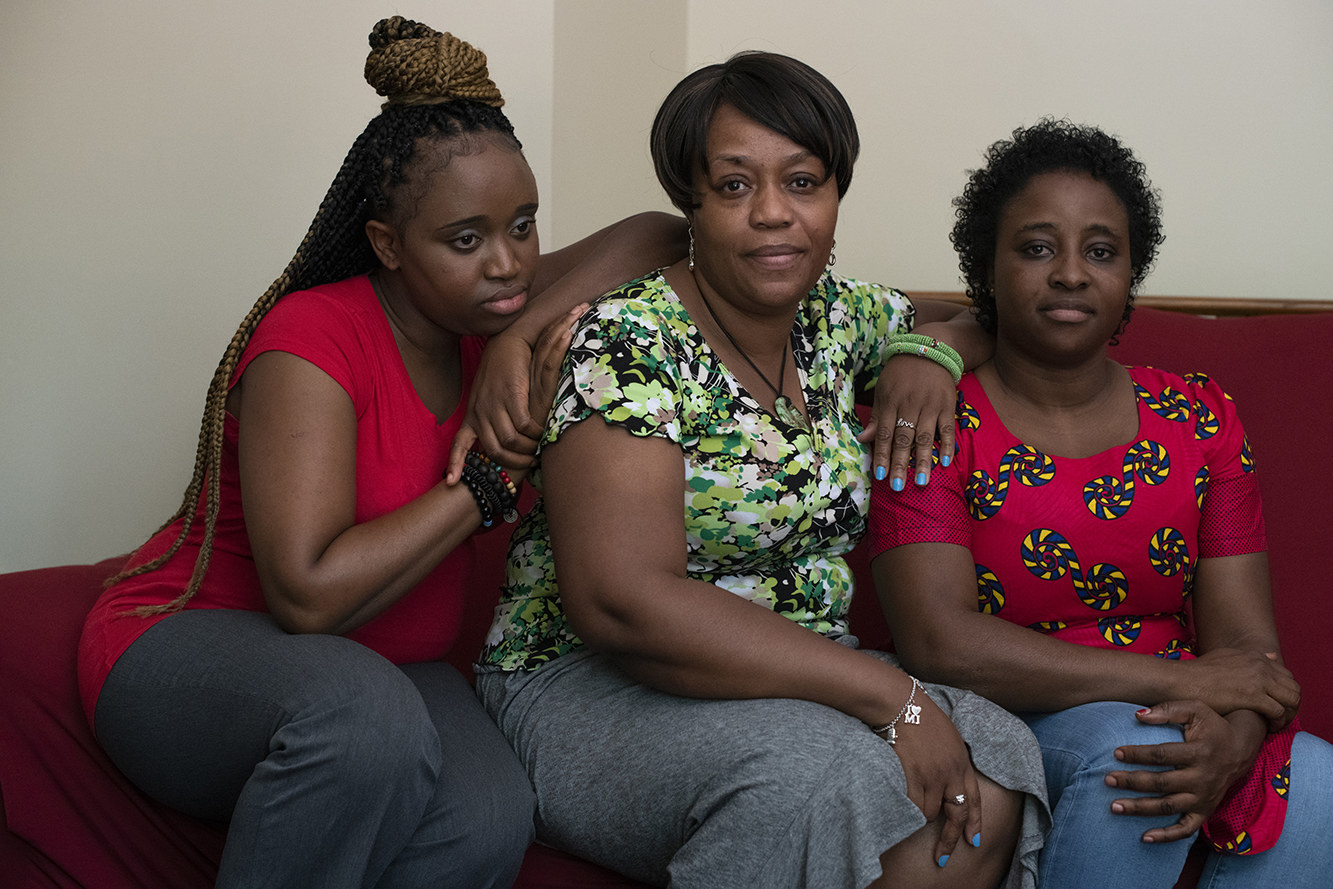 In 2001, while James began his second decade in prison, Mujey was born in Sierra Leone to a family of Liberians who'd fled a civil war that killed hundreds of thousands. But in Sierra Leone, they found another war-torn country. Mujey's family can recall the hunger, the bullets flying, the people sleeping on roadsides or in abandoned houses. It was a particularly dangerous place to be a girl or woman — rape was rampant.

Mujey's family ended up living in a refugee camp, scraping by with used clothes and food from the United Nations. But when Mujey was 3, the UN's High Commissioner for Refugees resettled the family in the US. When they got to Michigan, they felt like they could breathe again. "OK, we're safe now," Mujey's aunt Konneh recalled thinking. This would be an opportunity for a better life, she said.
Mujey, whose father remained in Africa, grew up in a tight-knit family of strong women, close with her mother and her aunts, who all now live and work near each other in Midwest suburbia. During the last summer of her life, Mujey lived with Sannoh, her closest aunt, in a quiet neighborhood sandwiched between strip malls, full of squat side-by-side duplexes and single-family homes built around the late '70s, all with big green yards. Her family joked that if Mujey wanted something from her mother and her mother said no, she'd just go to her aunt, and then the next aunt, and the next, until someone said yes. "Just like in a circle," her mother, Corneh, said.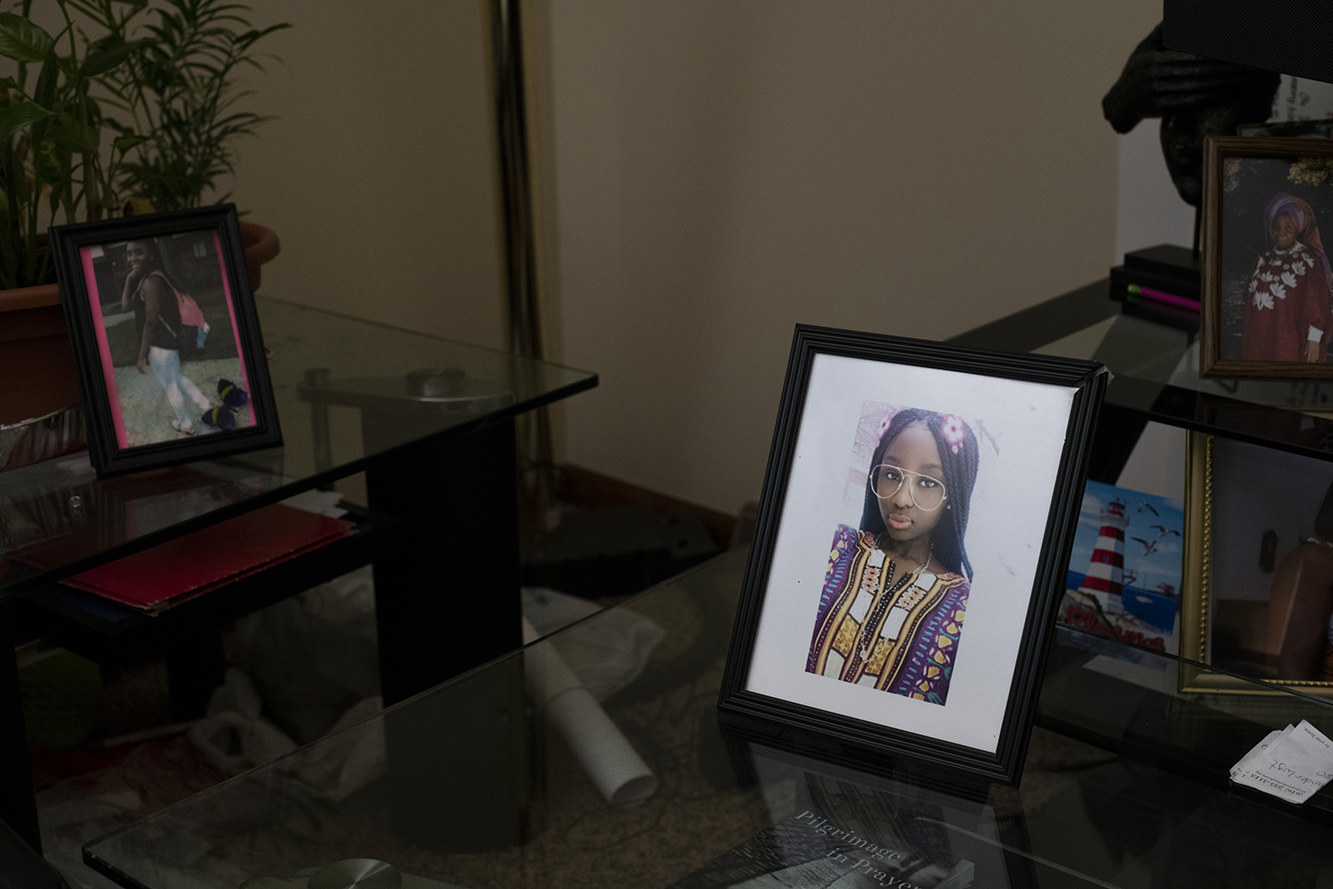 Growing up, Mujey "was a sweet little thing," Sannoh said. She wanted the people around her to feel comfortable, and good, and loved, thus the frequent complimenting. She also relished being the "princess," the firstborn girl of all her cousins, and dreaded another girl being born into the family. (Eventually she had to share the title.)
"She always used to tell me, 'Mommy, do you know I'm a star? Mommy, do you know I'm gonna be a superstar one day?'" Corneh said. This went on for years, until Mujey switched to wanting to be a nurse. In the months before she died, she said she wanted to be a police officer, just like the ones who arrested Quinn James.
When it all began, Mujey was 15. School was out for summer, and she'd met a boy on Facebook, then–17-year-old DaQuarius Bibbs, or "DQ." He was from Saginaw, a city two hours away from Grand Rapids, but that summer he too was living with his aunt in a suburb six miles from Mujey's neighborhood. Also living with DQ and his aunt was his aunt's fiancé: Quinn James.
DQ and Mujey messaged for weeks before finally meeting in late July 2017, according to court documents and DQ's testimony. On their first date, James drove the young couple around. At the end of that night, 10 minutes after Mujey had returned home, DQ called Mujey. He asked her to come back outside to James' car. There, in the backseat, James allegedly raped Mujey while DQ held her hand.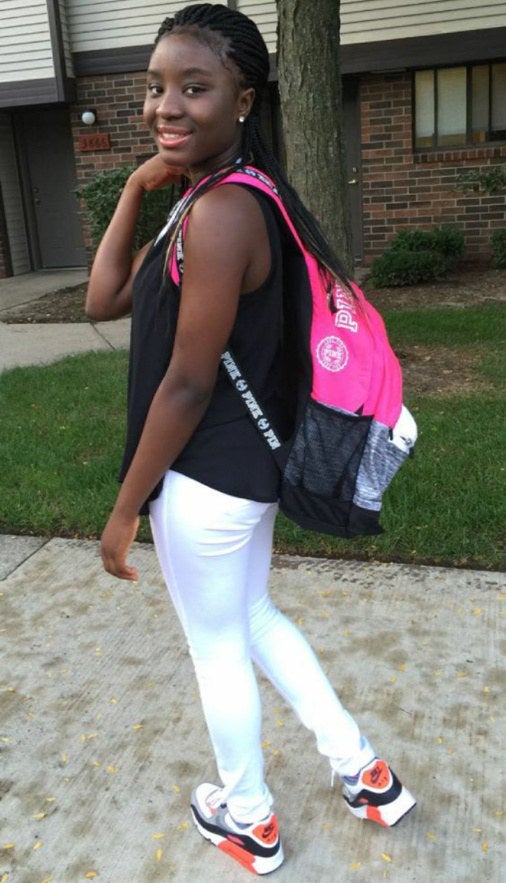 "Mujey was crying," DQ recalled. She told James to stop. DQ didn't tell him to stop. "I was scared," he said. "I just know I can't beat him." DQ found James "creepy." Once, he saw James choking his aunt. When DQ tried to intervene, James began choking the teenager. (Prosecutors have cast DQ as somewhat of a victim of James', too, placing DQ under house arrest before he testified against James because they were "substantially concerned about his safety," Kent County Prosecuting Attorney Christopher Becker told a judge in March.)
According to police and prosecutors, James continued raping Mujey throughout the summer, in at least three locations, and one time he forced her into oral sex. He raped Mujey after taking the teens out for ice cream; he raped her once in his home, where DQ said he saw Mujey "droppin' a couple tears" while the boy held her hand again; he raped her in the parking lot of a charter school, where he allegedly told her, "There is something about you. I could stop, but I just can't." DQ said he was always there. James' attorney said he doesn't believe any of this actually happened — he believes DQ's testimony is retaliation for James kicking DQ out of his home in the fall of 2017.
DQ urged Mujey to tell her mother, but "she was scared, she didn't want to tell nobody."
But Mujey's family echoed one of DQ's central claims: that throughout this time, James threatened to interfere with Mujey's academic record. "I will change your grades. I'll do whatever," James allegedly told her. Mujey knew James worked at her school. She'd seen him with an East Kentwood badge, her family said.
DQ urged Mujey to tell her mother, but "she was scared, she didn't want to tell nobody," he said. Despite their dark situation, Mujey had professed a powerful love for DQ. He later posted screenshots on Facebook of epic, emoji-heavy messages, apparently from Mujey. She called him her "other half," her "shoulder to cry on," the keeper of her secrets, and "my baby, my future, my backbone, my diary, my everything." By the end of 2017, they'd broken up but remained close friends, according to DQ.
When Mujey finally told her mom about James, in the fall, it was because she'd reached a conclusion, her family said: James wasn't going to stop until she stopped him. She sent her mom a text, coming clean, Corneh said. That evening, Corneh sat Mujey down and asked her to tell her everything, face-to-face.
Corneh, shattered, delivered the news to her oldest sister, Sannoh, the most forceful and outspoken of the aunts. Sannoh took Mujey to her school counselor to get answers. The school called the police, and for hours afterward, Mujey told the story of her summer, pausing occasionally to ask detectives if she could write down the grisly details so that she didn't have to say them in front of her family, Sannoh recalled. Mujey flipped through photos of the school's faculty and staff to identify James.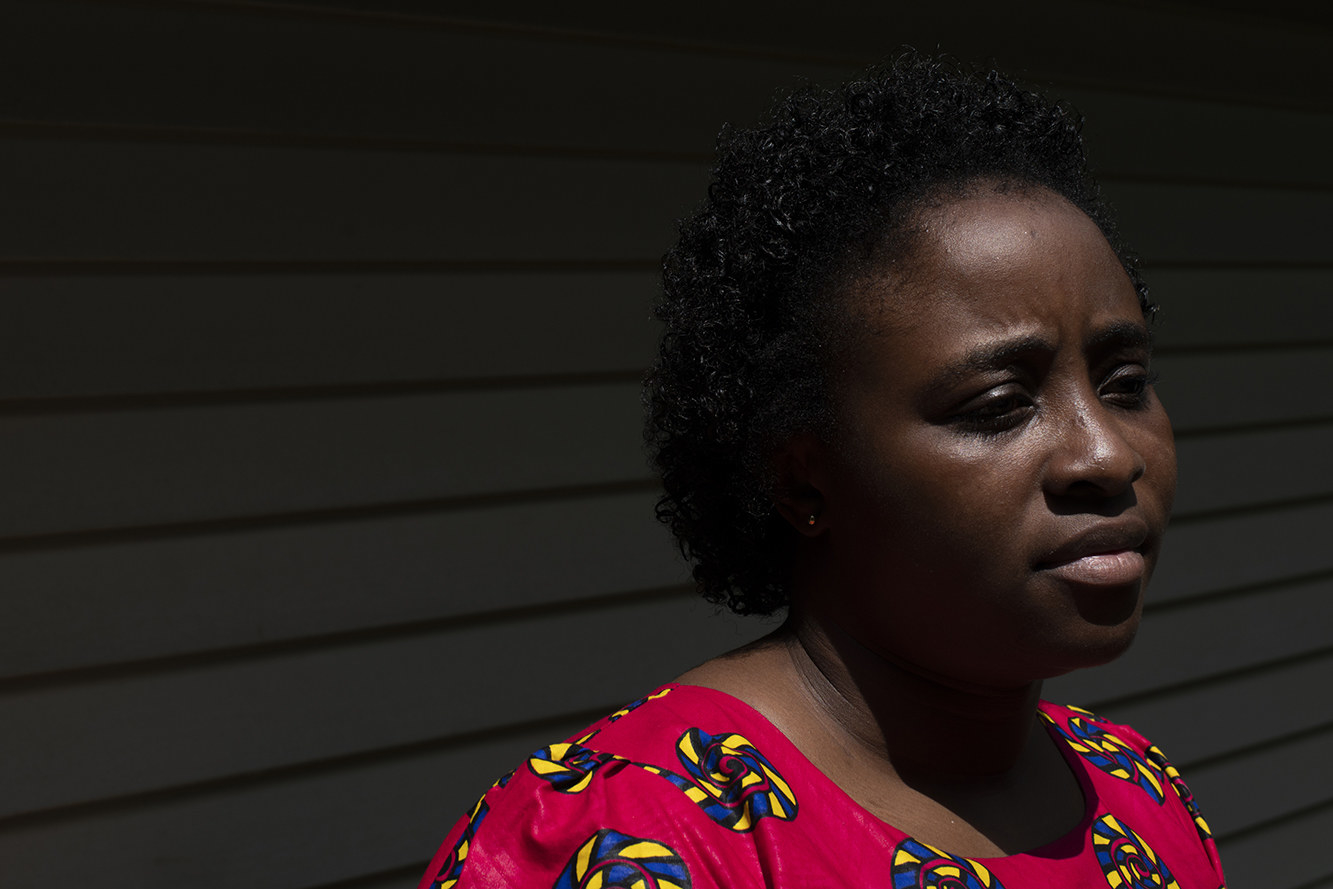 On Nov. 16, police confronted James; in an interview, he admitted to having sex with Mujey twice, a detective said. (James' attorney has since attributed the confession to a misunderstanding — James thought he was being interviewed about a woman he knew named Jay, which Mujey was sometimes called, Schildgen said.)
When Mujey heard about his arrest from her counselor, she came home ecstatic, Corneh recalled. Mujey said, "'Mommy, guess what?' I said, 'Mujey, always you ask me to guess, guess, guess. I'm not gonna guess it.' And then she gave me a big smile like this." Corneh's face lit up, beaming ear to ear. "She said, 'Mommy, he got arrested.'"
From jail, James called his mother, whom he'd reconnected with as an adult. A recording was later played in court. On the tape, James' mom told him he'd lose everything if he were found guilty.
"Quinn," she said.
"Yes, ma'am?"
"If you did not have sex with this girl, you gotta fight this to the bitter end, because it's gonna ruin your life."
"Mom, my life is ruined," he responded. "I ruined my life."
Mujey wasn't named in the call, though James admitted to his sobbing mother that he had sex with a girl who "was supposed to be 18." Beyond that, police "just made up a whole bunch of crap," he said. Before the call's time was up, he asked his mom to stop crying.
"I don't know how this is gonna turn out," said James, a man in crisis. "I don't know how this is gonna go."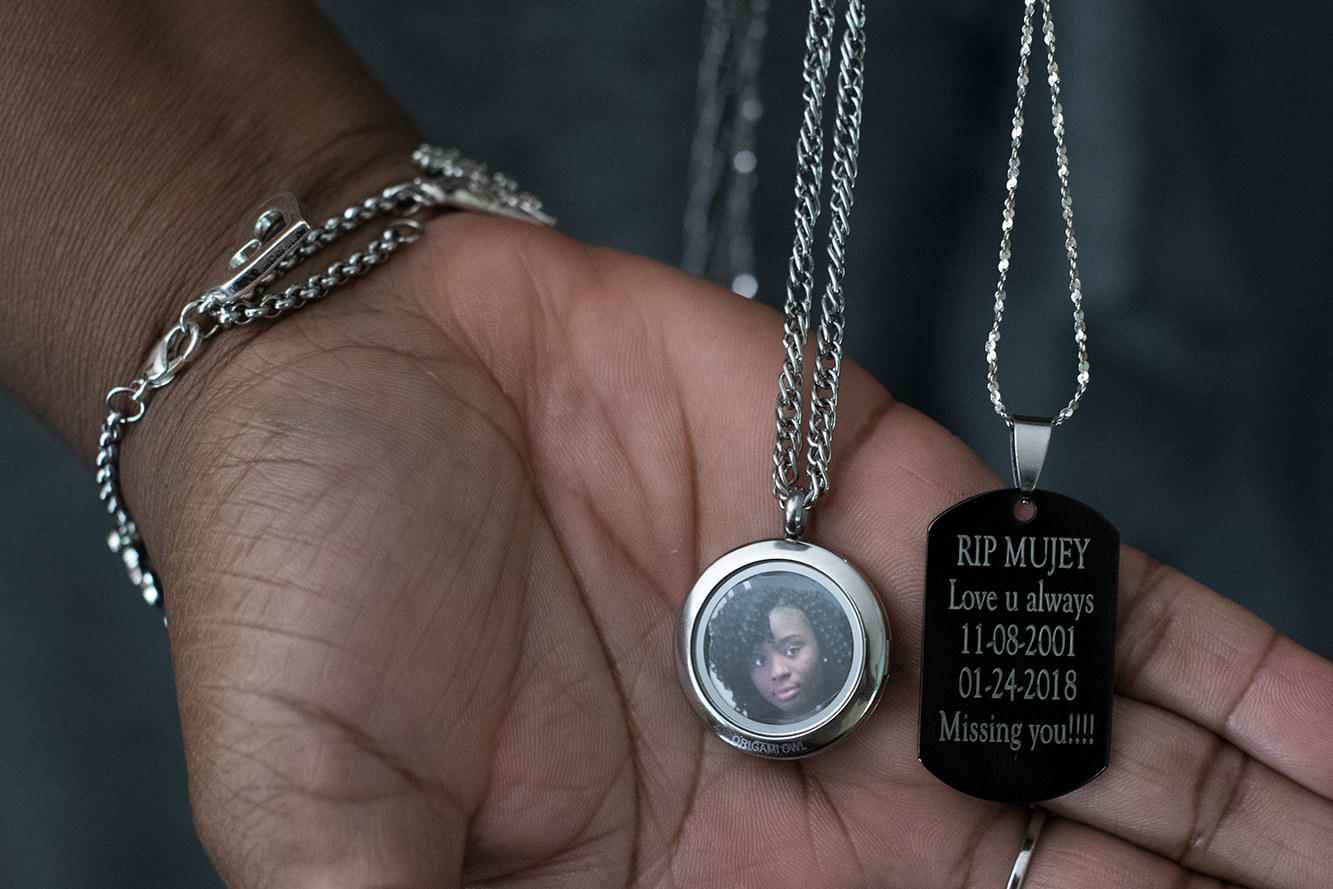 The next day, Mujey and her family watched from behind one-way glass as James and his fiancé pleaded with a judge for low bail.
"He has three kids to take care of. He has a great job," said his fiancé, describing James as "on the right track." James portrayed himself as a devoted dad worried about child care for the 4-year-old boy with developmental disabilities that his attorney said he took in after a neighborhood woman gave up custody. He also had twin boys around the same age from a previous relationship.

Kentwood District Judge William G. Kelly initially set bond at $50,000 cash or surety, meaning James could leave jail if he paid a surety bond company 10%, or $5,000, to guarantee the rest. But later that day, Kelly upped the bond to $100,000 — the amount recommended by a detective who'd judged James a flight risk — after police told him they were looking at James for other offenses. Even though the bond was doubled, James paid a surety company 10%, or $10,000, and walked free.
Mujey's aunts said they were shocked James qualified for bond at all.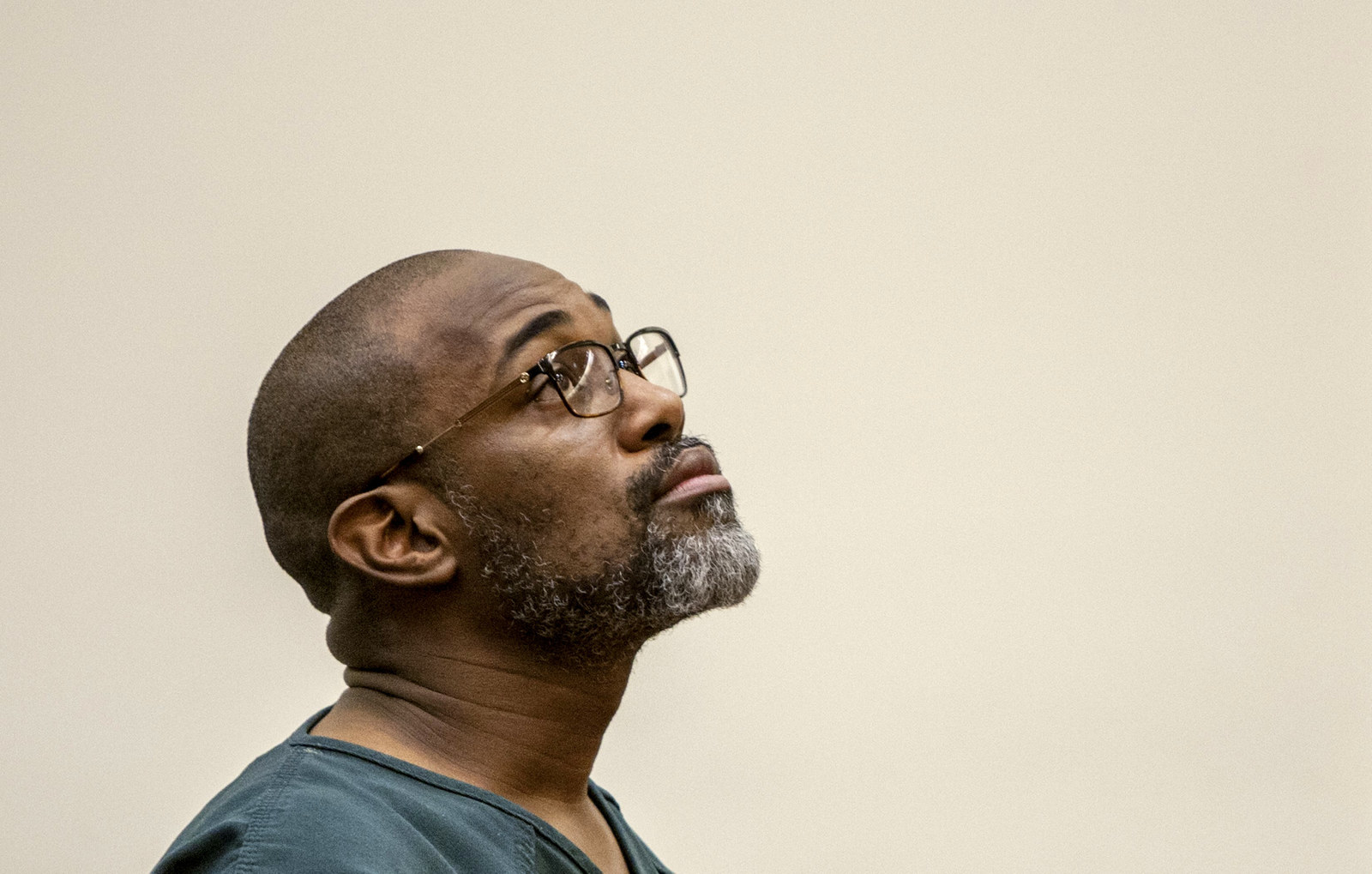 Years ago, Kelly explained the factors he considers in setting a bond: "the person's prior record, previous record of appearances or nonappearances in court, history of substance abuse, the seriousness of the offense charged, the person's mental condition, the person's employment status, and facts indicating ties to the community." Judges may grant personal recognizance bonds — no bail, just a promise to return to court — or deny bond entirely, or set bonds at incredible heights. Kelly himself once set a million-dollar bond for a man accused of stabbing his wife to death, as well as for a man accused of assaulting and torturing an 80-year-old woman.
Not long after Mujey's killing, Kelly was questioned about his decision to grant a $100,000 bond to James. He told a reporter from Kalamazoo's Newschannel 3 that he doesn't have a crystal ball, and that James' bond was appropriate "given the information I had at the time … Of course, in hindsight, I have more information."
For example, Kelly said, he didn't know James had been accused of rape before. A BuzzFeed News review of the pretrial risk assessment and bond recommendation forms presented to Kelly confirms B.T.'s rape report wasn't mentioned. Neither were nearly all of James' other brushes with the law beginning in the late '80s — none of the strangulation or attempted sexual assault accusations that prosecutors would later highlight as evidence of dangerous, repetitive behavior.
The November pretrial risk assessment, compiled by a court employee, did tell Kelly that James was a safety risk and that he had been convicted of felonies before. However, a box indicating "history of violent convictions" — that's two or more — was left unchecked.
"If I knew then what I know now, yes, I would have done something differently," Kelly told local reporter Rachel Glaser. (When BuzzFeed News reached out to Kelly for an interview, he declined, saying he shouldn't have ever given one.)
When Mujey learned that James was free on bond, "she came home and she was so sad," Corneh said. "'Mommy, he is out.'"
Coming to the judge's defense early on was Becker, the county prosecutor. "$100,000 is not an insignificant amount," he told reporters. "He posted bond — it happens."
Becker would go on to play up the unique, shocking, "something you see on TV" nature of Mujey's case, while deflecting blame from prosecutors and the courts. "This is very rare, an extremely rare event, so I'm not going to take the whole criminal justice system and say this is a failure," Becker said. "It's a tragedy and it's something we wish hadn't happened, but here we are."
When Mujey learned that James was free on bond, "she came home and she was so sad," Corneh said. "'Mommy, he is out.'" She went to her room and wouldn't eat dinner. When Corneh suggested they go to Mujey's grandmother's house that night, "she said, 'Mommy, I'm not going anywhere. He is out.'" Mujey told her aunt Sannoh she was scared. She asked her where James even got the money to post bail. Sannoh didn't have the answers.
"I was freaking out as well," Sannoh said. She emailed the school counselor and a detective, she said, telling them she was afraid for Mujey and the whole family's safety. James knew where Sannoh lived, having picked up Mujey from her house on those summer dates with DQ.
Still, Mujey was a "tough little person" during this time, her aunt observed. She was doing well in school, amid preparing to testify and going to counseling. She smiled as much as ever. Mujey was only annoyed that the case was dragging on so long. When Sannoh told Mujey the trial date was set for April, the girl's smile faded. Mujey told her aunt, "That's way too far."
"She probably knew something that we didn't know," Sannoh said.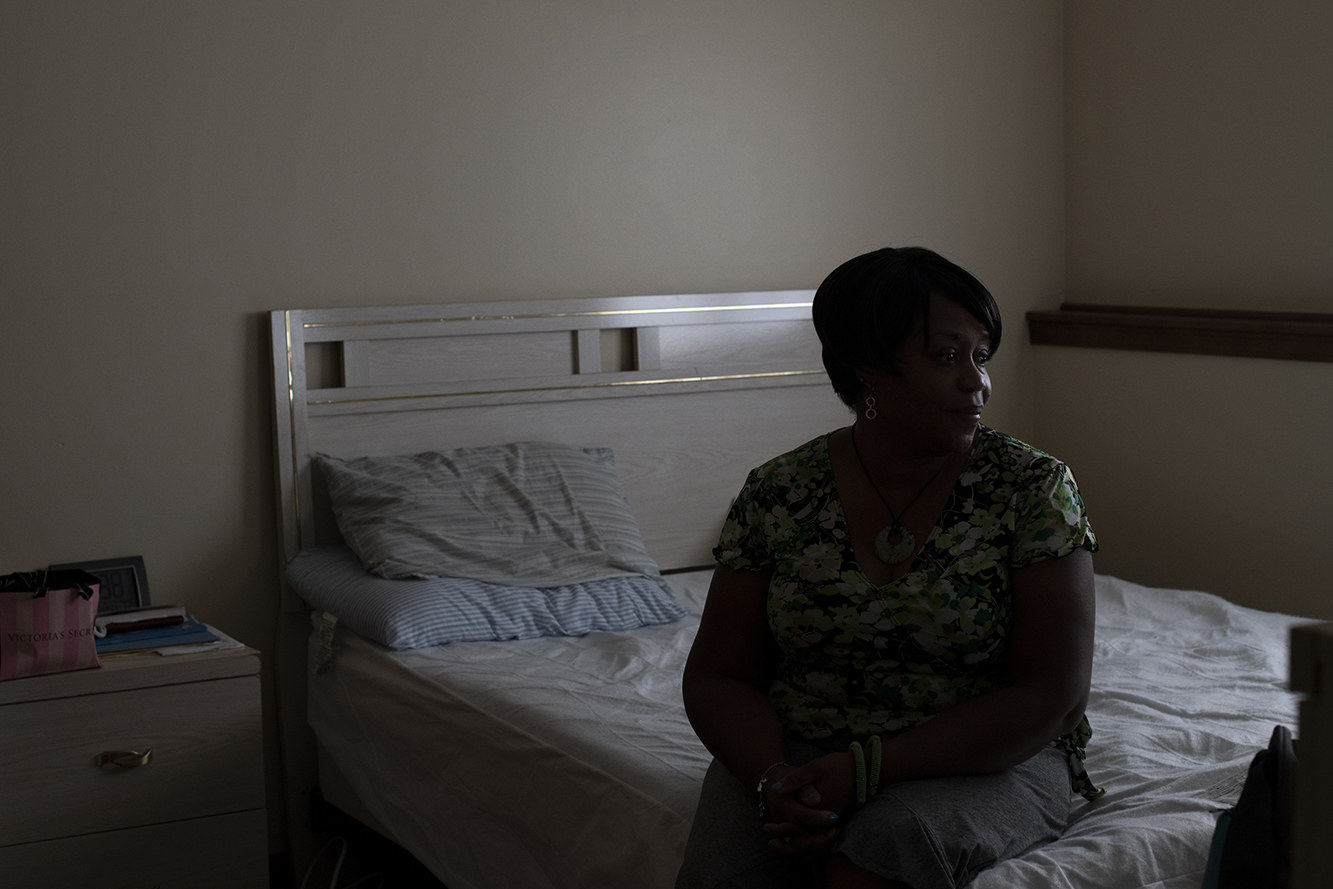 On the morning of Jan. 24, Mujey asked Corneh for coffee money before bounding out the door around 6. She said, "Bye, mommy," and she never came home. Police believe Mujey was murdered sometime before 8 a.m. that day. The next evening, her family called the Grand Rapids Police Department to report her missing. If the police are right, by the time their investigation began on Jan. 26, she'd been dead for two days.
Mujey was initially labeled by police as a runaway — a classification that surprised and upset her family when they learned of it. Law enforcement agencies have been criticized in recent years for assuming missing black girls are runaways. The Grand Rapids Police Department said it usually classifies teens as runaways when there's not "any indication of an abduction, assault, or endangerment." The department said there was "no indication of foul play" when Mujey was reported missing; investigators didn't know she was involved in an ongoing sexual assault case until after her body was found.
On Jan. 28, Kalamazoo officers responding to the Sunday 911 call found Mujey lying on her right side, a crime lab specialist later testified. Her death would eventually be ruled a homicide by asphyxiation, including strangulation. It would take a few days to put a name on the tiny body that police initially described as a black woman between 16 and 24.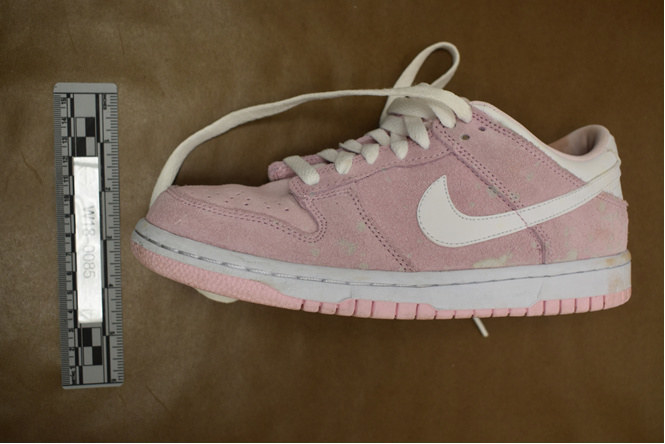 Her hair was still in the braids her aunt Konneh had done for her two weeks earlier. Her black Columbia jacket was pulled up over her head. Her jeans were buttoned but pulled down to her knees, exposing pink underwear that wasn't so pink anymore, bleached by the chemical poured over her body. The smell of the bleach was still strong. She wore a pink and white Cinderella T-shirt, matching her pink and white Nikes, size 5.
Mujey took such care of her beloved shoes, making sure they were spotless, arranging them neatly in her room.
When she was found dead, her left sneaker was lightly splattered with bleach. Her right shoe was missing. It still is.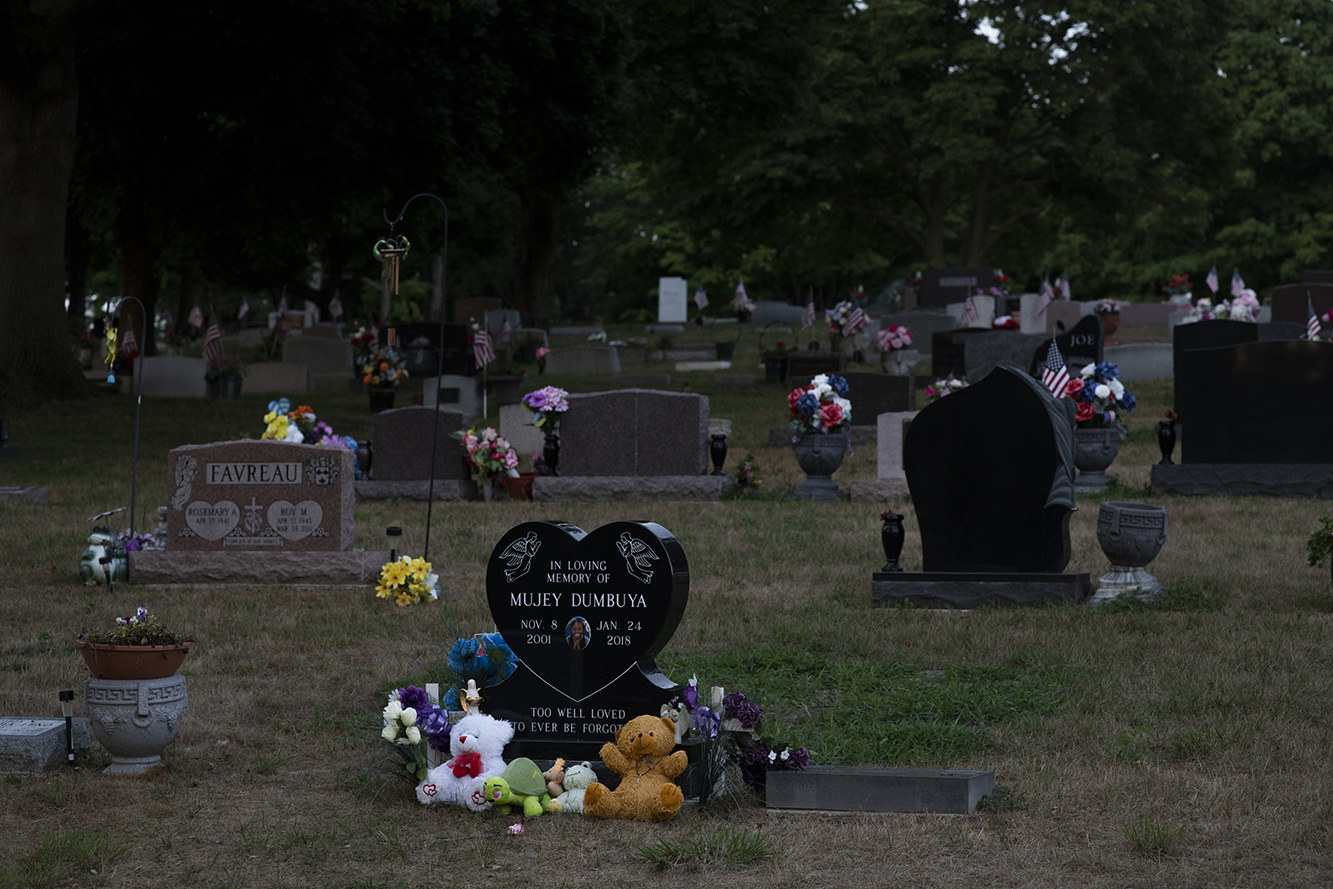 The shape of the prosecution's case against James has already taken form. According to witnesses and phone records obtained by police, James sought an accomplice to help with Mujey's murder and body disposal. On April 11, the same day James was charged with homicide, a 58-year-old Detroit man named Gerald Bennett was charged as this alleged accomplice.

Police also said James lied to authorities about his whereabouts on the day of Mujey's abduction. His fiancé, Tiara Burnett — another Kentwood Public Schools employee, and DQ's 27-year-old aunt — has since been charged with lying to investigators and intimidating witnesses. She's been accused by prosecutors of communicating with James through other inmates' phone time to avoid detection. (Schildgen said he hasn't been provided any evidence of that.)
On the day Mujey disappeared, a black GMC Acadia — the same type of SUV James was driving at the time — was spotted on a trail camera near the Kalamazoo woods where Mujey's body was discovered, police said. DNA found on Mujey's jeans matched James', a forensic scientist testified in June. A cornerstone of James' defense will be discrediting this evidence. Schildgen said he will, for example, call into question the certainty of this DNA match and the possibility of cross contamination.
While it took two months to gather this evidence and charge James with Mujey's death, James wasn't exactly out free. On Feb. 1, four days after Mujey's body was found, James was arrested on criminal sexual conduct and strangulation charges from B.T.'s 2014 police report — the same charges that prosecutors had previously declined to file. The arrest for B.T.'s case came hours after Kalamazoo police arrived at James' door to question him about Mujey, Schildgen said. The attorney has accused the county prosecutor of reopening B.T.'s case just to have an excuse to lock James up while Mujey's murder was being investigated.
"There is no new evidence. There was not one piece of new evidence," Schildgen said of the charges involving B.T., characterizing James' February arrest as gross government overreach. "Look what the government can do to you."
Becker, the Kent County prosecutor, wouldn't say what exactly stoked his interest in B.T.'s case four years later, only telling BuzzFeed News that "additional reports in February" compelled his office to reexamine it. But since then, parallels in B.T.'s and Mujey's cases have emerged in court. Beyond the choking involved, James had told B.T. he'd "pour bleach" on her dead body, she testified.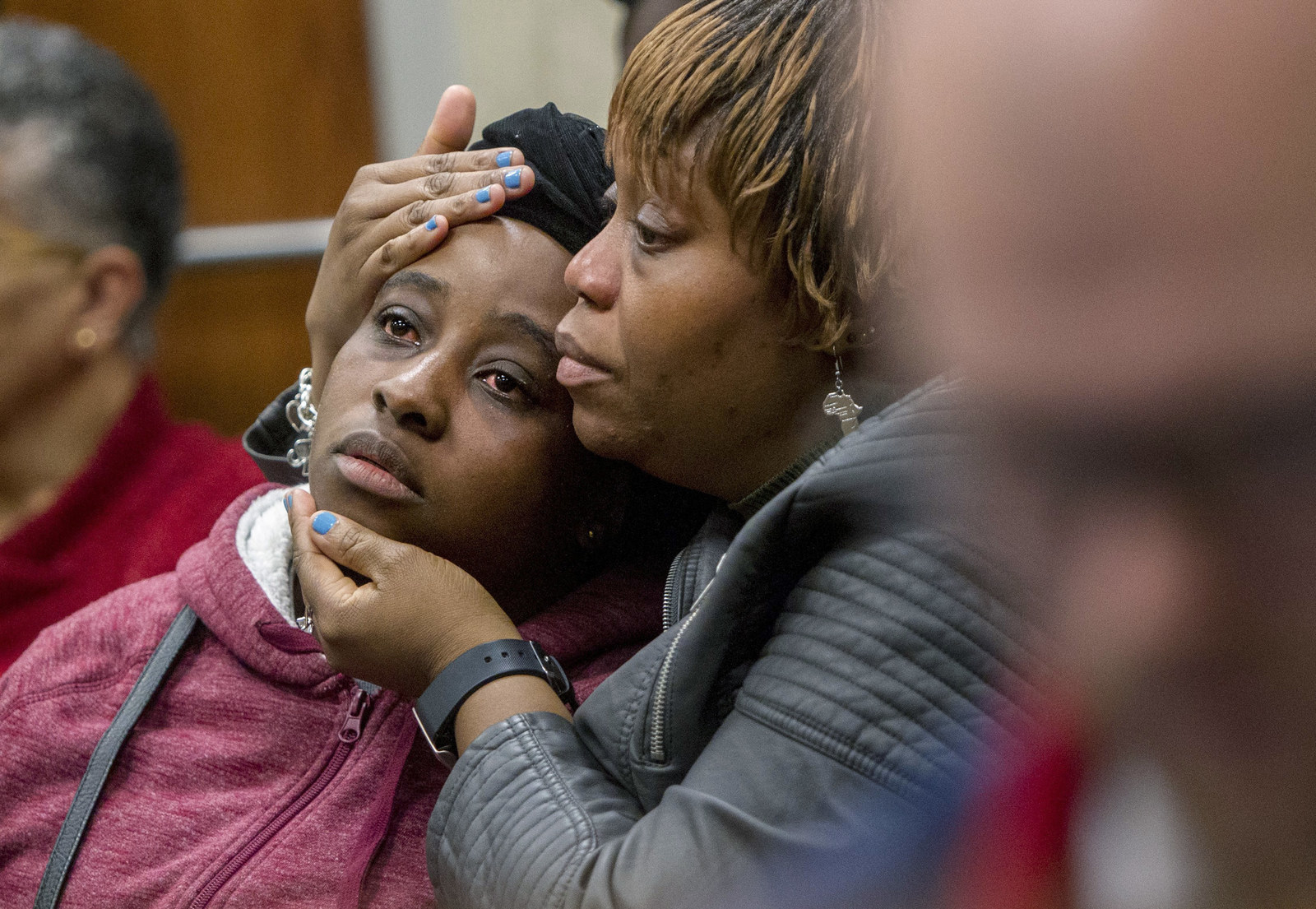 Despite Schildgen's protests — "[prosecutors] didn't believe her then, they don't believe her now," he told a judge in February — the court has allowed B.T.'s case to proceed. James now faces charges in B.T.'s rape, Mujey's rape, and Mujey's murder; he's pleaded not guilty in all three. He's being held in jail without bond.
But as James, his fiancé, and James' alleged accomplice Bennett all await their trials, questions have emerged about who else bears responsibility for Mujey's death.
DQ has defended himself against those who blame him for what happened, writing in all caps on Facebook that he was a witness (or "WITNESSSSSSSSSSSSSSSSSSSSSSSS") and that he was "THE ONE THAT STOPPED THAT RAPING." He posted photos of the tattoo now covering his bicep: "R.I.P. Mujay."
"Coincidences this big aren't something that happen that much."
Kentwood Public Schools also swiftly sidestepped blame. Their central claim has been that James "had very little contact with students, and none as part of his job responsibilities." But this was contradicted by Kentwood Police Detective Erin Kitchka's November bond recommendation, which said James "came into contact daily with underage girls" at his job.
The district has also emphasized to the media that Mujey met James through her boyfriend, not on the high school campus they shared. Mujey's family lawyer Christine A. Yared said she's skeptical of this claim; it hasn't yet been established in court how or why DQ and Mujey first connected on Facebook. Yared argues their only known common link was James. And DQ testified that James was interested and involved in the teenagers' relationship from early on, pushing DQ to persuade Mujey to have sex with James.
"Coincidences this big aren't something that happen that much," Yared said.
Mujey's family is exploring taking legal action against the school district after James' criminal trials conclude. "Why do you hire a violent felon?" Yared said. And, especially following the girls' locker room trial, "Why would you keep him?"
Through Yared, the family has already posed several questions to district officials, including asking why the school didn't notify parents about James being arrested and fired in November 2017. This, they suggest, could have inspired more girls — if they were out there — to come forward.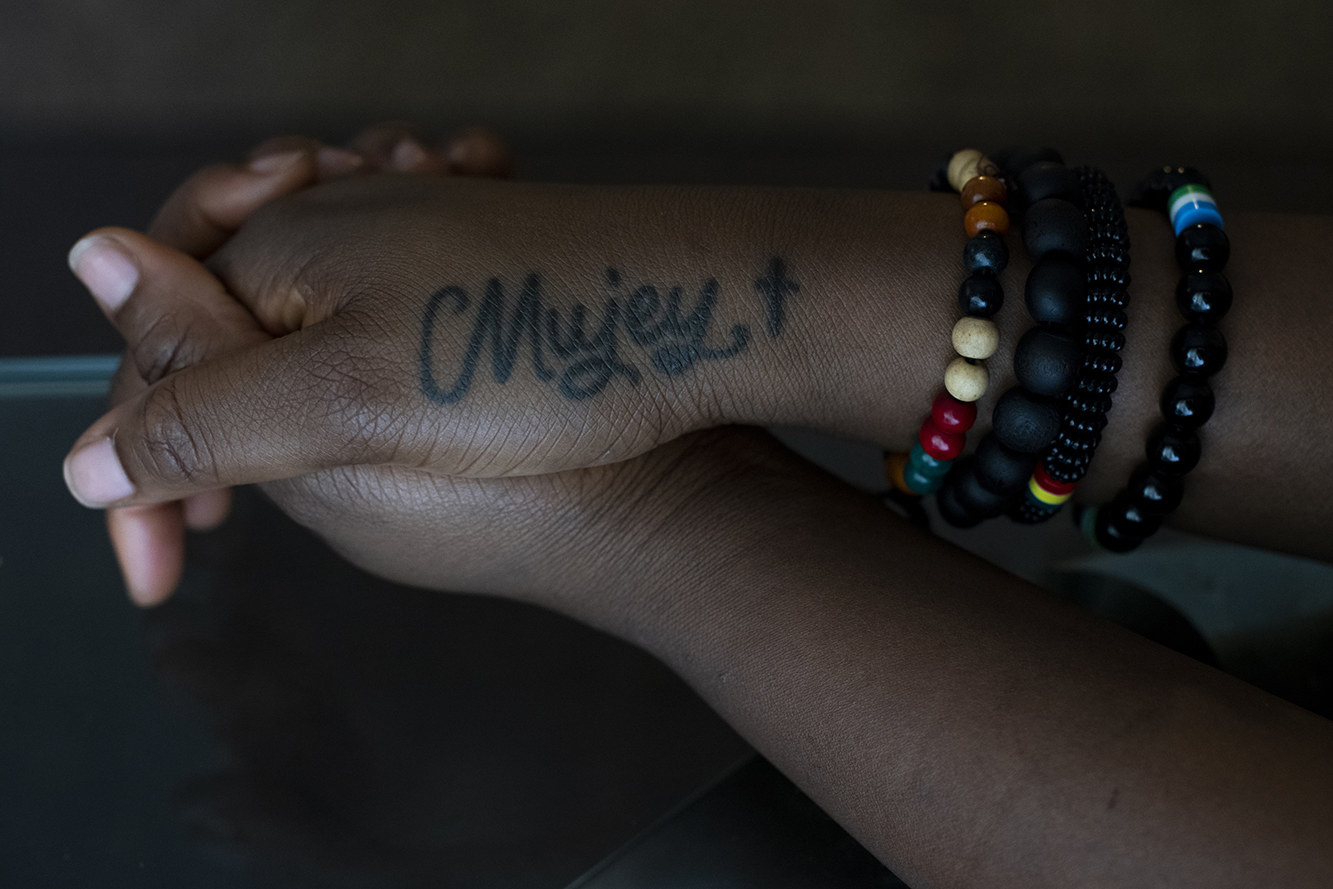 More than six months after Mujey's death, no trial dates have been set in any of James' three cases. Currently the prosecution and defense are sparring over whether the former should step down due to a conflict of interest; earlier this year, it was revealed that a victim's advocate in the prosecutor's office who worked with Mujey had dated James. Court hearings over this and other tangled matters piled up over the spring and early summer, but at least one member of Mujey's family has attended every single one.

"Somebody has to represent Mujey," Sannoh said from her Grand Rapids home, late one Sunday afternoon in July. Earlier that day, she'd visited Mujey's grave. "I promised her. I said, 'We are in this together.'" Whenever Mujey had felt discouraged by the pace of the criminal justice system, she'd fantasize about James' sentencing, Sannoh said. She'd especially looked forward to watching her toughest aunt stand up and tell James off, saying "mean things" with a "mean face." The image made Mujey giggle, which made their heavy reality feel a little lighter.
"We all came here to be safe and run away from the violence, and here it is, there's violence right at your doorstep."
Sannoh sat between two of her sisters in her living room. Corneh's baby, Christopher, born last September to Mujey's absolute delight, played on the floor. Corneh struggled to talk about her daughter; her head ached when she tried. The night before we met, she had a dream that Mujey was standing in front of her but she couldn't touch her. It rattled her. The whole family has felt like they've been living a bad dream for months now. Mujey's death has even brought back memories of war.
"We all came here to be safe and run away from the violence, and here it is, there's violence right at your doorstep," Sannoh said. "That just freaks you out, and it just makes you not want to trust anyone anymore."
They admit to having developed paranoia, constantly looking over their shoulders for danger. An unfamiliar truck recently parked outside Sannoh's house, she said, and she didn't take her eyes off it until a woman climbed out a half hour later and went into the house next door. She locks her doors, then checks and double-checks that they're still locked. Mujey's stepfather recently reported car damage to the police, believed to be caused by bullets fired around their neighborhood late one Friday night. He couldn't help but wonder if the shots were random, as they may have once seemed to him, or targeted.
"I am suspicious of everything," Konneh said.
Their worry and grief is obvious, but the anger in Mujey's family is more complicated. Konneh is mad, pure and simple. Corneh seems disoriented, spun off her axis, still too wrapped in trauma to process anger. Sometimes she barely speaks above a whisper. She puts her head in her hands and lets her sisters speak for her, occasionally muttering the words "he is evil," her eyes turning red and watery.
Sannoh, their leader, has fought hard against anger, which she said won't bring Mujey back: "She is gone for real." It may feel good and right if James is found guilty and locked up forever, but it won't feel like "justice" — to them an opaque, unknowable feeling.
"The only justice I want is Mujey back, and that's not gonna happen," Sannoh said.
Corneh, eyes fixed on the ground, said quietly: "My daughter is dead, and she's not coming back." ●