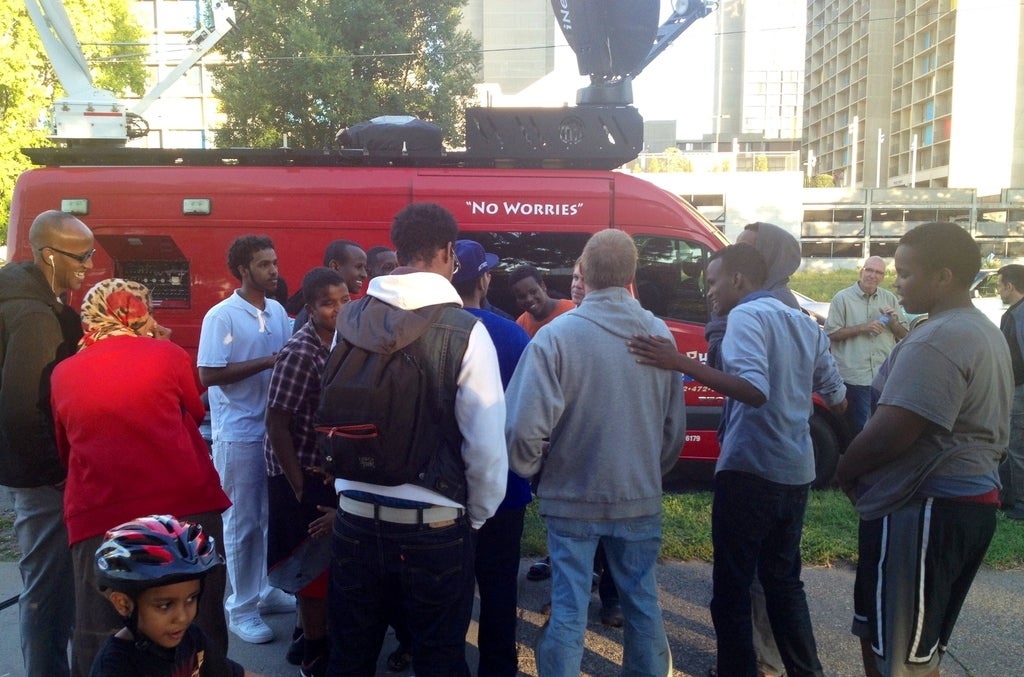 Left: The crowd at Currie Park. Right: A mural in Cedar-Riverside.
MINNEAPOLIS — "Why are you even here? There is no reason. Just negative bullshit!"
The teenager was surrounded by more than a dozen other young Somali men and women, his voice raised with the confidence of having a crowd behind him, engaged in a lopsided argument with a cable news crew.
The crew had been working around Currie Park in Minneapolis' predominantly Somali neighborhood of Cedar-Riverside since Monday morning, collecting footage and interviewing passersby about unconfirmed reports that two Minnesota Somali men were part of al-Shabab's ongoing deadly mall siege in Nairobi, Kenya. But by Monday evening, the crew had overstayed its welcome.
The teenagers, just out of school, steadily gathered at the media van to tell the cameras off. "They're pissed that we were even here," one crew member said, describing the scene as "mass hysteria."
Media presence in this neighborhood isn't unusual. Minnesota is home to at least 32,000 Somali-Americans; Cedar-Riverside is the Twin Cities' most vibrant Somali community. But over the last five years, this community has also become known as a "Jihadi pipeline," feeding at least 20 American citizens to Somalia's violent al-Shabab. This "pipeline" has been well-documented, on National Public Radio, in The New York Times, and on CNN, whose reporters now debated calmly with the teenagers.
"Why have they chosen this neighborhood?" asked Hashi, a Somali man in his early twenties, watching the argument from a distance. "They're assuming that there's terrorists in our neighborhood."
In 2008, seven young men — many reportedly living in Cedar-Riverside's main residential buildings, The Towers — secretly fled to Somalia to train with al-Shabab. By 2009, more than a dozen were estimated to have followed. For the last six years, the FBI's Minneapolis division has been actively investigating all travel from the Twin Cities area to Somalia and East Africa.
But Hashi insists, "In this area, nothing has ever happened with Shabab … We see that on TV, and of course we're gonna get offended."
Nedirah, a 16-year-old girl, sides with Hashi, yet acknowledges that the news of a possible Minnesota connection has left her neighborhood "in shock."
"For me to find out that innocent people were killed by a terrorist group that has some of my people involved — that's sick," she said. "I mean, they're not even my people. They're not my people. They're beyond human."
Nedirah's friend Khadra, 17, doesn't blame the media for focusing on Cedar-Riverside; she laughs, "This is America! They can be where they want."
But Khadra reveals a deeper concern shared by these teenagers: discrimination.
"You have to understand our fear," she said. "When things like this happen, people are immediately are going to point at a girl with a headscarf and a black guy. They're just going to literally attack you. We're already, like, scared, and now we're like, what is going to happen to us, you know?"
Earlier on Monday, Minnesota's Muslim leaders condemned the attack in a joint press conference.
"This outrageous act of violence has no place in Islam," said Abdisalam Adam of Minneapolis' Islamic Civic Society of America. "The perpetrators of this barbaric act do not share our islamic values."
By late Monday night, reports of a local connection to the Nairobi attack became more legitimate. Kenya's Foreign Minister told PBS NewsHour that "two or three Americans" from "Minnesota and one other place" were involved in the attack.
As the interview aired, Abdul Mohamed, spokesman for Somali youth outreach nonprofit Ka Joog, was in Washington, D.C., where Minneapolis activists had met with Somali President Hassan Sheikh Mohamoud and his delegation. Mohamed, 23, said he shares the teenagers' concern that Cedar-Riverside only attracts attention when local Somalis are being connected to al-Shabab.
"These youth are ostracized by what they hear in the news," he said. "They feel that they are not wanted, and they're not involved in mainstream society."
This, he said, makes young people more vulnerable to al-Shabab's recruitment attempts — like August's widely shared 39-minute video that follows three Twin Cities men to Somalia. "This is the real Disneyland," one of them says. "You need to come here and join us!"
"Al-Shabab and their actions have shackled the mentality of our youth to believe that they are not wanted in this country, which is completely untrue," Mohamed said. "But many people in the community feel the media perpetuates this paradigm that's haunted Somali people."